Explore the guitar as visual subject, enduring symbol, and storyteller's companion. Strummed everywhere from parlors and front porches to protest rallies and rock arenas—the guitar also appears far and wide in American art. Its depictions enable artists and their human subjects to address topics that otherwise go untold or under-told. Experience paintings, sculpture, works on paper, and music in a multimedia presentation that unpacks the guitar's cultural significance, illuminating matters of class, gender, race, ethnicity, and identity.
Storied Strings: The Guitar in American Art is the first exhibition to explore the instrument's symbolism in American art from the early 19th century to the present day. Featuring 125 works of art, as well as 35 musical instruments, the exhibition demonstrates that guitars figure prominently in the visual stories Americans tell themselves about themselves—their histories, identities, and aspirations. The guitar—portable, affordable, and ubiquitous—appears in American art more than any other instrument, and this exhibition explores those depictions as well as the human ambitions, intentions, and connections facilitated by the instrument—a powerful tool and elastic emblem. 
The works in Storied Strings are divided into nine sections: Aestheticizing a Motif; Cold Hard Cash; Hispanicization; Parlor Games; Personification; Picturing Performance; Political Guitars; the Guitar in Black Art and Culture; Re-Gendered Instruments. The exhibition also features smaller thematically arranged niche spaces, including The Blues; Women in Early Country Music; the Visual Culture of Early Rock and Roll; Hawaii-ana; and Cowboy Guitars. 
The accompanying 300-page catalogue positions the guitar within a nexus of art, music, literary, and cultural histories. After its run at the Virginia Museum of Fine Arts, Storied Strings: The Guitar in American Art will travel to Nashville where it will be on view at the  Frist Art Museum, May 26–August 13, 2023.
Richmond Sessions '22–'23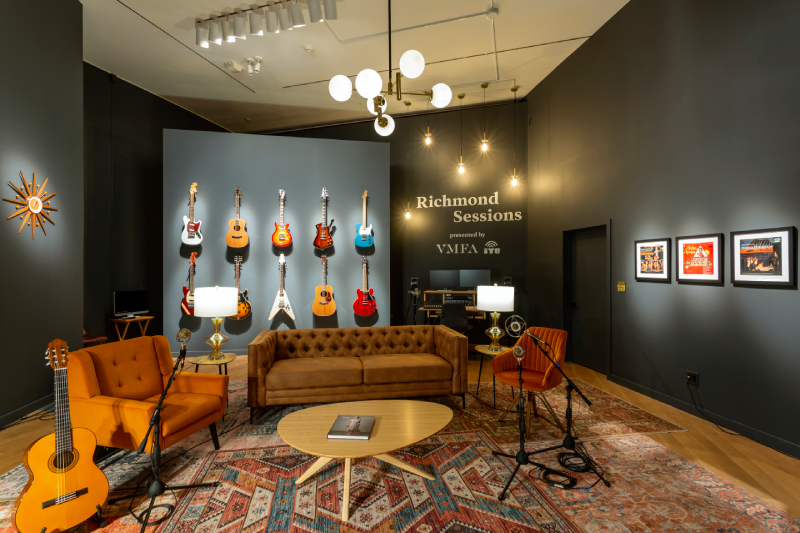 VMFA presents Richmond Sessions '22–'23, a series of studio recordings by an eclectic roster of guitarists performing in the art exhibition Storied Strings: The Guitar in American Art. See the complete Richmond Sessions schedule of releases.
---
Exhibition Highlights
Jessie with Guitar, 1957, Thomas Hart Benton (American, 1889–1975), oil on canvas, 42 x 30 ½ in. Jessie Benton Collection © 2022 T.H. and R.P. Benton Trusts / Licensed by Artists Rights Society (ARS), New York.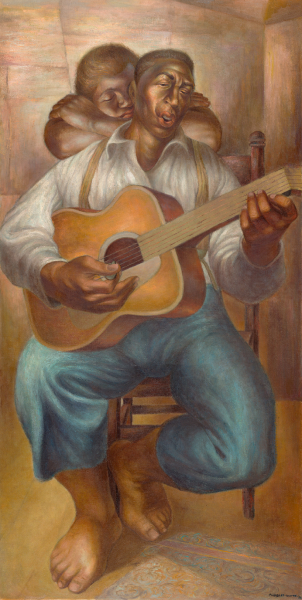 Goodnight Irene, 1952, Charles White (American, 1918–1979), oil on canvas, Nelson-Atkins Museum of Art, 2014.28. © The Charles White Archives.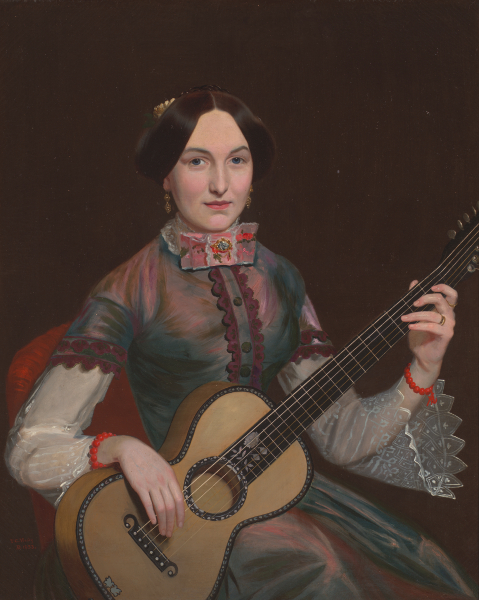 Charlotte Davis Wylie, 1853, Thomas Cantwell Healy (American, 1820–1889), oil on canvas, 44 ¾ x 38 ¼ in. Collection of Charlotte Boehmer Fraisse, Ocean Springs, Mississippi, From the Estate of Mary Swords Boehmer.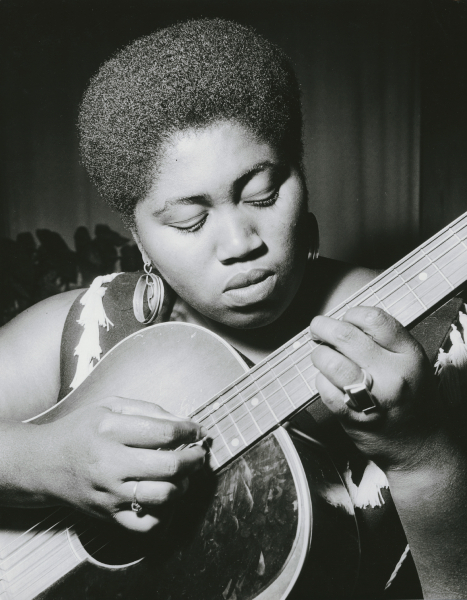 Odetta, 1958, Otto Hagel (American, b. Germany, 1909–1973), gelatin silver print, 13 9/16 x 10 9/16 in. Center for Creative Photography, University of Arizona, Hansel Mieth/Otto Hagel Archive, 98.117.66. © Center for Creative Photography, The University of Arizona Foundation.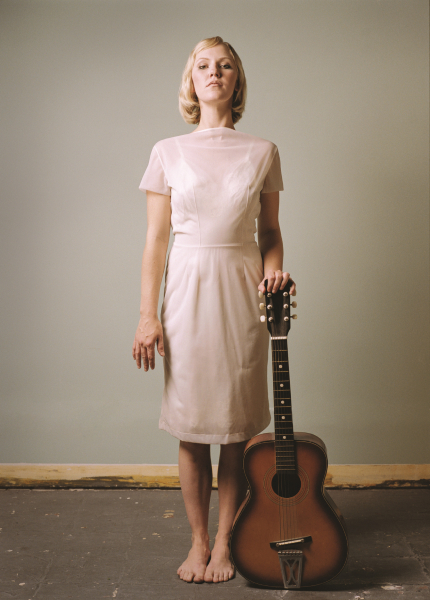 Julie, 2006, Sue Hudelson (American, b. 1967), digital print, 22 x 16 in. Courtesy of the artist.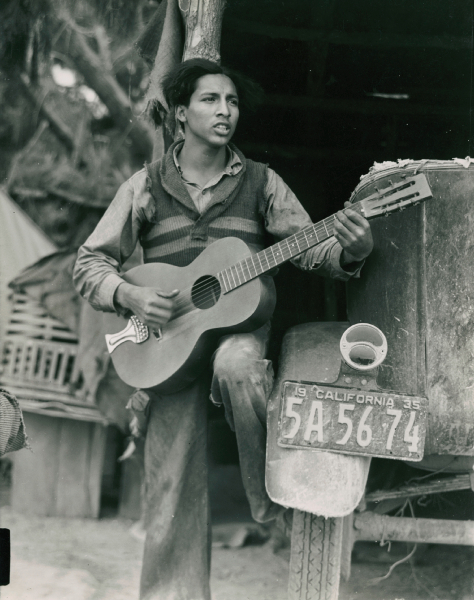 Coachella Valley—Mexican Laborers around Camp, 1935, Dorothea Lange (American, 1895–1965), gelatin silver print, 9 15/16 x 8 in. © The Dorothea Lange Collection, Oakland Museum of California. Gift of Paul S. Taylor, A67.137.94601.
---
Starr Hill Brewery's Storied Strings Lager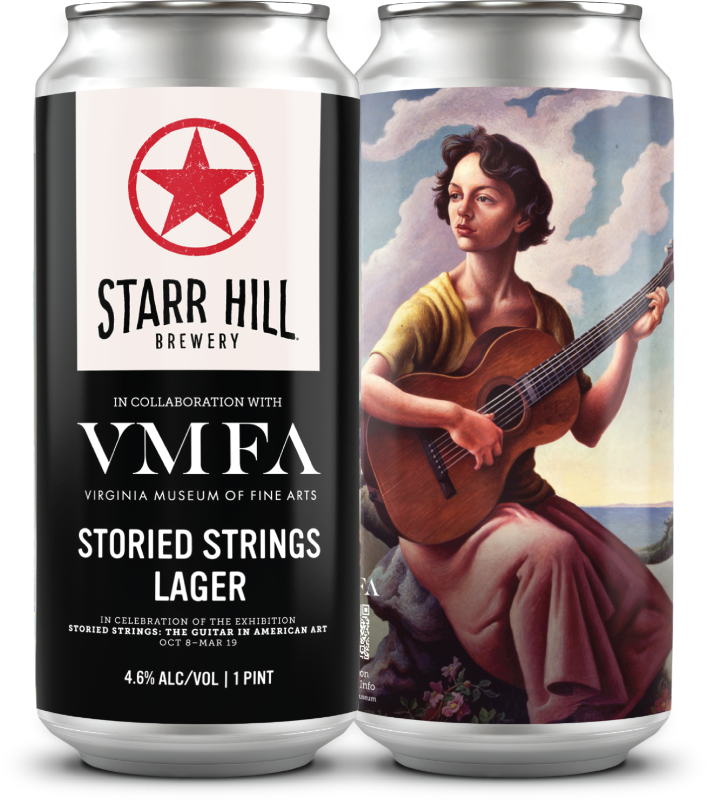 We're excited to announce that Starr Hill Brewery and VMFA have partnered on a limited-edition beer in celebration of Storied Strings. Storied Strings Lager is available starting October 1 at VMFA and Starr Hill's six Virginia breweries.
---
Storied Strings: The Guitar in American Art is organized by the Virginia Museum of Fine Arts. The exhibition is curated by Dr. Leo Mazow, VMFA's Louise B. and J. Harwood Cochrane Curator of American Art.
---
The Louise B. and J. Harwood Cochrane Center for American Art
Lettie Pate Whitehead Evans Exhibition Endowment
Julia Louise Reynolds Fund
---
Nancy and Wayne Chasen
Community Foundation for a greater Richmond
Mr. and Mrs. Thomas F. Garner, Jr.
Dr. and Mrs. William V. Garner
Troutman Pepper
YouDecide
---
Robert Lehman Foundation
Peachtree House Foundation
---
Birch Douglass
Hamilton Beach Brands, Inc.
An Anonymous Donor
---
VMFA is also grateful to the following sponsors:
Fralin Pickups, LLC | Dr. and Mrs. Michael Godin | Sherrie Page Guyer and Raymond A. Guyer III | Karen and Pat Kelly | Curry and Lindsey Motley | Pamela and Fred Palmore | Dr. and Mrs. R. P. Sowers III | Tredway S. Spratley and Janine M. Collins | Don and Pia Steinbrugge | Courtenay S. Welton II
---
Generous support for the exhibition catalogue provided by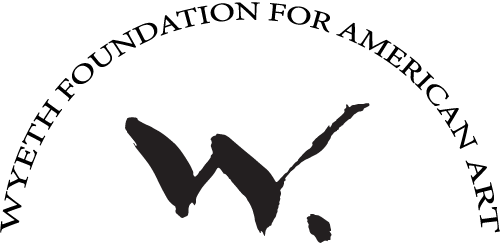 ---

This project is supported in part by the National Endowment for the Arts
---
This list represents sponsors as of September 27, 2022.