Safety First!
Did you know that the Virginia Department of Education's Visual Arts Standards of Learning devotes an entire section
of its introduction to safety?
http://www.doe.virginia.gov/testing/sol/standards_docs/fine_arts/index.shtml (pages vii-viii)
Before you begin to experiment with finding or making your own materials and experimenting with different methods of creating works of art, discuss your plans with your teacher and your parents or caregivers. It's always better to be safe than sorry!
By the time French artist Bonnard created this still life with tempera, water color and pastel, art supplies were beginning to be made commercially. In this work, he shows us the materials and equipment he used to make works of art in the early 1900s. Can you see the water jar, atomizer (a device that sprays liquids), drawing album, and other art materials in the drawing?
Bonnard's loosely applied colors make it difficult to know exactly what all the object are for, but the containers could have contained water or tempera paint, and that's probably a cleaning rag in the middle ground (between the tube and the album).
Today, art supplies and household items provide us with a list of ingredients, but this was not always the case for artists. Until relatively modern times, art supplies were made from raw materials in artist studios—and some, such as paints containing lead or cadmium,
could be harmful.
Spend some time looking at this image.
Do you notice the different textures Bonnard has created using mixed media?
Are You Ready to Explore Collage?
Did you know that artists have been combining materials on surfaces for thousands of years? The Chinese began combining painting and calligraphy soon after they invented paper, which happened over 2,000 years ago!
For a long time, the most famous artists in Europe did not think of collage as a true form of fine art. In fact, they didn't even have a name for it—but a big change happened when Spanish artist Pablo Picasso and French artist Georges Braque began to try lots of new ways to make art. They felt free to include different and surprising material on their canvases. After a while, their works of art convinced the artists of Europe that combining a variety of items on a surface really could be considered fine art!
Picasso and Braque even gave the technique its name. Collage comes from the French verb "coller" which means "to glue."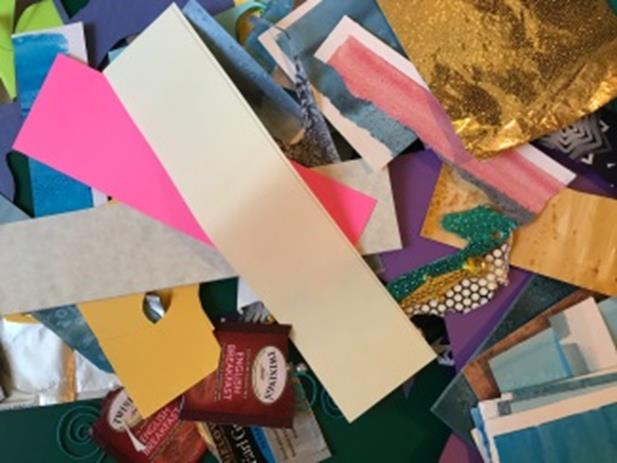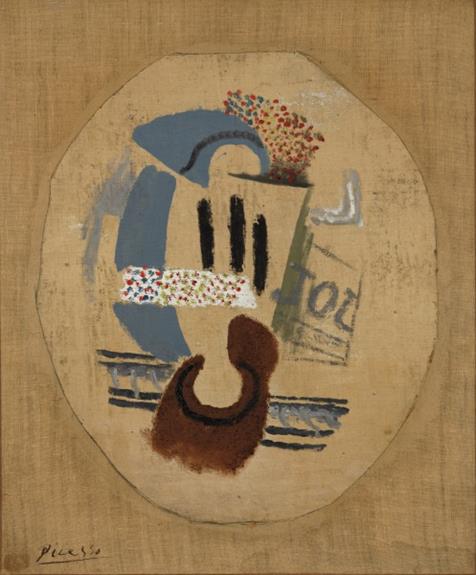 Wineglass and Newspaper
Does this look like other still lifes that you have seen? Picasso enjoyed trying new techniques and styles! The images in the center oval represent a goblet, a newspaper, and a table. Picasso was experimenting with a style called Cubism in this work. In fact, Picasso and Braque created this new art-making style in Paris between 1907 and 1914.
In this painting, Picasso wasn't creating a realistic recreation of what he saw. Instead, he was showing the different geometric forms as if they were broken up and reassembled into a new arrangement. Cubists also often tried to show objects from lots of sides at once!
These curiously shaped objects are painted on an oval piece of canvas—and the painting even includes sand! Picasso glued the oval painting to a rectangular rough-woven canvas, making a very simple collage.
Many of Picasso's works combine even more types of materials to create interesting works of art. You can learn more about how Picasso and other artists used the techniques of collage at this website, offered by Weiner Elementary School in Arkansas: https://www.weinerelementary.org/picasso-and-collage.html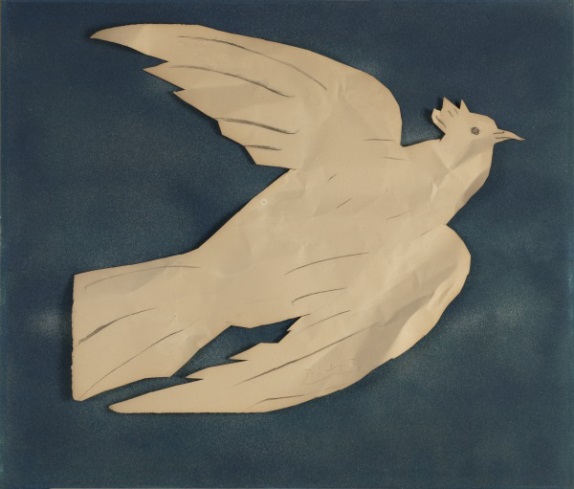 The Dove
Here's another work by Picasso. To make The Dove, he simply cut out the shape of a dove and added a few pencil lines to suggest feathers. He attached the cut-out to a piece of dark blue paper.
Doves appear in many of Picasso's drawings and paintings—and he named his daughter "Paloma," which is the Spanish word for dove.
Is there an animal or image that means a lot to you?
What does it symbolize for you?
(A symbol is something that represents something else because it makes us think about the thing it represents. Many times a symbol that we can see represents something that we can't see.)
Do you include personal symbols in your work?
Cut or Tear Paper for Eye-catching Effects
Another artist who liked to make collages was Juan Gris, a Spanish painter who worked mostly in France. He was friends with both Georges Braque and Pablo Picasso. His work includes many collages that help us see ordinary objects in new ways.
In this work, he combines paper, charcoal, and gouache (opaque water-based paint). Luckily for us, he mentions the objects we are seeing in the title, which helps us understand his creation.  Like Picasso and Braque, he was showing the still life objects from different angles at the same time!
Can you find a carafe, which is a container used to hold wine or water?
How about a wine glass?
The tobacco packet is easier to find because he has included two fragments of actual tobacco packets.
Does it seem as if some of the parts of the image are stacked on top of others?
Can you figure out what Gris did to make the image seem three dimensional?
What effect do the slashes have? Do you like the way they look?
Collages Tells Stories!
Click through the images below to explore a collage inspired by music!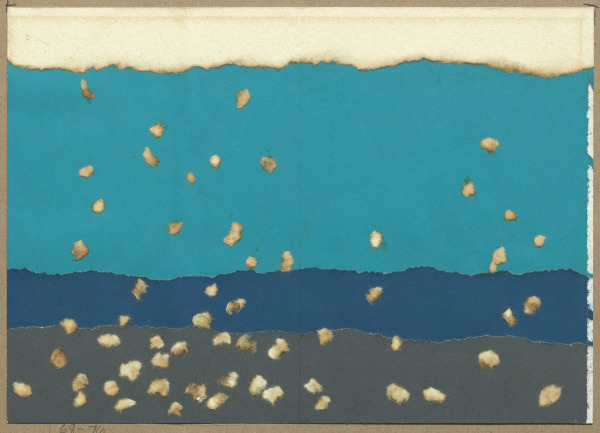 Collage Can Be Very Simple or Very Complex!
For many years, there was a VMFA tradition in which Artist Fellowship winners and Studio School teachers created holiday card designs for the museum's collection.
Do you see the number at the end of the information in the caption for this image? That's the work's accession number. Every work in the collection has its own accession number, which is always used to identify it. This number tells us that the work was acquired by the museum in 1968 and was the 76th work accepted into the collection that year. The database doesn't give more information about Frank Moore, but he probably taught classes at the museum.
This work seems very simple, but think about how Moore used torn paper to suggest a wintry landscape. Would you like to make a landscape with torn paper? We'll explore making one of those after we learn how to make our own glue and gather some materials!
You can make your own glue!
Click through the images and information below to discover two different recipes!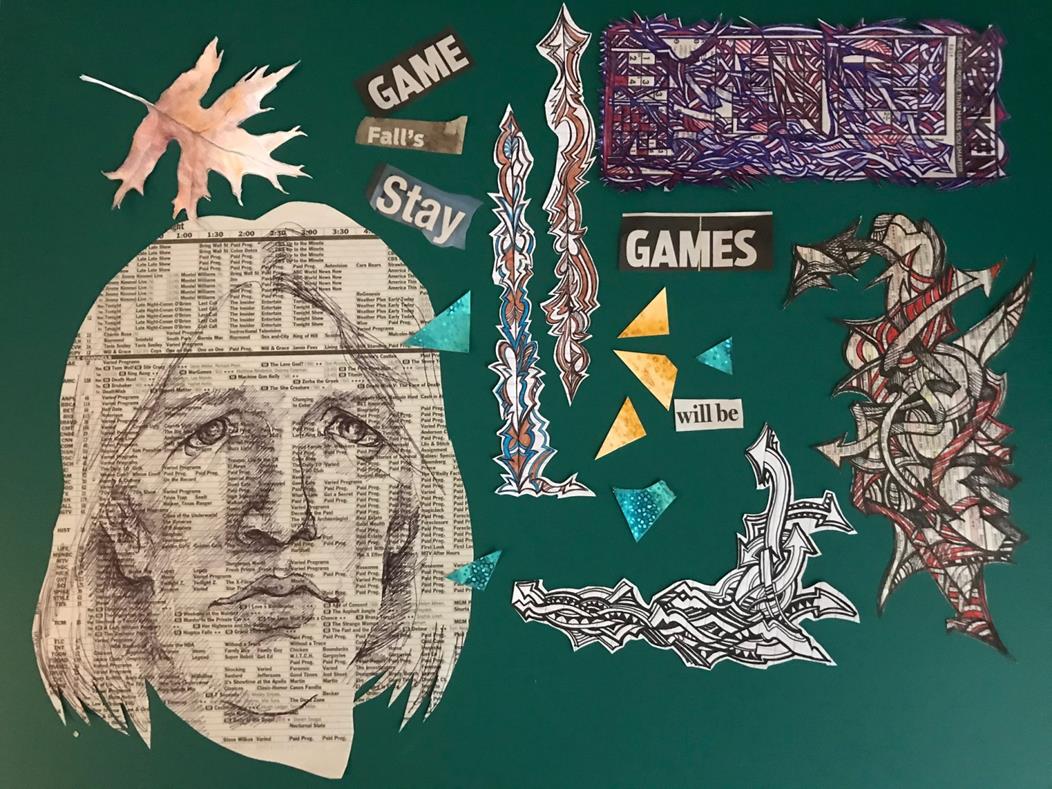 Where Can You Find the Materials for Collage? Everywhere!
Your collage materials could include newspaper, magazine clippings, paper scraps, old drawings and doodles, and lots of other things! Take a tour of your home looking for possible materials. Be sure to organize what you collect to make the items easy to find.
If you were going to make a collage that reflects your lived experience in the last year, what would you include?
You might begin by quickly writing down words and sketching images that spring to mind. How could you express these thoughts through collage?
Are you ready to make a torn paper landscape?
Click through the images and information below to see landscape examples along with ideas for making your own work of art.

You'll need colored paper, glue, and a sturdy piece of paper the size of your final work for this project.
Artists In All Times and Places Find Ways to Make Art!
VMFA's collection includes 34 works that were originally collected by the Souls Grown Deep Foundation. This foundation is "dedicated to documenting, preserving, and promoting the contributions of artists from the African American South, and the cultural traditions in which they are rooted."
These artists whose work has been collected by Souls Grown Deep did not grow up going to art schools, galleries, or museums—and they couldn't afford expensive art supplies—but the human creative impulse is strong. Their work is varied, expressive, and inspiring!
Learn more about the Souls Grown Deep artists here: https://www.soulsgrowndeep.org/
Let's look at a painting by Souls Grown Deep artist Jimmy Lee Sudduth.
Making Art with Natural Materials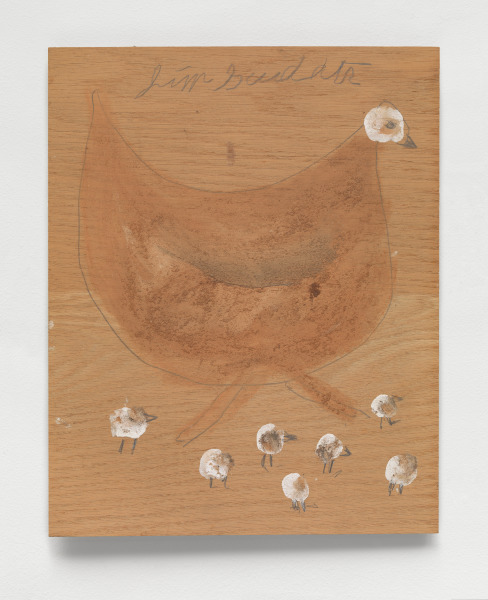 Could you paint with homemade materials?
Jimmy Lee Sudduth found a way to make his own paint—and you can too!
Jimmy Lee Sudduth's mother was a "root woman," or local healer, who used natural remedies. In an interview, he remembered that he began making art while playing with mud. He painted a picture with his fingers on wood, but was upset when it washed away in the rain. He discovered how to add a binder to his pigments when he was nine years old. (A binder is a substance that holds the particles of paint pigment on a surface.)
He explained: "I was up there with a man making syrup and he dropped the syrup in the mud. I picked it up and felt that mud, and put it on the wall and it wouldn't come off. The sugar is what held it there. I mixed the syrup and the mud and put it on a piece of wood. That' where I got started. I wanted to make things after that.
He taught himself how to make his own paint using different colors of "dirt." He said, "I got twenty-three colors of dirt in my own yard. Walnut hulls and coffee grounds do good, too. Purple and red in the berries. . . . Mash them with a stick. . . . Grass, weeds, turnip greens, pine needles can make green."
No paintbrush? No worries! Sudduth tells us, "My hands is my brushes."
Quotations from "Cutting to the Slice" by William Arnett, drawn from conversations with Mr. Sudduth:  https://www.soulsgrowndeep.org/artist/jimmy-lee-sudduth
Make Your Own Paint with Common Household Ingredients.

There are many on-line recipes and ideas online for making your own paint, but the best way to discover what works for you is to experiment!
Click through the images and information below to learn about paint-making processes.
Sailing the Sea: Spirals and Curves

Are you ready for your next adventure? Let's make a seascape using colored paper, natural paints, and curls of paper.
This project may take two class sessions if you prepare your own water-colored sheets of paper for your scene.
Click through the images and information below to make your own seascape.
Joseph Albers's Squares and Rectangles: Finding the Right Angles
Josef Albers was an artist who was fascinated by color. He understood that the colors we see can be affected by the colors around them—and by the light that falls on them! He was also interested in how lines could be used to create a feeling of depth. He believed that we learn best by making experiments ourselves.
We learn by doing!
Here's one example of his explorations of color and line. Spend some time looking at it.
What do you notice?
How did changing the order of the colors change your experience?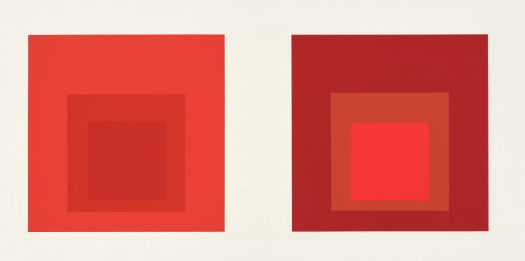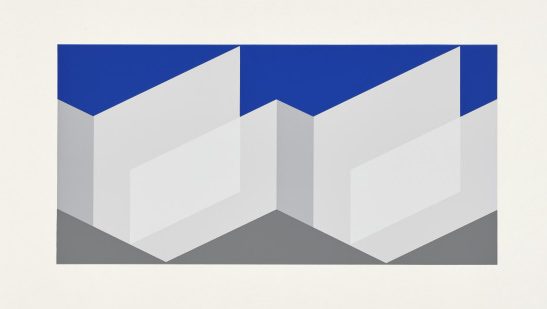 Another Work by Albers
Here's another example of a work that investigates line and color.
Although the design is flat, do you seem to see depth in this picture?
How has he created this impression?
Art Challenge:
Explore how colors work together by constructing squares and rectangles using colored paper, a ruler, scissors, and glue. Try to keep all of your lines as straight as possible!
In our next art adventure, let's think about weather—and communicating with family and friends by making weather greeting cards.

Is It Stormy, Sunny, or Snowy? Let's Make Weather Greeting Cards!
In our last art adventure, we looked at a card that held a surprise inside. In this one, let's think about making Mystery Boxes!
Let's Make 3-D Animals!

Lots of artists make works of art that include animals. Do you have a favorite animal or pet? In this art adventure, let's make a 3-D paper animal.
You'll need some sheets of drawing paper, a pencil, a dark marker, scissors, colored paper for making your cut-out shape, a sheet of colored paper for your base, and some glue.
Toy Stories!

Many works of art show us children playing with their toys. Works of art can also tell stories. Let's put those two ideas together and tell stories about toys. For this art adventure, you'll need several sheets of paper, pencils, markers, colored pencil, or watercolors (your choice). You'll be making a series of pictures.
Keeping an Artist Journal/Sketchbook/Portfolio
Think about the work created by all the artists we've explored in this resource.
How many new ideas do you have for making art? A journal or idea notebook of your ideas and discoveries can be a super catalyst for practicing artistic behavior.
Keeping notes on discoveries and possibilities can inspire you to take your artwork to new levels, and use your creativity in new and compelling ways!
A loose-leaf binder is great for this because you can slip drawings and other items into clear sleeves.
You can also reorganize the pages—or pull out the ones you're working with.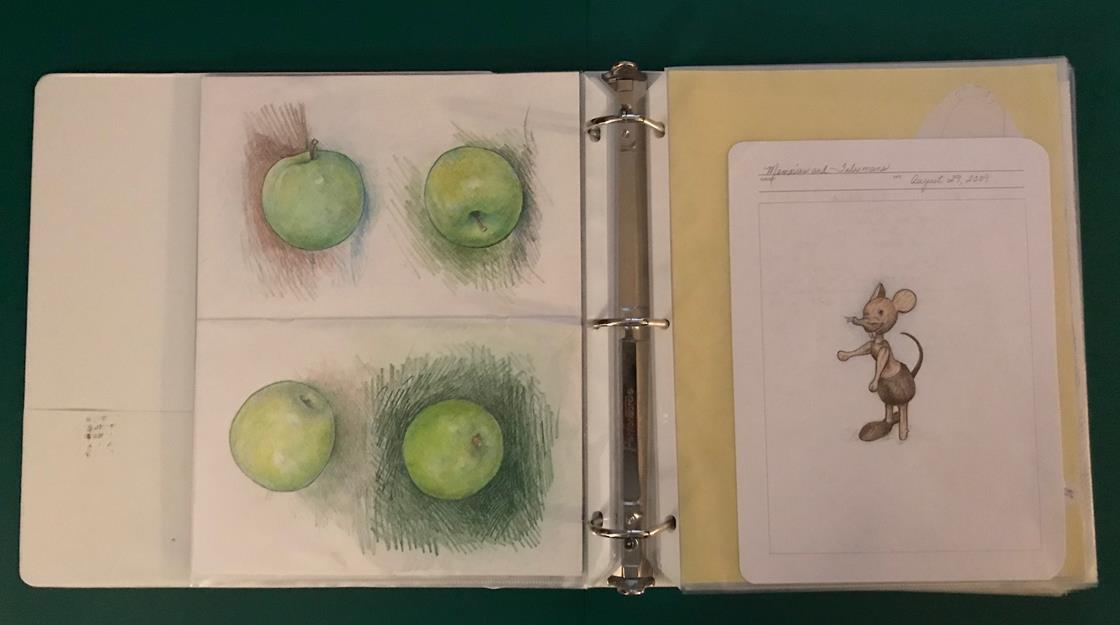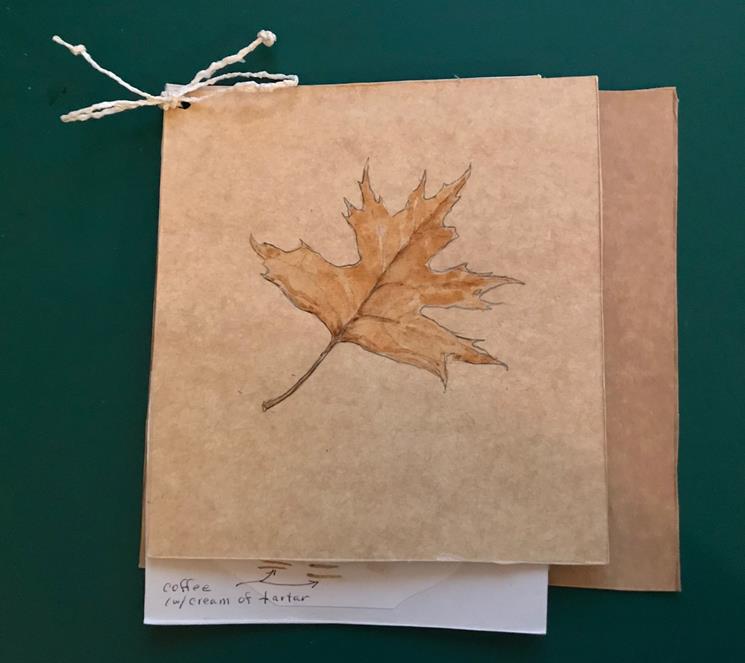 Don't have a notebook?
Make your own using "found" or repurposed material.
Finding solutions will boost your creativity!
The tie holding these pages together is made from strips of plastic grocery bags, tied together and braided.
Here Are Some Suggested Sections for Your Idea Book.
Have you come up with new ideas for making art?
The possibilities are endless!