For Museums, Galleries and Organizations
What do more than half a million Virginians have in common? These Virginians all had a VMFA art experience in their own communities — many of them miles from Richmond. The VMFA Art and Education Division provides educational exhibitions and programs to museums, arts centers, libraries, galleries, schools, colleges and universities, and retirement facilities throughout the Commonwealth.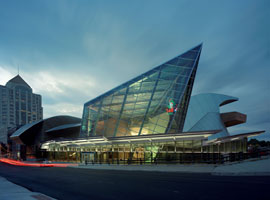 Speaker Bureau: It's Your Art – Local
The VMFA offers four levels of partnerships for everyone across the state. Learn more about which partnership is right for you.
Level 1 Partnership
Level 2 Partnership
Level 3 Partnership
Level 4 Partnership
Docents and members of the Council of VMFA take the museum into the community by presenting a very visual introduction to its history, services and facilities. Speakers interpret images from the permanent collection and preview coming exhibitions. Service clubs, church fellowships, women's clubs and senior citizen groups will find that this FREE program at your location provides an excellent enrichment program and prepares the audience to visit VMFA, a world-class museum that belongs to all Virginians. Request a VMFA Program or Resource
Statewide Programs and Resources