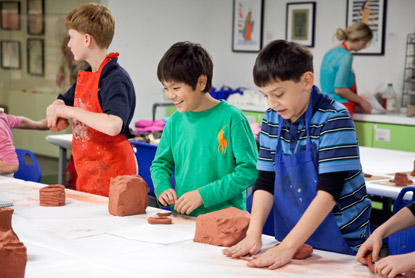 Five-day camps run Jul 7 – Aug 29
Mon – Fri, 9 am – noon or 1 – 4 pm
Meet in the MWV Art Education Center
$130 per camp (VMFA members $115)
Experience adventures in art, culture, and creativity in VMFA's studios and galleries! Art camps are carefully tailored to your child's specific age group and taught by professional artists and educators. Each camp provides access to quality supplies and a world-renowned art collection, inspiring young artists to create, learn, grow, imagine, and have fun! Youth programs correlate with the Virginia Standards of Learning.
Note: Upon registration, VMFA will email you the forms required for the camps along with detailed information about Summer Art Adventures. It is important that caregivers review and understand all policies and procedures pertaining to Summer Art Adventures, including drop-off and pick-up procedures, food regulations, studio conduct, and VMFA's cancellation policy.
Connect-a-Camp: This program provides supervision between camps, which allows time for lunch and daily activities such as drawing in the galleries, reading, playing games. Click here for availability.
Class Schedule
---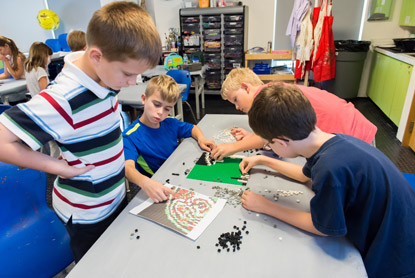 Brickworkz LEGO® Art [C36]
Mon – Fri, Aug 25 – 29, 1 – 4 pm | Art Education Center
Brian Korte
Ages 10 – 12 | Collaborate with peers to construct a 2-D mosaic-style mural with LEGO® tiles, layers of opaque and translucent blocks in a monochromatic color palette, and some cool math formulas. Also make your own mini-mosaic to take home!
$130 (VMFA members $115)