What to Know Before Coming to Class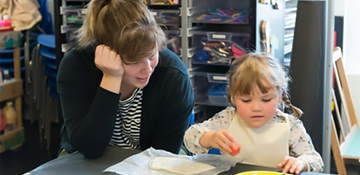 Ages 2–5 years, accompanied by an adult
MWV Art Education Center
$13 per child/adult pair
Minimum of 10 child/caregiver pairs required
Advanced Registration Required
Is your child and caregiver group looking for a fun and creative playdate location? Gather your group and visit VMFA. Children and caregivers will enjoy playful music and movement activities, a story time, a gallery walk, and a hands-on art activity.
Note: Classes are nonrefundable and cannot be transferred to another class. Be sure to mark your calendars.
---
Class Info
Classes are $13 per child/adult pair. A maximum of 15 children can be accommodated. A minimum of ten children per class is required. Class capacities are based on gallery availability and materials provided. Each class lasts 90 minutes and focuses on a theme of your choice, listed below.
Location
Please check in at the security desk upon entering the Student Group Entrance and give the total number of students and adults. April Heitchue, Early Childhood Programs Educator, or a designated VMFA staff member will be there to walk your group to the Art Education Center where you will begin the program.
Reservations + Registration
To schedule a class, please call April Heitchue, Early Childhood Programs Educator, at 804.340.1564 or email april.heitchue@vmfa.museum, no less than 3 weeks prior to your requested date. Payments of $13 per child are to be made in advance, once reservations have been confirmed. Reservations are subject to availability.
Please have the following information ready:
• Contact person's name, address, e-mail address, and phone number
• Theme of interest
• Number of students and ages
• Date for Request, plus an alternate date(s), if possible
Cancellations
Fees are nonrefundable for cancellations made within 24 hours of your scheduled visit.
---
Themes
Class themes and lessons are designed to accommodate different learning styles, and are based upon Virginia's Foundation Blocks for Early Learning.
Illuminate and Create
Discover light shining through spaces, materials, and art at VMFA, while exploring science and the elements of art.
1-2-3-4-5 Senses!
Activate all five of your senses as you explore VMFA's campus and participate in an exploratory studio art project.
Nature's Palette
Investigate nature's many colors and textures, view seasonal works of art in the galleries, and use natural materials in a studio art project.
Shapely Sculptures
Make a masterpiece by mixing math with art. Search for shapes in paintings and sculptures, then learn how shapes add up to make a 3D creation.