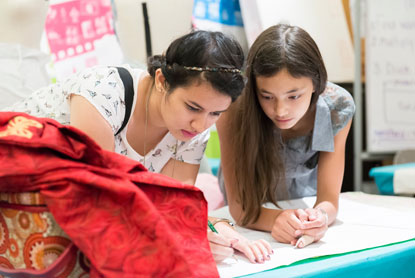 Ages 13 – 18
Five-day programs run Jul 7 – Aug 29
Mon – Fri, 9 am – noon or 1 – 4 pm
Meet in the Pauley Center lobby
$130 (VMFA members $115)
Whether you enjoy drawing, painting, sculpting, film, or fashion, these studio classes teach you new skills and enhance your talents, help you develop personal vision, and strengthen your portfolio for college. Professional artists and instructors use a wide range of concepts and media to expand your knowledge of art, art history, culture, and perspective while building new relationships with peers and mentors within the arts community. Classes offer individual instruction to accommodate students of all levels of experience. Teen Studio programs correlate with the Virginia Standards of Learning.
Note: Upon registration, VMFA will email the forms required for classes along with detailed information about Summer in the Studio. It is important that both teens and parents/guardians understand policies and procedures pertaining to this program, including check-in/check-out procedures, lunch options, Code of Conduct, studio attire, and VMFA's cancellation policy.
Class Schedule