Expectations: Archival Documentation
This is a 12-week program in which enrolled students must meet the following requirements to successfully graduate with a VMFA M.LiT Certificate:
Attend 28 hours of M.LiT workshops and archiving
Complete 14 hours of homework
Complete 22 hours of work on a special VMFA Archive Project and Presentation Day
Complete 20 hours of Summer Teacher Assistantships
Have an e-mail account and check it frequently
Have access to Microsoft Word and Google Drive
Have basic Internet research skills
Attend all required sessions from Oct 2016–Jan 2017
Have transportation to and from the M.LiT sessions. If you are concerned about transportation, contact Vaughn Garland for assistance.
Learn to talk about the VMFA collection with your peers
Turn in all M.LiT assignments on their due dates to the Google Drive Folder
Successfully evaluate you and your peers' progress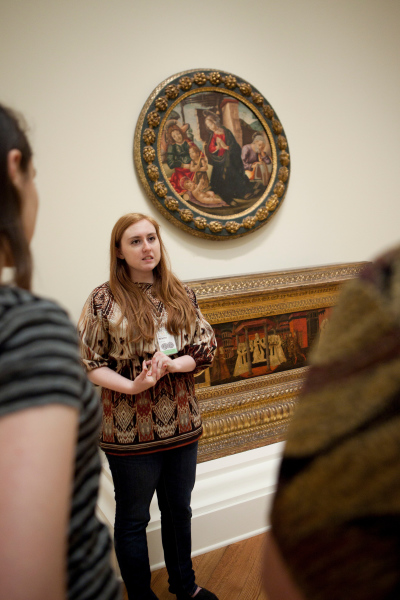 ---
Student Conduct
Attendance
Behavior Model
Leadership Activities
Incentives
---
M.LiT Calendar
Application Deadline: Wed, Sep 14, 2016
Applicants will be notified by Fri, Sep 23, 2016
Program Orientation: Thu, Oct 6, 2016
Attendance is mandatory. No exceptions.
Workshops: Occur weekly on Thursday evenings
Thu, 5:30–8:30 pm from Oct 13, 2016–Jan 19, 2017
Holiday Breaks: Nov 24, Dec 22, Dec 29
Presentation Day and Recognition Ceremony:
Fri, Jan 27, 2017, 1–5 pm           
Summer Assistantships: Jun–Aug 2017
Teen Internships: Jun–Aug 2017
Specific dates TBD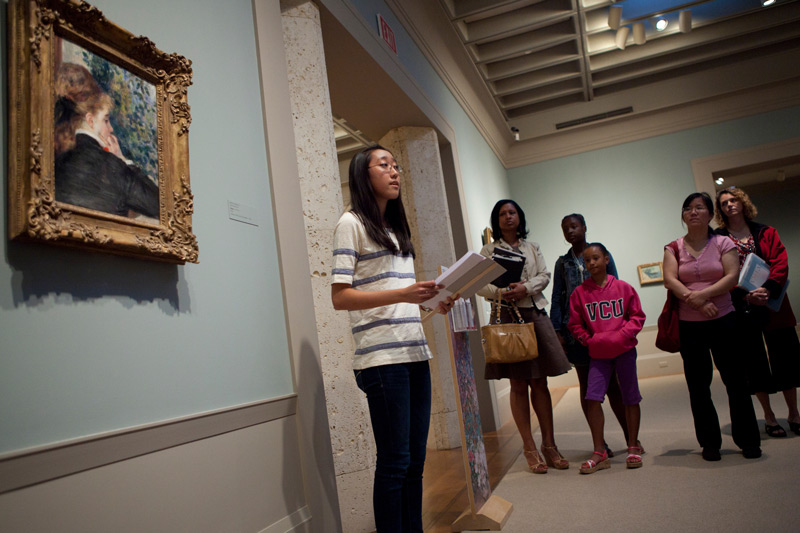 ---
Workshops
Students must check in and out at each Workshop. Students should become familiar with Workshop locations including: Pauley Center Lobby and Parlor, Pauley Center Studio B, Early Childhood Classrooms, Computer Lab, Freeman Library and Conference Room One. Students are responsible for knowing the Workshop locations as designated on the program syllabus. Students must have completed an M.LiT Application and all required documents by due dates.
Throughout the 12-week training program, students will receive helpful handouts or links to online forms and questionnaires. If possible, each student should purchase a one-inch binder and a package of page dividers as well as a computer thumb drive. Dividers and thumb drive folders can be labeled and ordered as follows:
Syllabus
Policies and Guidelines
Agendas
Upcoming Programs and Events
Artist Research and Reference
Professional Development and Practice
Exhibition Design and Planning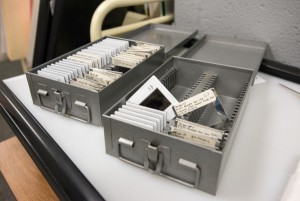 ---
Especially for Students
Homework: MLiT students are required to spend a minimum of 14 hours outside of the VMFA classroom to complete research and assignments. This means that you will occasionally have homework. We understand that school work is your priority; therefore most of your assignments will be completed during class time. Failure to complete the homework assignments may result in dismissal from the program.
Service Learning: While participating in the program, you each have the opportunity to earn up to 84 hours of community service. This includes your training hours, summer assistantship, and research hours. We categorize all these aspects of the program as service because they are essential to your role as contributors and as advisory council members. Contact Vaughn Garland if you need a letter certifying your service.
VMFA Advisory Opportunities
Summer Assistantships