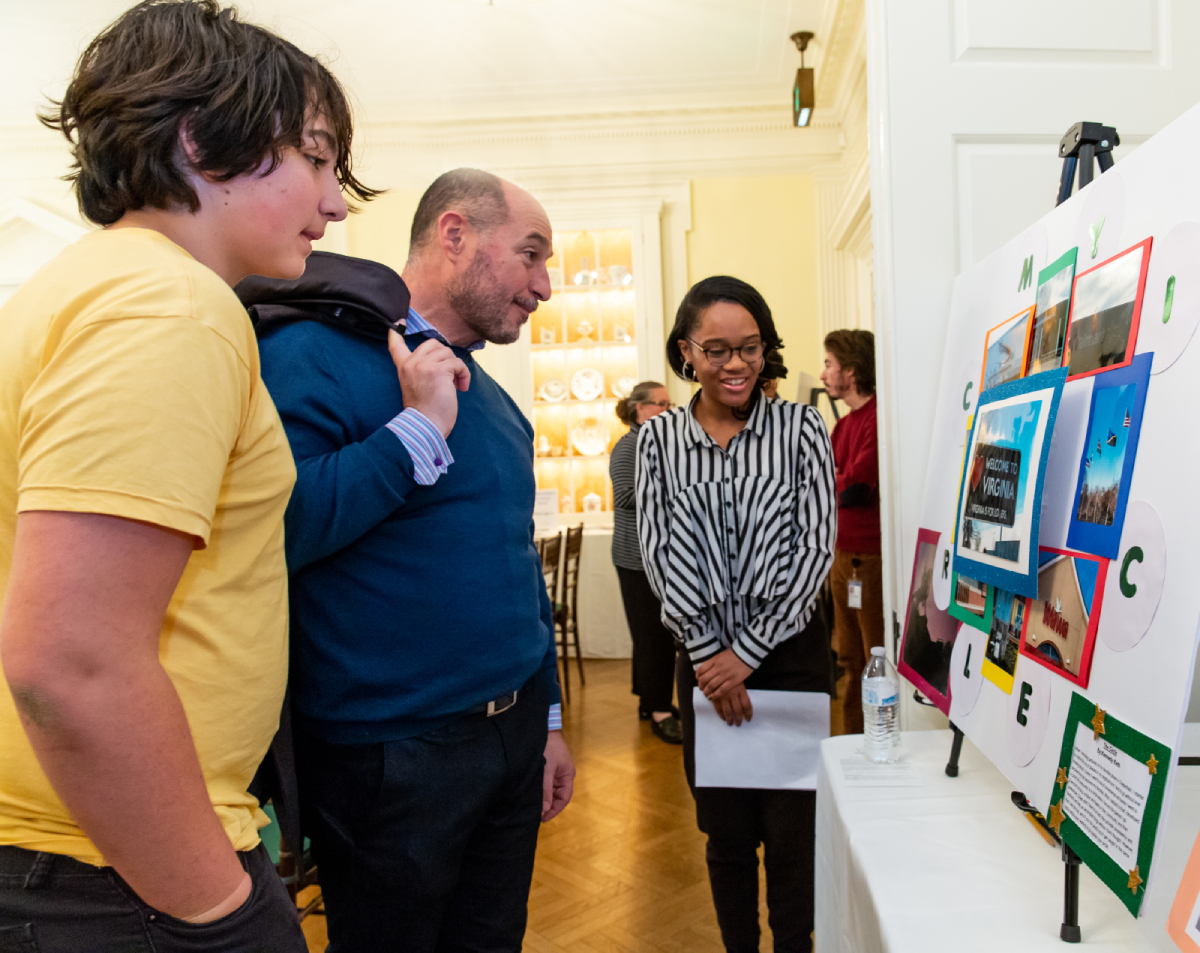 M.LiT: Museum Leaders in Training 2022-23
Isaac Julien: Lessons of the Hour—Frederick Douglass
M.LiT is a 12-week career-development and leadership-training program for teens in grades 8 through 12. Participants explore museum careers and serve as advisors in the development of other teen programs at VMFA. With the help of guest lecturers and VMFA staff, teens learn team building, research, and other skills that prepare them for employment. They also network with peers, mentors, and museum professionals.
The 2022-23 M.LiT program will focus on developing and implementing an event that complements the installation of Isaac Julien: Lessons of the Hour—Frederick Douglass, which opens in December 2022. Program participants will explore the themes in Julien's work, including the life and work of Frederick Douglass; the parallels between 19th– century history and contemporary social topics; and the connection that Douglass had with photography, image-making, and speech writing. Participants will collaborate with VMFA staff and community partners on the development of an event that engages teens on these topics and themes.
In this competitive program, students will gain a strong appreciation of the visual arts, in relation to history and culture. Workshops are held Thursday evenings beginning in early October through the end of January. Students have the opportunity to interpret artworks, plan an event that engages the Richmond community, build healthy and lasting relationships with peers and instructors, and develop an understanding of the function of art and museums in society. This leadership program is taught through hands-on workshops, insightful lectures, and engaging discussions.
Program Orientation: Thursday, October 6, 2022, 6–7:30 pm, Pauley Center Parlor
Workshops: Thursdays, October 13, 2022, 5:30–8:30 pm, Pauley Center Studios
Holiday Breaks: November 24, December 22, and December 29, 2022
Public Programs (developed and presented by teens): Thursdays, January 5-19, 2023, 5:30–8:30 pm, Location(s) TBD
Presentations and Recognition Ceremony: Friday, January 20, 2023
*dates/times subject to change
---
APPLICATION
All Call for Applications: Monday, August 1, 2022
Application Deadline: Friday, September 9, 2022  by midnight
Applicants will be notified of decision by Friday, September 23, 2022
Submission Guidelines
In addition to your application form, please submit a written statement and letter of recommendation (not a family member) of the following:
Personal Essay – Required
Your personal essay should be in response to the following prompt. Keep the helpful writing tips below in mind:
Carefully read and follow all directions.
Do not exceed the maximum word-count.
Be straightforward and confident
Proofread your work
Prompt: In 500 to 1,000 words, describe your interest in this year's project and also describe a time when you worked together with one or more people on a project or toward a shared goal.
In your response please consider the following:
What makes you interested in this year's theme? What experiences and/or skills do you bring to the topic?
Describe your role as an individual within the group and as a member of the group?
How did the group make decisions about how to share responsibilities?
What made your group successful?
In hindsight, is there anything that could have improved the way your group worked together?
---
Recommendations (non-family members) – Required
Choose a professional/personal reference (teacher, coach, supervisor, scout leader, etc.) who is not related to you who can provide details about you that include:
Performance as a student
Aptitude and industriousness
Maturity and seriousness of purpose
Level of commitment and ability to follow through
Leadership abilities and/or experience
Character
Copy and share this link to your teacher for online submission of teacher recommendations: https://vmfa.formstack.com/forms/teen_programs_recommendation_form