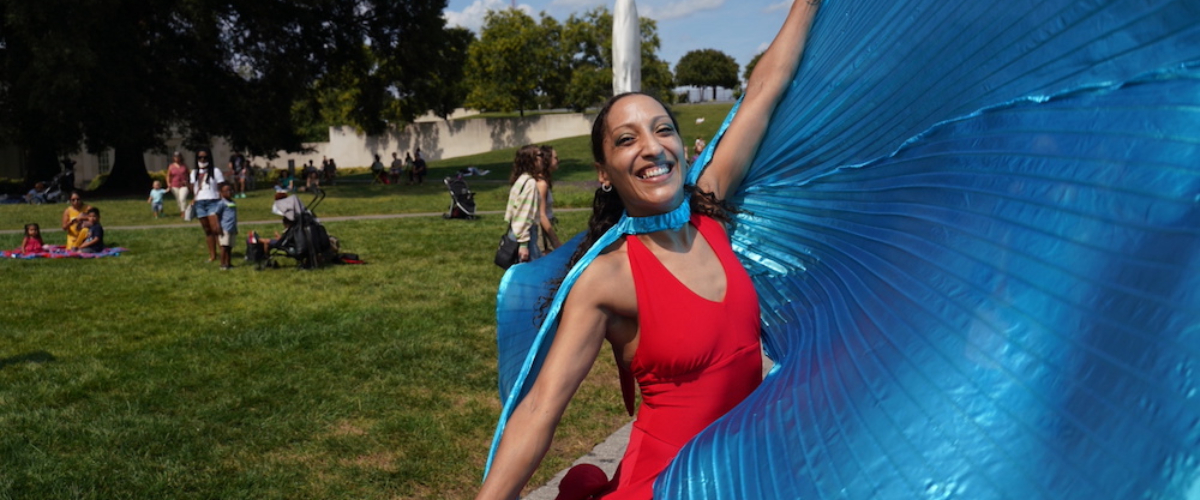 Welcome to VMFA's VIRTUAL Celebration
Welcome to VMFA's Latin America VIRTUAL Family Day!
This year, we are excited to host Celebrate the Art of Latin America: El Salvador Family Day in-person at VMFA, on Sep 10, 2022, from 11 am to 3 pm.
While we are hosting our full Family Day event in person, we invite you to explore a few of our Family Day activities and resources below. On the page, you will find four buttons that will lead you to a variety of activities and resources. Have fun, explore, and let your imagination roam!
---
---
★

Art Activities

It's time to make art! Check out the art activities listed below. Under each title and description, you will find a document with instructions and a list of supplies needed to complete each project.

Create a Lantern!
Join Kerry Mills from 1708 Gallery to create your own lantern inspired by celebrations in El Salvador. Learn more about InLight 2022.

Create Your Own Vessel
Use air-dry clay, or make your own dough, to sculpt a vessel inspired by VMFA's permanent collection.

Build a Volcano
Design and build a volcano like El Salvador's highest volcano, Santa Ana.
---
★

Virtual Gallery Activities

See works of art from the VMFA's permanent collection, learn, explore, and participate in activities listed below.

Gallery Preview: Mid-Late 20th Century
VMFA's Sydney and Francis Lewis Galleries showcase art made from the 1940s through the 2000s and feature paintings, sculpture, video art, prints, drawings, photographs, and collage. Like other galleries in the museum, works on view change from time to time as curators rotate objects in and out of storage. This way more of this large collection can be shared with visitors, and new and interesting connections can be made between objects. Click on the image in the link below to get a virtual view of the Mid to Late 20th-Century galleries.

Learn More

Gallery Preview: 21st Century
These galleries contain works made by artists who are living in our own time and exploring ideas about the world we share. Artworks from across the country and around the globe feature a wide variety of materials, techniques, and ideas. Together, they provide a broad view of our contemporary world. Like other galleries in the museum, objects on view change from time to time as curators rotate objects in and out of storage. This way more of this large collection can be shared with visitors, and new and interesting connections can be made between objects. Click on the image in the link below to get a virtual view of the 21st-Century galleries.

Learn More

Interactive Exercise: Question into Monologue
Artworks help us consider different perspectives. Artists are intentional when depicting people alone or in groups. Looking carefully at expressions, body language, and contextual clues in figural artwork can help us consider ideas about identity, community, and belonging. Use this interactive exercise to explore a work by Kehinde Wiley. Find ways to creatively document the ideas it presents and consider how your thoughts connect with the artist's own ideas and intentions.

Learn More
---
★

Recursos en español e inglés

Los Ojos Pequeños Miran: Rodando, de Adolph Gottlieb
Únase a una educadora de Primera Infancia del VMFA para una contemplación guiada para niños de Rodando, de Adolph Gottlieb.

Explore

Little Eyes Look: Rolling
Join a VMFA Early Childhood Educator for a children's guided observation of Rolling by Adolph Gottlieb.

Explore

Los Ojos Pequeños Miran: Genealogía: Las Matriarcas, de Holly Wilson
Únase a una educadora de Primera Infancia del VMFA para una contemplación guiada para niños de Linaje: Las Matriarcas, de Holly Wilson.

Explore

Little Eyes Look: Bloodline: The Matriarchs by Holly Wilson
Join a VMFA Early Childhood Educator for a children's guided observation of Bloodline: The Matriarchs by Holly Wilson.

Explore

Los Ojos Pequeños Miran: Chico junto a chorro de boca de incendios con gafas de buceo, de Louis Draper
Únase a una educadora de Primera Infancia del VMFA para una contemplación guiada para niños de Chico junto a chorro de boca de incendios con gafas de buceo, de Louis Draper.

Explore

Little Eyes Look: Boy in Fire Hydrant Stream Wearing Goggles
Join a VMFA Early Childhood Educator for a children's guided observation of Boy in Fire Hydrant Stream Wearing Goggles by Louis Draper.

Explore
---
★

Explore More

Discovering VMFA's Collection
Learn more about all of VMFA's permanent collections.

Explore

VMFA Learn
Explore resources, watch artist videos, and engage with more art from around the world!

Explore

Accessing VMFA's Library
The Margaret R. and Robert M. Freeman Library of the Virginia Museum of Fine Arts is open by appointment only. You can explore the library's digital collections online.

Explore

Shop VMFA
The VMFA Shop searches the world to provide a diverse selection of unique jewelry, home accessories, toys, stationery, and books related to the museum's collections and exhibitions as well as educational items and works by Virginia artists.

Explore
---
Generously sponsored by
---
ChinaFest: Year of the Water Rabbit | Feb 4, 2023 | 10 am-4:30 pm