Community Volunteer Opportunities at VMFA
Community Volunteers at the Virginia Museum of Fine Arts help to make our collections available to the public 365 days a year! From greeting and escorting visitors or assisting children in the Art Education Center to developing databases or dusting display cases, a variety of volunteer opportunities are available.
Volunteers are utilized seven days a week from before the museum opens to when it closes, making it convenient to find a schedule that accommodates any volunteer's lifestyle. Some volunteer positions require an ongoing commitment, while others are one-time activities or on-call positions.
VMFA strives to place volunteer applicants of all ages, backgrounds, and interests into appropriate assignments and encourages intergenerational, family, and group volunteering. Students seeking to meet requirements for community-service hours for school or other extracurricular activities may fulfill their commitment at the museum. Please note that, while the volunteer programs offer much flexibility, various circumstances such as position availability and suitability may prevent VMFA from placing an applicant. In addition, most volunteer positions require a reference and background check.
Currently, the primary volunteer openings are the following:
Ask Me Ambassadors (AMAs):
Serving as the welcoming face of VMFA, AMAs help greet visitors, assist with way finding, check visitors' coats, usher, take tickets, thank visitors, gather feedback on visitors' experiences, and perform other special assignments. AMAs should enjoy working with the public and have positive customer-service and interpersonal skills. They should also be reliable, like working on a team, and be able to take initiative.
AMAs commit to a minimum of two 2½-hour shifts per month. Shifts are generally available 9:30 am–noon, noon–2:30 pm, and 2:30–5 pm, seven days a week, and on Thu and Fri evenings 5–7 pm and 7–9 pm.
Family Day Event Assistants:
Family Days are one-time opportunities that provide a great way to get involved with volunteering at VMFA. Family Day Event Assistants greet visitors and direct them to activities, help with art stations, assist artists and performers, organize lines, usher guests into and out of performances and film screenings, prepare and disseminate materials, and help with setup and cleanup.
Volunteers for Family Days should be friendly, patient, and customer service oriented. Likewise, they should enjoy working with a large, diverse, multi-generational audience.
Learn more about upcoming Family Days →
---
To apply for one of these positions or to learn more about these and other volunteer opportunities, please contact Kim Frola, Program Manager for Volunteers and Community Service, at kim.frola@vmfa.museum or 804.340.1461.
Thank you for your interest in volunteering at VMFA.  We hope to hear from you soon!
Current Volunteers Log In to Volgistics Here
---
The Council of VMFA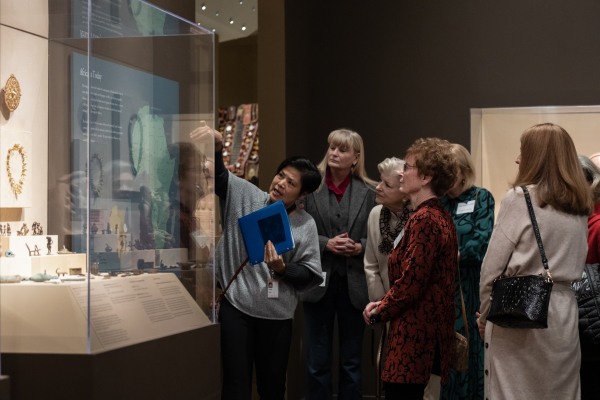 Serving VMFA since 1955, The Council of VMFA is a group of several hundred dedicated museum members who give their time and talent in support of service to the museum. The Council provides thousands of volunteer hours each year to the museum. There are various opportunities for every interest and talent.
Volunteer opportunities range from interacting with visitors to assisting in the VMFA Shop. They help care for the galleries, work in the library, assist in the Robins Sculpture Garden, and greet school groups. Furthermore, as a Council member you will learn about a number of collections here at VMFA while sharing a love for art . . . all while helping to support and improve a cultural institution that enriches the lives of all Virginians.
The Council enthusiastically welcomes new members throughout the year. To learn more about membership benefits and this dynamic group of volunteers, please visit The Council of VMFA page.