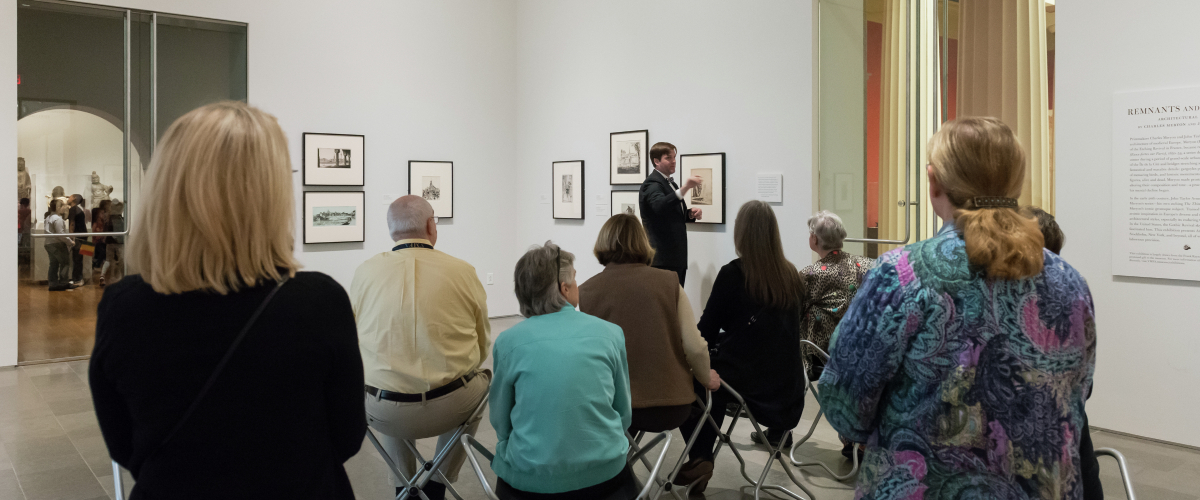 VMFA is currently offering guided and self-directed visits to our permanent galleries as well as Special Exhibitions. For more information contact our Adult and College Group Tour Coordinator at groupsales@vmfa.museum.
Resources
Visit our online Resource Center where students, educators, and families can find resources for classes, home, museum visits, and more!
---
Special Exhibitions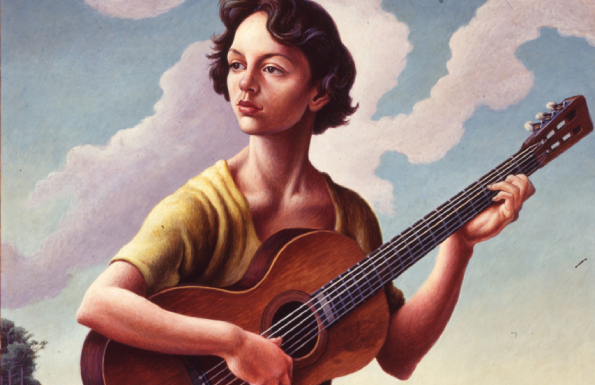 Jessie with Guitar (detail), 1957, Thomas Hart Benton (American, 1889–1975),
oil on canvas, 42 x 30 ½ in. Jessie Benton Collection © 2022 T.H. and R.P.
Benton Trusts / Licensed by Artists Rights Society (ARS), New York.
Storied Strings: The Guitar in American Art
Oct 8, 2022–Mar 19, 2023
Lower Level: Altria Group Gallery, NewMarket Gallery
Free for museum members.
Adult tickets are $16 each.
Group tickets are $12 each (VMFA considers a group to be 10 or more people).
Guided tours will be offered beginning October 22nd and are based on Tour Guide and Gallery availability, to groups of up to no more than 30 people per hour.
Ticket times are every 30 minutes. Payment for tickets is required one week in advance of your visit. For more information, please contact the Adult and College Group Tour Coordinator at groupsales@vmfa.museum.
Exhibition Description
This exhibition is the first to explore the guitar's symbolism in American art from the early 19th century to the present day. Featuring 125 works of art, as well as 35 instruments, the exhibition will demonstrate how guitars figure prominently in the visual stories Americans tell themselves about themselves—their histories, identities, and aspirations. The works in Storied Strings are divided into nine sections: Aestheticizing a Motif; Cold Hard Cash; Hispanicization: Parlor Games; Personification; Picturing Performance; Political Guitars; Guitars and African American Art; Re-Gendered Instruments. The exhibition also features smaller thematically arranged niche spaces, including The Blues; Women in Country Music; the Visual Culture of Early Rock and Roll; Hawaii-ana: and Cowboy Guitars. Linking these disparate themes is the premise that the guitar, as a visual motif, has long enabled artists and their human subjects to address themes and tell stories that otherwise would go unremarked or under-told.
---
Guided Tour Offerings:
We will begin booking our fall tour offerings on August 29th. Tours will begin on September 12 and run through December 11, 2022. All guided tours are subject to tour guide availability.
Adult Highlights Tour
Maximum group size is 60 adults
Learn about VMFA and its extensive collection of art! Visitors will see art that spans over 6,000 years of history and represents many different cultures.
Mellon: Impressionist Gallery Tour
Maximum group size is 30 adults
Join us for a tour of our Mellon French Galleries with a focus on Impressionism. View work from such artists as Monet, Renoir, Degas and Van Gogh. The artists in this gallery experimented with concepts such as color and light, forming the basis for the European Modern Art Movement.
American Galleries
Maximum group size is 30 adults
VMFA holds one of the finest collections of American art in the nation. These galleries include works from such artists as George Inness, John Singer Sargent, and Georgia O'Keefe.
Fabergé
Maximum group size is 15 adults
Explore the famed Faberge galleries. VMFA's collection includes five Imperial Eggs, making it the largest public collection of Faberge Eggs outside of Russia!
Elegance and Wonder: Masterpieces of European Art from the Jordan and Thomas A. Saunders III Collection
Maximum group size is 30 adults
Explore one of the most revered private collections in America, now on loan at VMFA! This vast display of art includes rich oil paintings by preeminent 17th and 18th – century European artists such as the Brueghel family, Canaletto, Franz Hals, Peter Paul Rubens and more. This installation invites the viewers to experience the work of art in the manner they would have been displayed in an 18th-century palace.
African American Art
Maximum group size is 60 adults
VMFA holds an amazing collection of art by African American and African Diasporic artists. From enslaved artists such as potter, David Drake, through the innovative styles of Aaron Douglas, to the reimagining of art by Kehinde Wiley, VMFA's collection spans the history of the U.S.A.
VMFA Scavenger Hunts:
Superstars of VMFA
Enjoy a mini pop culture trek through the museum to view famous artists and their sometimes even more famous subjects.
The Pursuit of Power
Discovery ways an image is used to denote power and wealth in varying cultures.
Artful Globe Trekking
Look for clues from around the world, while viewing art in VMFA's permanent collection.
Garden Party
Stroll through a garden of cultures and artists to see how nature has affected art throughout the centuries
War and Peace
Traverse the galleries while viewing art that depicts famous historical battles and wars that have shaped society and literature.