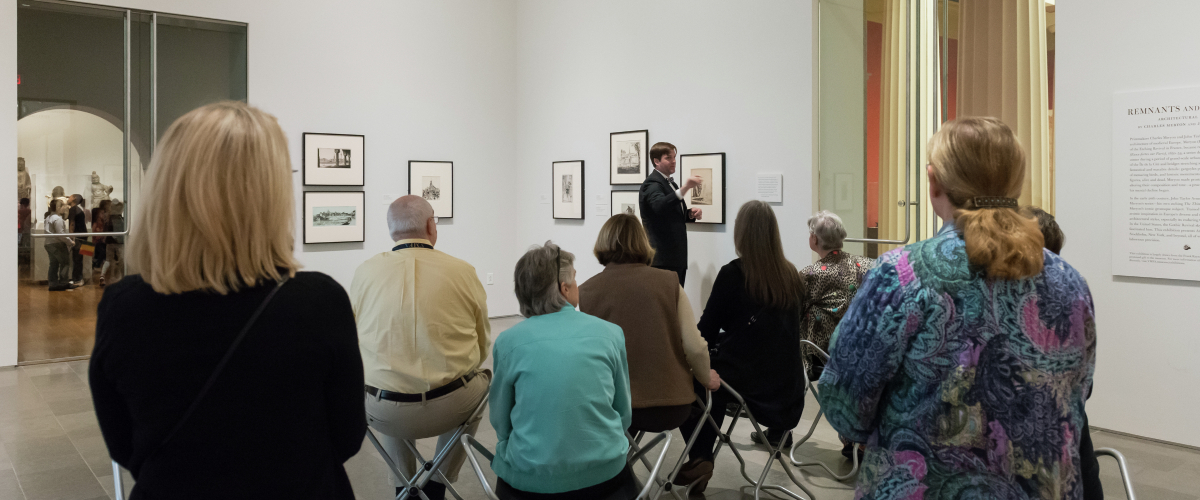 VMFA is currently offering guided and self-directed visits to our permanent galleries as well as Special Exhibitions. For more information contact our Adult and College Group Tour Coordinator at groupsales@vmfa.museum.
Resources:
Visit our online Resource Center where students, educators, and families can find resources for classes, home, museum visits, and more!
Special Exhibition Self Directed Visit only:
Two artists. Two Exhibitions. One ticket.
$12 individually/ $10 per person for groups of 10 or more.
Your ticket includes access to both Whitfield Lovell: Passages and Benjamin Wigfall and Communications Village.
---
Guided Tour Offerings:
All guided tours are subject to tour, and gallery availability and require at least a three-week notice.
Adult Highlights Tour
Maximum group size is 60 adults
Learn about VMFA and its extensive collection of art! Visitors will see art that spans over 6,000 years of history and represents many different cultures.
Mellon: Impressionist Gallery Tour
Maximum group size is 30 adults (Tours of these galleries will not be offered between June 20 and July 28th due to temporary gallery closures).
Join us for a tour of our Mellon French Galleries with a focus on Impressionism. View work from such artists as Monet, Renoir, Degas and Van Gogh. The artists in this gallery experimented with concepts such as color and light, forming the basis for the European Modern Art Movement.
American Galleries
Maximum group size is 30 adults
VMFA holds one of the finest collections of American art in the nation. These galleries include works from such artists as George Inness, John Singer Sargent, and Georgia O'Keefe.
Fabergé
Maximum group size is 15 adults
Explore the famed Faberge galleries. VMFA's collection includes five Imperial Eggs, making it the largest public collection of Faberge Eggs outside of Russia!
Elegance and Wonder: Masterpieces of European Art from the Jordan and Thomas A. Saunders III Collection
Maximum group size is 30 adults
Explore one of the most revered private collections in America, now on loan at VMFA! This vast display of art includes rich oil paintings by preeminent 17th and 18th – century European artists such as the Brueghel family, Canaletto, Franz Hals, Peter Paul Rubens and more. This installation invites the viewers to experience the work of art in the manner they would have been displayed in an 18th-century palace.
African American Art
Maximum group size is 60 adults
VMFA holds an amazing collection of art by African American and African Diasporic artists. From enslaved artists such as potter, David Drake, through the innovative styles of Aaron Douglas, to the reimagining of art by Kehinde Wiley, VMFA's collection spans the history of the U.S.A.
VMFA Scavenger Hunts:
Superstars of VMFA
Enjoy a mini pop culture trek through the museum to view famous artists and their sometimes even more famous subjects.
The Pursuit of Power
Discovery ways an image is used to denote power and wealth in varying cultures.
Artful Globe Trekking
Look for clues from around the world, while viewing art in VMFA's permanent collection.
Garden Party
Stroll through a garden of cultures and artists to see how nature has affected art throughout the centuries
Femmes Fantastiques
Enjoy works of art created by woman artists.