Registration Information
Winter/Spring 2024 Classes & Programs
Registration for Members
To accommodate the high volume of enrollment, members-only registration for the following categories will begin as noted below:
Tue, Nov 14 | 8 am
Studio School and Adult Art History Classes
Wed, Nov 15 | 8 am
Early Childhood Classes & Camps (age 5 and under), Kids Studio Classes (ages 5–12), and Teen Summer Classes (ages 13–17)
VMFA members have the first chance to register for classes. Not a member? Join today.
Registration for Non-members
Tue, Nov 21 | 8 am
Non-member registration for all classes begins
Explore the Winter/Spring 2024 Classes & Programs Brochure
Fall 2023 Classes & Programs
Registration for VMFA Members & Non-members is currently underway online, by phone, and in person.
Questions: 804.340.1405
Explore the Fall 2023 Classes & Programs Brochure
In need of assistance? Visitor Services is available by phone 804.340.1405 starting at 8 am
or in-person at the museum starting at 10 am on registration days.
Museum Programs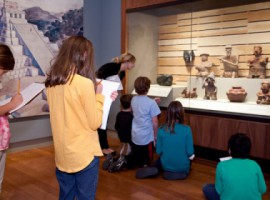 Pre-K–12 Educational Resources
VMFA is excited to announce the launch of a new Educational Resources website! Completely redesigned and organized for ease of use! Resources include pre and post visit guides, gallery activities, lesson plans, artist videos and more!
For Your Visit
For Your Classroom
Browse All