Library Hours
The reading room of the Margaret R. & Robert M. Freeman Library is fully open to the public Mon—Fri, 11 am—5 pm, and closed on state holidays.
For reference assistance, or to inquire about scheduling an appointment during outside hours, please contact us at library@vmfa.museum or phone 804.340.1495. Appointments are required to access special collections and should be made 24 hours in advance of your planned visit. We look forward to seeing you in the library!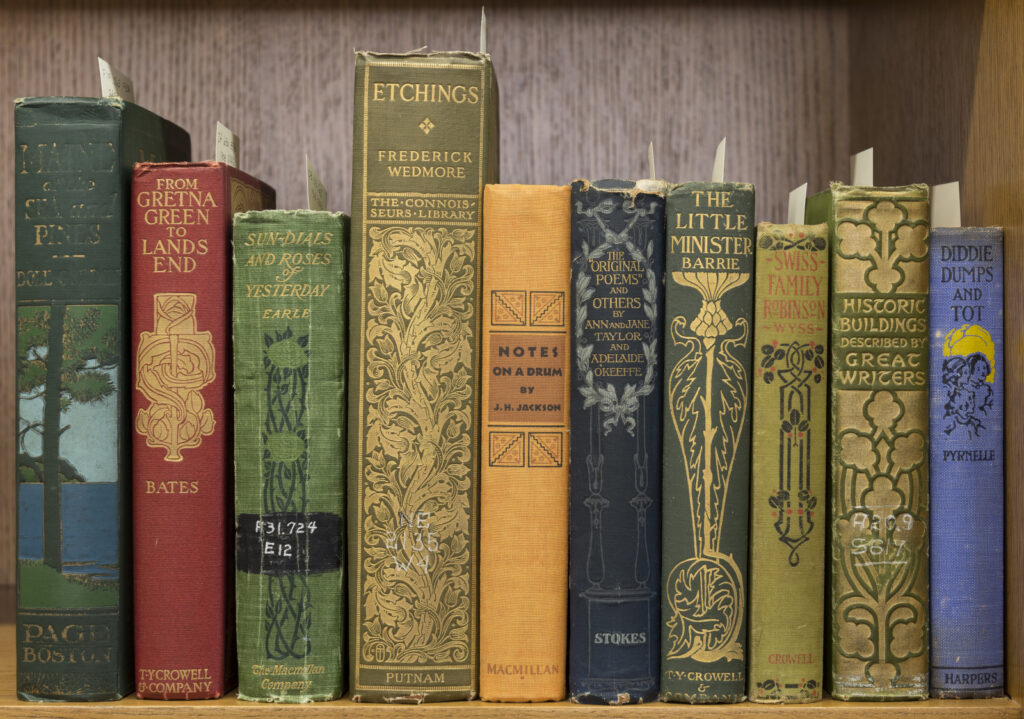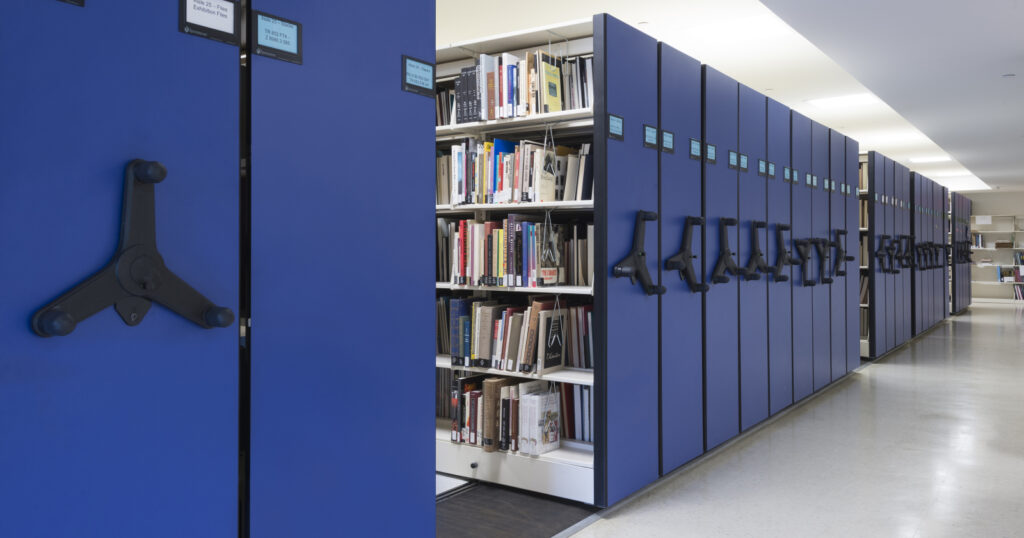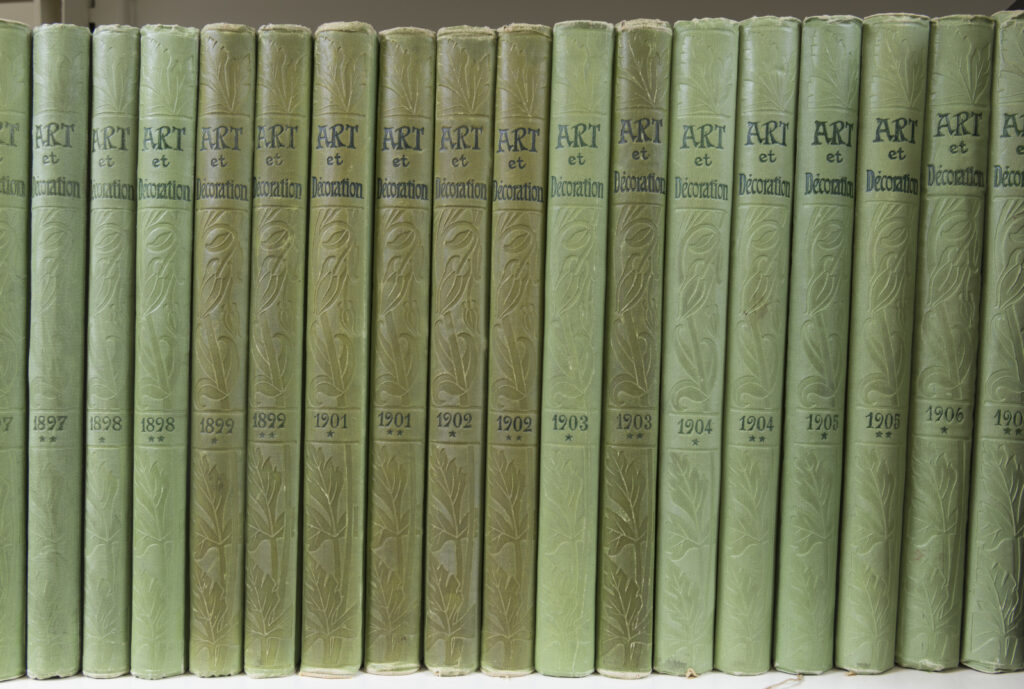 Library Services
Phone: 804.340.1495
Email: library@vmfa.museum
Location: For details regarding museum location, parking, and directions, see Directions and Parking.
Public Reading Room Hours: Mon—Fri, 11 am—5 pm. Closed on state holidays.
We can help you:

Locate books or other materials you need to do your art research.
Find information on objects in VMFA's collection.
Track down biographical and other information on artists.
Pinpoint galleries or museums that may hold an artist's work.
Locate auction records that have sold work by a particular artist (if available).
Find an appraiser or gallery.
Find all kinds of information about art and artists.
Provide contacts for the conservation or preservation of your art and antiques.

We are not able to:

Provide potential selling prices for any work of art.
Appraise or give value estimates on any work of art.
Authenticate any work of art.
Interlibrary loan books, but we are happy to point you in the direction of places that can.
Using the Collections
Access Policy: The Freeman Library collection is non-circulating, except to museum staff. Because its stacks are closed to the public, our staff will retrieve material for patrons. We ask that you bring a pencil for taking research notes when using rare or archival materials.
Internet Access: The entire museum has free wifi internet access. The library has three public access Mac computers. Use of public computer workstations is limited to two hours of use per day, per patron.
Phone / Laptop / Camera Policy:  Patrons are reminded to silence cell phones and prohibited from phone/video conversations while inside the library. Cameras may be used according to the following conditions:

Materials must always be handled properly and with great care. Bound materials must remain in cradles and loose materials should remain in folders and flat.
Patrons may not use tripods, scanners, camera flashes, or special lighting.
Audible features on the camera must be disabled when possible. If sound cannot be disabled, Library staff may limit photography.
No pictures may be taken of the room itself, other patrons, or the staff.
Collections may be subject to donor stipulations that limit or prohibit photography.
Patrons are responsible for keeping complete and accurate citations (call number, item numbers, and/or page numbers) for all items photographed.
The Library reserves the right to deny requests or revoke permission for any reason.
WARNING CONCERNING COPYRIGHT RESTRICTIONS
The Margaret R. and Robert M. Freeman Library makes materials available for research and scholarship. Patrons should note that in most cases, the Library does not own the copyright to content in its collections. The copyright law of the United States (Title 17, United States Code) governs the making of photocopies or other reproductions of copyrighted material.
Copying, Printing and Scanning: Photocopies and printed documents are $0.20/page for black and white and $0.50/page for color. Scans sent as email PDF documents are $0.50/email. The library accepts cash only, and all fees must be paid in advance. Please note that you cannot print from your personal computer while at the library.
Interlibrary Loan: The Freeman Library does not offer interlibrary loan services, but our staff can help patrons find resources locally.
Research Form
Freeman Library staff is available to answer reference queries received via e-mail Monday through Friday. Please fill in as many fields as possible. Staff will respond to your reference question in the order in which it was received, generally within 2 business days. This form is not to be used by docents. If you are a docent and need research assistance, please visit the Library or email library@vmfa.museum. Thank you.
The Margaret R. and Robert M. Freeman Library subscribes to several important art research databases and periodical indexes as well as the major bibliographical utilities. These resources are available on any public computer terminal in the Freeman Library (seek the help of a staff member to log on).
Click here to search Pandora, the Freeman Library's catalog.
Artnet
The Artnet Price Database is the most comprehensive, color-illustrated archive of fine art auction results worldwide. Representing auction results from more than 500 international auction houses since 1985, the Price Database covers more than 2.6 million artworks by more than 180,000 artists, ranging from Old Masters to Contemporary Art. With the Price Database, you can determine the price of art you may want to buy or sell, value artworks you currently own, research discreetly and independently, track market changes in artists' works, view unknown or rarely seen works by important artists, or compare the relative values of different categories within an artist's career.
Askart
AskART is an online database containing over 185,000 artists. From its inception the focus was on American artists from the early 16th century through the present. However, in January of 2007, the database expanded to include international artists' auction records. The website offers extensive biographical information about American artists as well as book and periodical references, along with international artists' auction records and images. More than 6,000 museums and dealers are also referenced.
Bibliography of Asian Studies
The online version of the Bibliography of Asian Studies (BAS) contains 787,192 records on all subjects (especially in the humanities and the social sciences) pertaining to East, Southeast, and South Asia published worldwide from 1971 to the present. The online BAS contains the full data of all of the printed volumes of the BAS issued from the 1971 up to the 1991 volumes (published in 1997), as well as hundreds of thousands of entries compiled since then. Through the 1991 printed volume, the BAS included citations to Western-language periodical articles, monographs, chapters in edited volumes, conference proceedings, anthologies, and Festschriften, etc. Monographs published since 1992, however, have not been added to the database, and users seeking such monographs are urged to consult other general resources and databases such as OCLC.
Bibliography of the History of Art
BHA is the most comprehensive art bibliography available worldwide, covering European and American visual arts from late antiquity to the present. Its citations include the fine arts (painting, sculpture, drawing, prints, and architecture) as well as the decorative and applied arts (crafts, graphic arts, and folk art). It includes and extends the coverage of its two predecessor art indexes: Répertoire d'Art et d'Archéologie (RAA) from 1973 to 1989 and International Repertory of the Literature of Art (RILA) from 1975 to 1989. The database contains more than 665,000 records, with about 8,000 records added annually, drawn from 1,400 journals, as well as books, conference proceedings, essays, exhibition catalogues, selected art dealers' catalogues, doctoral dissertations, and microform publications. Records include detailed abstracts in English or French.
Chicago Manual of Style Online
The Chicago Manual of Style Online offers recommendations on editorial style and publishing practices in the digital age. The online edition includes the searchable text of the new 16th and 15th editions with features such as tools for editors, a citation guide summary, and searchable access to Q&A.
DYABOLA
The DYABOLA database project is a navigable and source-oriented text and image registration system that allows users to structure, administer, search, and browse through almost 20 different ancient art and literature resources. The DYABOLA project includes access to research databases (such as Attic Grave Reliefs of the Late 5th and of the 4th centuries BC and the Census of Antique Art and Architecture Known to the Renaissance), subject catalogues on literature (such as the Subject Catalogue of the DAI in Rome), library management and meta-catalogues, as well as thesauri (such as the Philological Thesaurus of the Terms of Antique Painting of the RUB).
Invaluable
Invaluable is the world's largest auction catalog archives of prices estimated and paid for antique, art, and collectible objects sold by the world's premier auction houses, more than 500 in all. Search the database of over six million unabridged auction results using the powerful search engine. Search results include auction house, date of sale, object description, and available photos.
Oxford Art Online
Oxford Art Online offers access to cross-search Oxford's authoritative art reference resources including: Grove Art Online, the Concise Oxford Dictionary of Art Terms, Encyclopedia of Aesthetics, and the Oxford Companion to Western Art. Oxford Art Online provides web access to over 15,000 subject entries, over 22,000 biographies contributed by nearly 7,000 international scholars, and digital images on every aspect of the visual arts.
Additional Online Resources
Google Arts and Culture
Explore and learn about art museum collections all over the world
Heilbrunn Timeline of Art History
Explore the timeline of art history with the ability to searching theme, chronology, and geography
Met Publications
Read full-text Met publications available online
New York Public Library Digital Collections
Explore 909,896 items digitized from the NYPL collections including prints, photographs, maps, manuscripts
Smarthistory
Explore free art history videos and essays
How To Write About Art History
UNC Writing Center tips and tools on how to write an art history research paper