Richmond Organizations Highlight Civil Rights and Social Justice
Beginning in January 2014, eight Richmond-based arts and cultural organizations will partner to facilitate community-wide conversations about civil rights and social justice inspired by their respective exhibitions and programs. Highlights include the upcoming Signs of Protest as well as Posing Beauty in African American Culture at the Virginia Museum of Fine Arts, Louis Draper Retrospective at Candela Books + Gallery, and the Hair Craft Project at 1708 Gallery. Below you will find a comprehensive listing of the participating institutions and links to their respective websites for more information on their exhibitions and program offerings. Events are free and open to the public, unless otherwise noted by the organization. Follow the links for each venue's website for directions, gallery hours and other details.
1708 Gallery
Hair Craft Project
The Hair Craft Project aims to break down barriers by crossing boundaries between hair salons and art galleries as sites of aesthetics, craft, skill, improvisation and commerce.
February 14 – March 8, 2014
For more information, please visit www.1708gallery.org

Anderson Gallery VCUarts
LaToya Ruby Frazier: A Haunted Capital
LaToya Ruby Frazier's intensely personal photographs and videos portray her family and her hometown of Braddock, Pennsylvania. Though intimate in scope, Frazier's images powerfully draw attention to larger social issues pertaining to class and the environment. The exhibition was originally organized by the Brooklyn Museum.
January 17 – March 9, 2014
For more information, please visit arts.vcu.edu/andersongallery
Black Iris Gallery
Public Eye: Civil Rights Case Study
This exhibition of over 400 photographs, films, and artifacts from a veiled archive examines the extent to which the rise of the modern Civil Rights Movement has impacted our understanding of the power of image.
January 17 – February 28, 2014
For more information, please visit http://blackiris.tv/
Candela Books + Gallery
Louis Draper Retrospective
Candela Books + Gallery hosts the first-ever retrospective of mid-century African-American photographer Louis Draper, a native of Richmond, Virginia. The exhibition will showcase over 40 photographs spanning Draper's career, from the late 1950's to 1990s.
January 10 – February 22, 2014
For more information, please visit https://candelabooks.com
Elegba Folklore Society
Body as Art: Photographs by Thierry Laurence
In this series of black-and-white photographs, Thierry Laurence manipulates light, shadow, and water to express an artistic essence of the black male body. In his portraits, Laurence reinforces abstraction elements that refer to the humanity and body politics of African American men in the 21st century.
Through January 21, 2014
For more information, please visit http://www.efsinc.org
African Root, American Fruit: Paintings by Ronald Jackson
Ronald Jackson paints portraits and figurative works to comment on the identity of African American people and their influence on the landscape of American society. His work shifts from a painterly approach to the message-centric rendering of illustration, to the expressive simplicity of folk art.
February 7 – April 30, 2014
For more information, please visit http://www.efsinc.org
Reynolds Gallery
Sonya Clark
A concurrent solo show will feature Sonya Clark's sculptural works, which incorporate multiple materials and methods of making that reflect her background in the fiber arts and addresses the themes of identity and heritage.
Opens February 21, 2014
For more information, please visit http://www.reynoldsgallery.com
Valentine Richmond History Center
2014 Community Conversations Series
The Valentine History Center collaborates with Richmond Magazine to present the Community Conversations series, conceived to engage the community in dialogue about the region's past and how that past can positively shape our collective future. The series is held once monthly at various locations.
January 7 – May 1, 2014
For more information, please visit https://thevalentine.org 
Virginia Museum of Fine Arts
Signs of Protest: Photographs from the Civil Rights Era 
Signs and protests were inseparable in the 1960s and produced maximum impact when photographed or filmed by the media. This exhibition includes 25 photographs of the culture of resistance during that turbulent decade, with an emphasis on civil rights leaders Martin Luther King Jr., Malcolm X, and Stokely Carmichael. The photographs also follow the evolution of protest from civil rights and black power to Vietnam War demonstrations and, in subsequent decades, rallies fighting South Aftrican apartheid. Signs of Protest is curated by Dr. Sarah Eckhardt, Assistant Curator of Modern and Contemporary Art.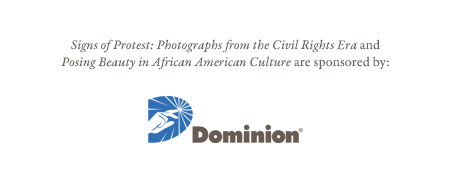 January 11 – August 3, 2014
For more information, please visit the Signs of Protest Exhibition Page
Posing Beauty in African American Culture 
This exhibition examines the contested ways in which African and African American beauty has been represented in historical and contemporary contexts through a diverse range of media, including photography, film, video, fashion, advertising, and other forms of popular culture such as music and the Internet. Posing Beauty features approximately 85 works by artists such as Carrie Mae Weems, Charles "Teenie" Harris, Eve Arnold, Gary Winogrand, Shelia Pree Bright, Leonard Freed, Renee Cox, and more.
April 27 – July 26, 2014
For more information, please visit the Posing Beauty Exhibition Page
Identity Shifts: Works from VMFA
In conjunction with Posing Beauty, this collection-based exhibition features works by African American artists who use representations of the human figure or some aspect of the body (including hair) to explore how we construct and perceive personal and cultural identity. The selection of paintings and sculptures, from the 1970s to the present, features an array of perspectives and styles that underscore the complex factors informing conceptions of race and gender, and includes works by such artists as Trenton Doyle Hancock, Robert Pruitt and iona rozeal brown. Many of these pieces will be on view at VMFA for the first time.
April 27 – July 26, 2014
For more information, please visit the Home Page