Explore three art objects in 30 minutes. VMFA's "3 in 30" programs are offered on the first Tuesday (in-person) and Thursday (virtually) of every month. Curators and educators discuss works in the permanent collection and in special exhibitions, considering different themes found across the collection, artistic movements, or a single artist's body of work. "3 in 30 PLUS" is an expanded version of this program where two speakers come together to present a program that is one-hour long. The "3 in 30" programs are free and open to the public.
---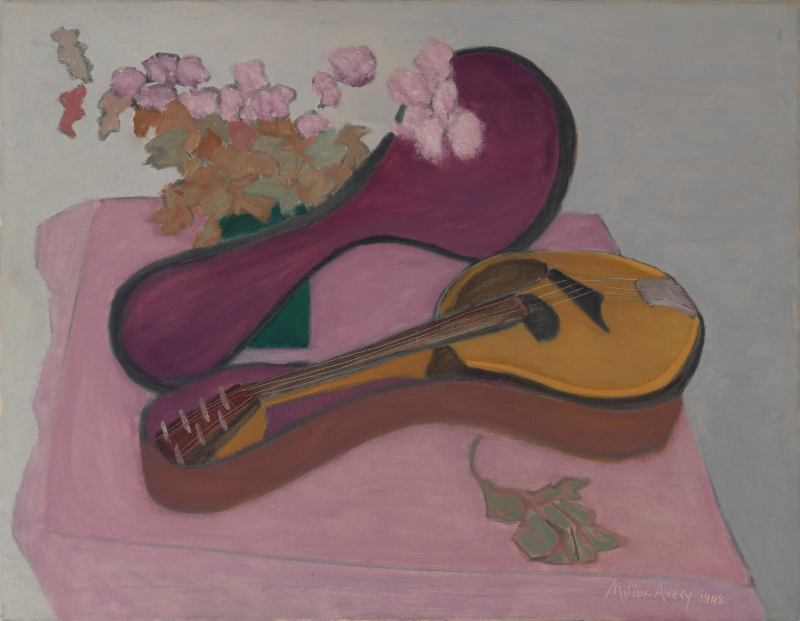 Mandolin with Flowers, 1948, Milton Avery (American, 1885—1965), oil on canvas. Virginia Museum of Fine Arts, DOnated by United Art of VIrginia, LLC as part of the James W. and Frances Gibson McGlothlin Collection
3 in 30: Composing our Thoughts
Join exhibition educator Sarah Rasich and Performing Arts Coordinator Robert Phanord for a casual conversation around three works of art in VMFA's permanent collection. By considering the parallels between sonic and visual vocabulary, we'll relate these objects to the special exhibition Storied Strings: The Guitar in American Art.
3 in 30: Composing our Thoughts – In Person
Tue, Dec 6, 2022 | 11—11:30 am
Meet at Visitor Services
Free; no tickets required.
---
3 in 30: Composing our Thoughts – Virtual
Thu, Dec 8, 2022 | 11—11:30 am
Virtual Program
Free; Register on Zoom.
---
View previous virtual programs on YouTube.