Upcoming Programs
---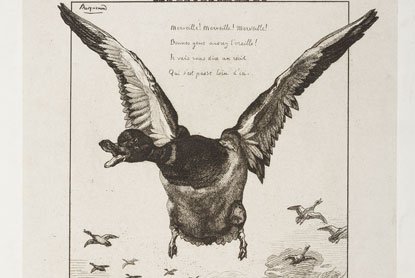 3 in 30: Winged Figures of Speech: Félix Bracquemond's Bird Motifs
Tue, May 5, 11 – 11:30 am & Thu, May 6, 6:30 – 7 pm | Meet at Visitor Services Desk
French printmaker Félix Bracquemond (1833-1914) produced distinctive images of birds throughout his prolific career. Though these artworks reveal Bracquemond's close appreciation of nature, often they also inventively combine image with text — including poems and artfully arranged captions — to impart symbolism to his feathered subjects. Join Kristie Couser, Curatorial Assistant for the Mellon Collections, for a gallery talk that will interpret metaphors, puns, and other figures of speech illustrated in the exhibition Félix Bracquemond: Impressionist Innovator.

Free, no tickets required
---
How. . .Do You Dance in Response to Works of Art?
Fri, May 15, 1 – 2 pm | Meet at Visitor Services Desk
Join dancer and choreographer Alicia Díaz for a gallery program that explores the connection between dance and visual works of art. Ms. Díaz will talk about the elements of dance improvisation and, joined by percussionist Héctor "Coco" Barez, will perform in the 21st-Century Art Galleries.

Free, no tickets required
---
Gallery Walk with Kip Fulbeck
Sat, May 30, 2 – 2:45 pm | Evans Court Gallery
Join Kip Fulbeck, the artist, designer, and photographer for Japanese Tattoo: Perseverance, Art, and Tradition, for an informal gallery walk through and talk about the special exhibition.

Free, with purchase of a Japanese Tattoo exhibition ticket
Mr. Fulbeck will also be hosting a talk: Perseverance: Creating the First Exhibition Exploring Japanese Tattooing as Fine Art on Fri, May 29.