Upcoming Programs
---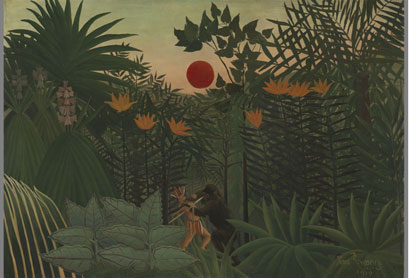 3 in 30: The Juxtaposed: Magritte, Cornell, Rousseau
Tue, Apr 7, 11 – 11:30 am, or Thu, Apr 9, 6:30 – 7 pm | Meet at Visitor Services Desk
Trent Nicholas, Media Programs Coordinator, explores three artists: René Magritte, Joseph Cornell and Henri Rousseau, who were vastly different but united by their ties to surrealism. Surrealism, which was an artistic and literary movement that experimented with new modes of expression, was embraced by René Magritte, while Cornell acknowledged the movement and took it in his own direction. On the opposite side of the spectrum, Rousseau was adored by the surrealist group of Paris but was a completely "involuntary" surrealist. This artist's ubiquitous botanical bent is the inspiration for this talk during the run of our special exhibition, Van Gogh, Manet, and Matisse: The Art of the Flower.
Free, no tickets required.
---
How…do you draw flowers?
Fri, Apr 17, 1 – 2 pm | Meet at Visitor Services Desk
Join artist and educator Megan Liles Endy for a closer look at paintings of flowers in VMFA's permanent collection. After a visit to the galleries, watch flowers come to life in the studio as Ms. Endy demonstrates drawing techniques using colored pencils and shows how the medium exhibits characteristics of both drawing and painting. Visitors also are given the opportunity to draw their own flowers after the demonstration.
Free, no registration required