Dr. Mitchell Merling, Paul Mellon Curator and Head of the European Art Department, who organized this exhibition for VMFA, points out some of the not-to-be-missed highlights in each gallery of the exhibition.
---
Gallery 1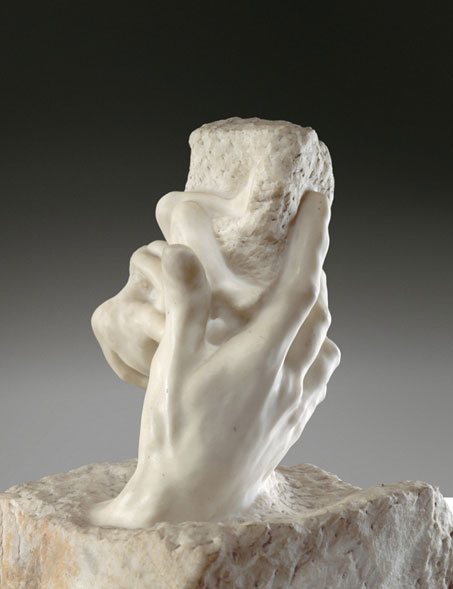 The Hand of God, 1898
In The Hand of God, Rodin audaciously compared the art of sculpture to God's own act of creation—with Adam and Eve playing the part of the "first sculptures."
---
Gallery 2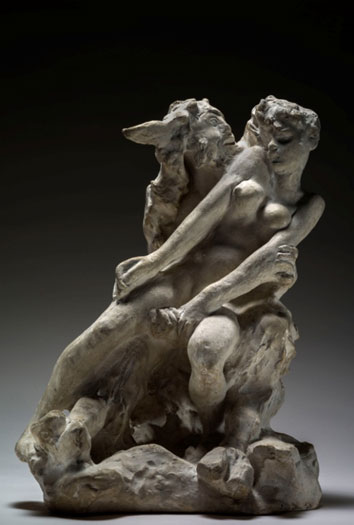 The Minotaur, 1885–86
This gallery features numerous, never-before-seen plaster fragments from The Gates of Hell, Rodin's great but unfinished masterpiece. The sculpture of The Minotaur stands out for two reasons. First, it best exhibits the stunning sketch-like qualities of these unseen plasters in general and secondly, it displays Rodin's interest in depicting unabashed sexuality. Both of these aspects were revolutionary for Rodin's time.
---
Gallery 3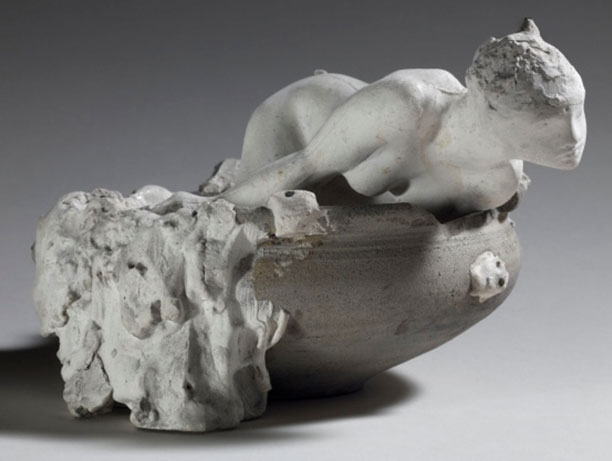 The Small Water Fairy, ca. 1903
Rodin collected thousands of antique vessels from Greece, Rome, Egypt, and elsewhere, and combined them with his own figures, audaciously mixing ancient and modern styles within single works. He called these free poetic inventions "flowers," and they recall classical erotic poetry that celebrated love and the human body. This unique model was later enlarged and repurposed in marble to be used as a fountain.
---
Gallery 4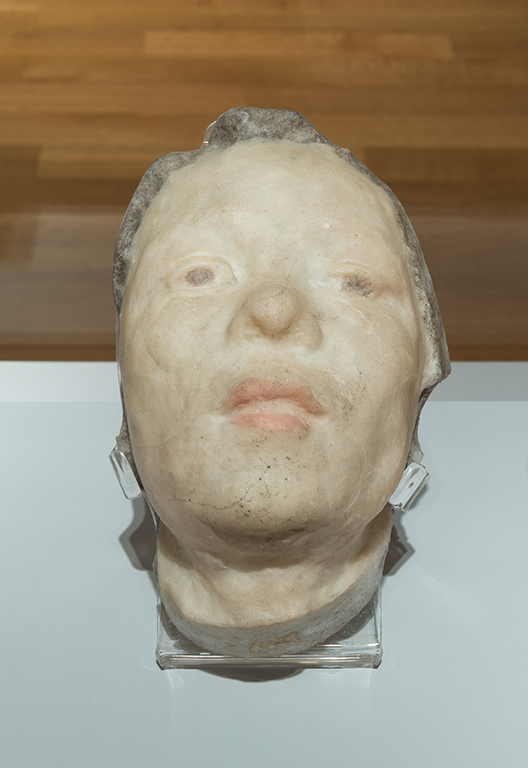 Mask of Hanako, Type E, ca. 1907–10
In this gallery, meet the unconventional cast of characters who populated Rodin's studio. Disdaining classical studio and academy models, Rodin preferred unusual and often eccentric characters—including street-sweepers, circus performers, and others.

The dancer Hanako, shown here, was originally a Japanese vaudeville actress who came to France and was famous for dramatic portrayals of scenes depicting hara-kiri (ritual suicide). Such performances were lapped up by Europeans who were fascinated by all things Japanese—the phenomenon known as "Japonisme."
---
 Gallery 5
The Thinker, large-size model, 1903
This gallery is dominated by this large, plaster version of The Thinker. The superlative and unique example exhibited here—which is more than four times life-sized—was created to be cast in bronze and displayed outside the Paris Panthéon and was later moved to the garden of the Musée Rodin. This is undoubtedly the most important version ever made of this popular sculpture.

 
---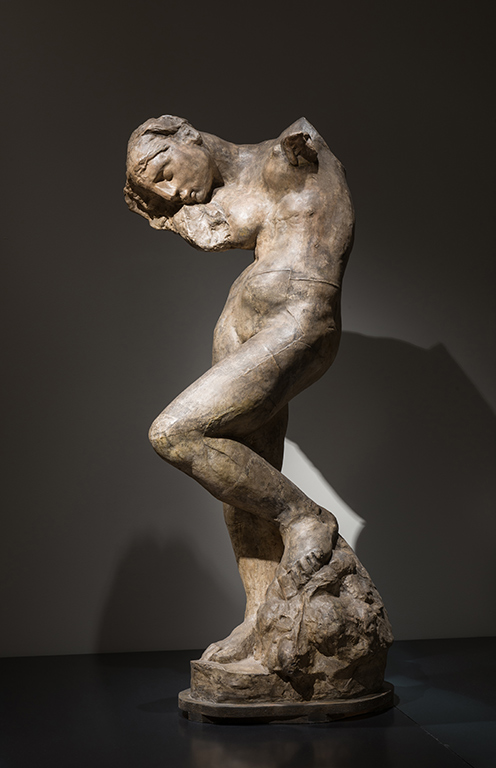 Meditation, without arms, ca. 1894–96
My personal favorite—perhaps in the entire exhibition—is the poignant Meditation. Originally intended as a muse for a monument to the French writer and artist Victor Hugo, this version—armless and almost featureless—looks ahead to modern abstract sculpture.
---
Gallery 6
Clenched Hand in Druet's Studio, 1896–1900, printed after 1904
Eugène Druet (French, 1868–1917)
Rodin bravely took on the challenge of the relatively new technique of photography, creating a bold and innovative new language for this process. He worked directly with photographers, such as Eugène Druet, imposing his aesthetic vision on each image. Disdaining mere reproduction or documentation, he also signed these photographs himself and considered them works of art in their own right—see why.
---
Gallery 7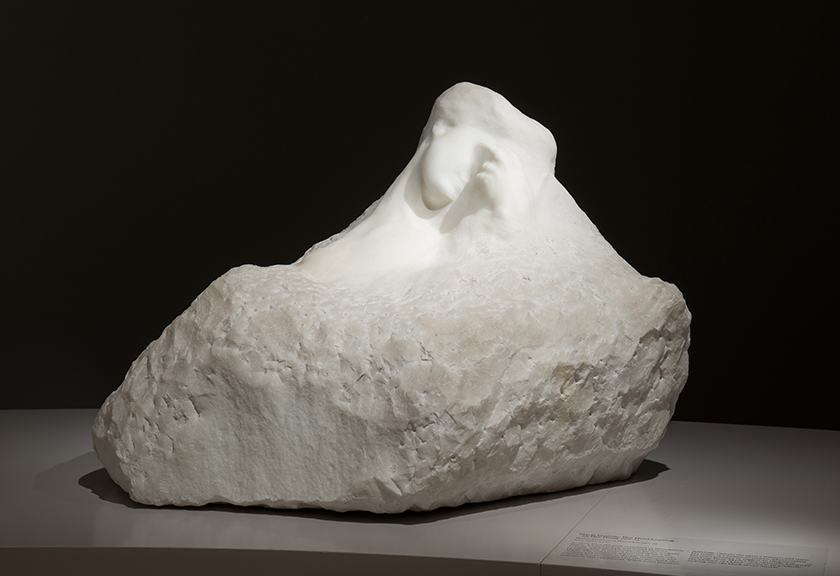 Marie Fenaille, Her Head Leaning on Her Hand, 1912–13
Though Rodin only supervised the making of marble statuary in his studio and left the carving to his assistants, they achieved amazing results. One example is this poetic bust of a society woman who was the wife of Rodin's patron and friend Maurice Fenaille. Here, Rodin revolutionized the very language of portraiture—as he did every other theme he took on.
---
Gallery 8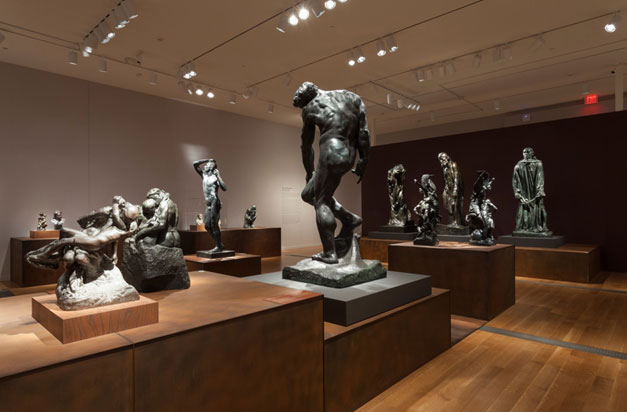 Offers a gathering of all of Rodin's most famous works in bronze including:
A small version of The Thinker
A bronze version of The Kiss
Adam
The Age of Bronze
Jean d'Aire, Eustache de Saint-Pierre, Andrieu d'Andres, (from The Burghers of Calais monument)
Eternal Spring
as well as Camille Claudel's Abandonment
---
Abandonment, 1886, cast 1905
Camille Claudel (French, 1864–1943)
Such melodramatic works and titles have bolstered the view that Claudel was mistreated by Rodin. However, the excellent catalog that accompanies this exhibition argues that it was she who left him, and that he generously perpetuated her artistic memory by insisting that a room be dedicated to her in the new museum he created.

But in my opinion the true highlight of the last gallery is coming upon all these familiar works with a wonderful new understanding of this complex artist. I think that experience is what any great art exhibition delivers to visitors.
---
Curator's Tip
I encourage all visitors to dip into the amusing and instructive Family Guide audio tour, available to download free of charge. The tour tells the tale of Zac, a youngster from the 21st century who travels back in time to visit Rodin's studio. There, he meets a boy his age named Émile, an assistant in the studio, who tries to explain to a puzzled Zac what's going in this strange and funny place. It is amusing, wry, and full of interesting information and is worth a listen by audiences of all ages.