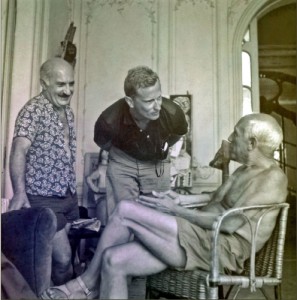 While attending a Picasso exhibition in Paris during the summer of 1955, Frederick Baldwin–a young American journalism student from Columbia University–asked: why not visit the artist instead?
"I wanted to see Pablo Picasso. I don't suppose that anybody felt less qualified or had less of an excuse than I did. But to me he was a compelling, attractive imaginary companion who had coached many of my dreams about creativity…. Mainly Picasso represented freedom that had nothing to do with the practical office-bound issues that I would soon have to face. This was my temporary, self-issued license to burst unannounced into Picasso's life."
Access to Picasso, who lived in his mansion the Villa la Californie in Cannes, was challenging but Baldwin persisted; he lived off of pocket change and camped out in his car while sending in messages with the maid. His perseverance paid off when Maya, Picasso's daughter, ushered him into the mansion. There, sitting in a wicker chair among the African sculptures and abstract portraits of Jacqueline, was one of the greatest artists of the 20th century – Pablo Picasso.
This fascinating encounter resulted in a series of candid images generously on loan to the Freeman Library by Richard Mumma, a peer of Baldwin's at Columbia University who graciously lent his camera for the European expedition. The display is titled Dear Monsieur Picasso and is on view until May 15, 2011. Accompanying the show is an amusing memoir written by Baldwin, which is also available online at http://zonezero.com/exposiciones/fotografos/baldwin/. While visiting VMFA to view Picasso: Masterpieces from the Musee National Picasso, Paris, stop in and enjoy a rare glimpse of the artist filtered through the lens of a young photographer. The library is currently open to the public Monday-Friday, 12-5PM.
-Allison Frew and Michelle Hevron, Library Assistants
Photo by Frederick Baldwin, courtesy of Richard Mumma.