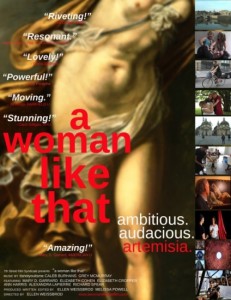 On Friday, June 17th, VMFA will present a Virginia premiere of an unconventional and compelling documentary film/video: a woman like that (2010, 93 min). Several mysteries should be solved.
Artemisia Gentileschi (1593-1653) was one of the first female artists to achieve recognition in her own time, the Baroque era. Her work is mentioned often in the same breath as Caravaggio and even at times as surpassing him. She painted women heroically, from history, mythology, and the Bible. About 35 known finished paintings of hers exist and VMFA owns one of the finest, Venus and Cupid, on view in the European galleries.
In a woman like that, filmmaker Ellen Weissbrod pursues the truths behind the legends and mysteries of Artemisia's compelling art and dramatic life including her "rape." Weissbrod walks us through Artemisia's Roman neighborhood, examines the 400 year-old rape trial transcripts, and follows Artemisia's trail from Florence to Naples, gaining entrance to private collections, and talking with distinguished scholars and passionate fans. For effect, Weissbrod gathers Artemisia admirers who act out the paintings, read her letters and recount her influence in their own lives.
There is a mystery with the film itself. Weissbrod was denied permission to film the once-in-a-lifetime retrospective of Artemisia and her father Orazio at the Saint Louis Art Museum. Brazenly, she filmed the exhibition with a hidden camera. For the first time, Ms. Weissbrod and producer Melissa Powell will sit on the same stage with Dr. Judith Mann of the Saint Louis Art Museum to confront and discuss and explain and reveal their own truths.
–Hobart Cornell, Critic-at-large
Friday, June 17, 6:30, $8 / $5 for members
Tickets: 340-1405 or online or onsite