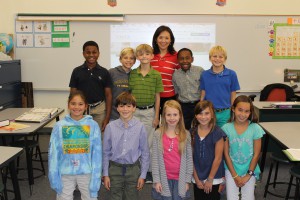 The Chinese language teacher in Collegiate School's lower school is Xin-yi Fergusson. Her third and fourth grade students were inspired by VMFA's Crowdfunding project and wanted to help to build the Forbidden City with 3D technology. Together, the children contributed $50 to be recognized in the Archery Pavilions level.
"Our trip to VMFA is scheduled for October 30," Mrs. Fergusson said. "Our Chinese language students are very excited. They wanted to show their gratitude to the museum for bringing this exhibit to Richmond, so the class decided to gather money from their piggy banks to contribute to the 3D model of the Forbidden City."
We know these students will enjoy the exhibition, as well as the Beyond the Walls interactive gallery and website. VMFA thanks Mrs. Fergusson and her students!
-Suzanne Hall, Chief Communications Officer