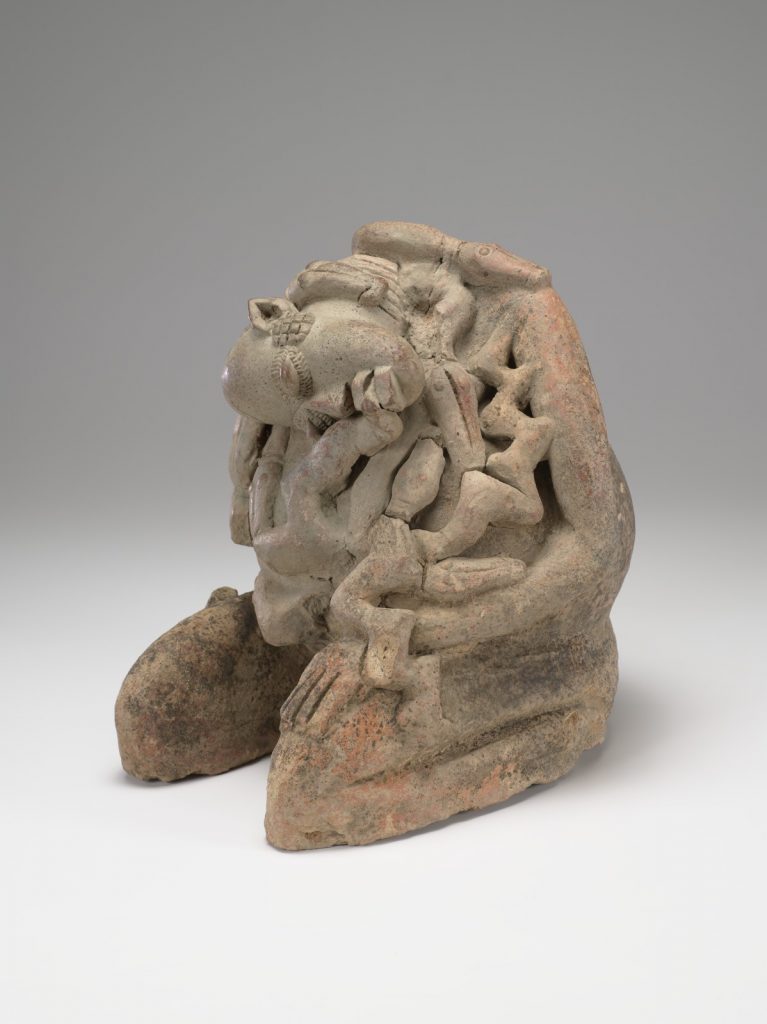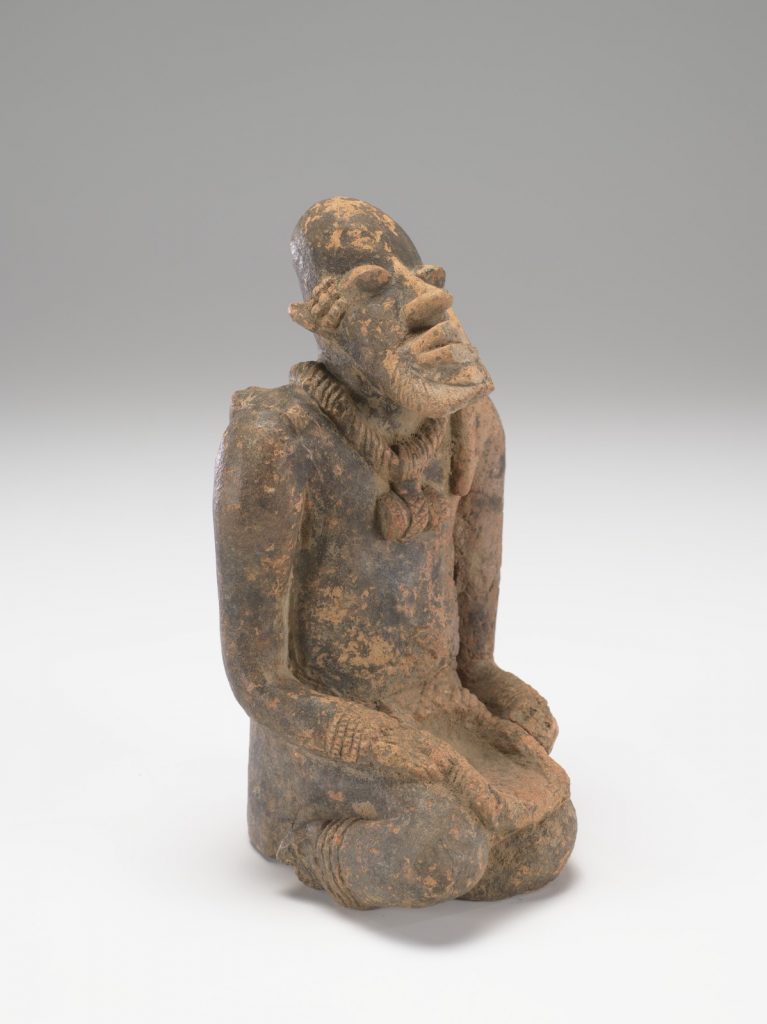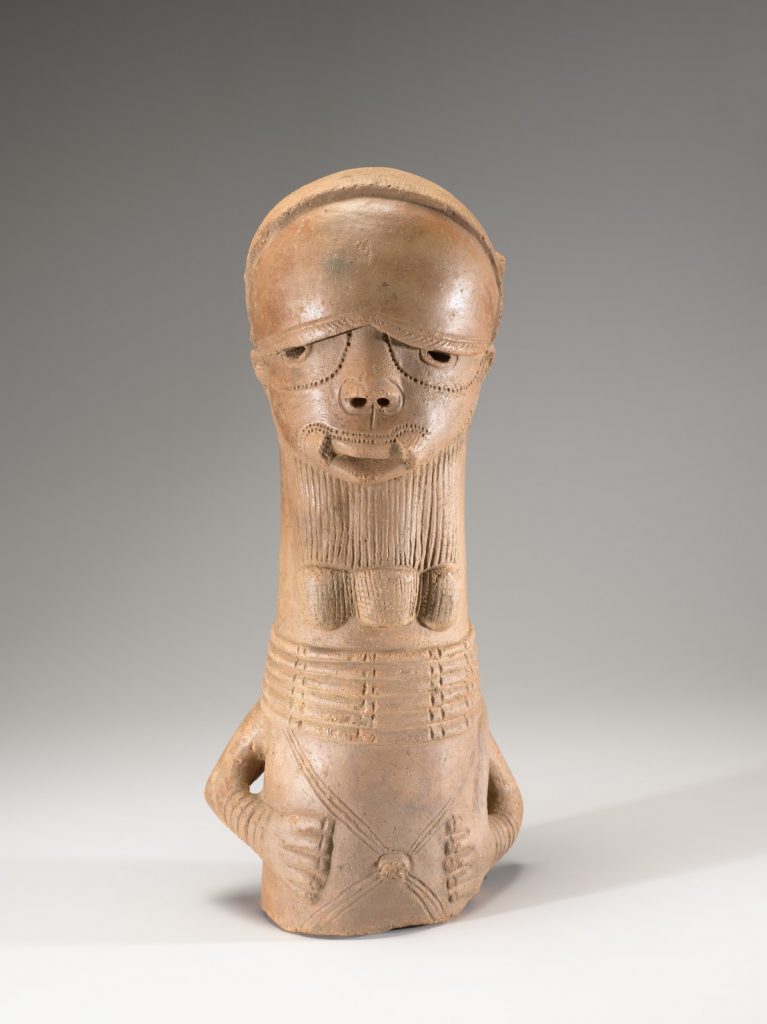 By Ainslie Harrison, VMFA Assistant Conservator 
One of the activities of the project for conservation and technical analysis of VMFA's African art collection was thermoluminescence (TL) dating on a group of terracotta sculptures. This technique determines the last approximate firing date of a ceramic material—helping VMFA conservators accurately date some of the oldest works in the African art collection—by heating up a small sample from the object and measuring the accumulated radiation, emitted as light. TL dating works on a range of ceramic materials, from porcelain to terracotta, because their crystalline structures trap radiation over time, only "re-setting" when heated over ~500°C.
The artworks chosen for analysis include terracotta sculptures from several different cultures across West Africa. Conservators sampled two Djenne seated figures from Mali, 12th–14th and 12th–17th centuries respectively; an Akan commemorative portrait head of a woman with traces of polychrome, possibly dating from the 16th to 18th century; and a Sokoto head with torso from Nigeria, dated 500 BC–200 AD. Historical context and stylistic choices inform the existing dating information for these objects.

To test terracotta using TL dating, conservators take a powdered sample from an unobtrusive area of the object using a high-speed drill. Due to the fragile nature of these objects and the risk of causing damage through improper technique, only an experienced conservator or trained sampling agent should collect the sample. We reached out to objects conservator Lara Kaplan the sampling agent recommended by the TL testing firm Oxford Authentication. Lara agreed not only to sample our objects, but to take us through the whole sampling process.
The first step for sampling the objects was to examine them fully for past restorations and to locate the best areas to sample. Successful samples come from areas original to the piece rather than later restorations or additions. We confirmed locations on the object through further examination under UV light and magnification. Under UV, many restoration materials fluoresce (glow), which helped us to identify a few areas of old fills and repairs. Luckily, several relatively hidden areas on the bases or break edges of each terracotta sculpture were free of restorations—the perfect locations for sampling! After taking a photo of the selected locations for documentation purposes, Lara moved on to actually sampling the objects.
Lara brought a range of tools and materials with her for powdering the sample, including the specialized drill bits used with the Flex Shaft drill, a power rotary tool with a flexible shaft that extends the drill's reach and allows operation from any angle. We set up our wet chemical room for sampling as it is our only windowless room and the whole process has to be undertaken in the dark using a red safety light (that's right- the fragile ceramic has to be drilled in the DARK!). To avoid contamination, Lara first used a drill to abrade the surface of each sampling area, removing the top layer. After brushing off any loose dust and powder from the initial cleaning, Lara used a steady hand to drill straight into each terracotta. She first drilled a little way into each piece, discarding the powder to prevent contamination from the surface, then to several millimeters of depth, collecting the powdered sample on strategically placed weighing paper. Once 100mg of powdered sample accumulated for each object, the samples were carefully packed in light-tight envelopes and shipped to the testing company. Because of the large sample size and risk inherent in sampling objects, thermoluminescence dating is not an easy undertaking. It is, however, often the only way to accurately date many ceramic, terracotta, and cast metal objects.
Sampling went smoothly thanks to Lara's experienced hand. Stay tuned for updates as we interpret the results of the testing. In the meantime, all four of these terracotta sculptures are back on view in the African galleries.