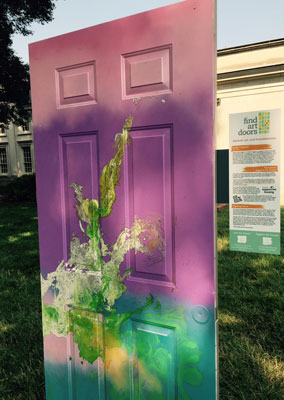 If you've strolled through the VMFA Sculpture Garden recently, you may have noticed a lone purple and green door standing in the grass, seemingly leading nowhere. But nothing could be further from the truth.
Part of the Find Art Doors project, this door, along with 39 others decorated by local artists and installed at museums, parks, historic sites, and other Richmond landmarks, is meant to open doors for the homeless, veterans, older adults, and people living with illness or disabilities throughout the city.
Sponsored by Virginia Supportive Housing and Art on Wheels, the Find Art Doors project includes a hunt to find and Instagram pictures (#findartdoors) of all 40 of the upcycled doors (representing those salvaged from the renovation of a Virginia Supportive Housing apartment complex for formerly homeless individuals) to win prizes. But the bigger picture is, while scouting out the doors, people will be discovering the city's creative community as well as different parts of the city, all while raising awareness and money for these two organizations. The doors will be auctioned off mobile bidding beginning in September. Individual donations will also be accepted.
VMFA's Art Door, "Of earth," was created by Heide Trepanier, whose work is in the VMFA collection as well as other local and international galleries.
Learn more about Find Art Doors.