This Saturday VMFA will host a a free, upbeat celebration of African and African American Art with Jazz, Big Band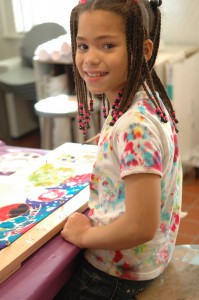 Swing, West African Drumming, and collaborative performances of Jazz chorale and step dancing. Join the Richmond Jazz Society's Make Music With Me Band at 1:15pm, then watch a collaborative performance with Richmond CenterStage, area schools, and other groups including AART, Elegba Folklore Society, Richmond Shakespeare, and VCU's Department of Jazz Studies at 3:00pm.
The celebration also includes a screening of Scott Joplin (TV Movie), artist demonstrations, a Picture Day @ VMFA: flapper and zoot suit photo booth, and activities like painting with the Abstract Expressionism Blues and making your own musical score. Families with children ages 3-12 are invited to join in this celebration of the rich heritage of jazz and its importance in American life, particularly during the civil rights movement.
The highlight? A history of Jazz inspired gallery hunt. Grab your magnifying glasses and trench coats; the hunt is on throughout the museum. Explore with your children and learn about American Jazz and its influences. Discover the bold work of Stuart Davis in the American Art Gallery or the different patterns and forms Romare Bearden creates, much like Jazz! At the end of the hunt, return your completed sheet for a VMFA surprise!
This event is generously sponsored by MeadWestvaco Foundation.
Astoria Aviles, Communications Intern