2018 exterior view of VMFA on the Road outside the VMFA before its inaugural tour. David Stover ©Virginia Museum of Fine Arts
When VMFA's first Artmobile opened at Maury Elementary School in Fredericksburg on October 13, 1953, it was an astounding success, attracting 5,000 visitors in its first three weeks. The entire aluminum tractor trailer, which was as large as the Highway Department would allow on Virginia roads at that time, measured 45-feet long.
William Gaines, who staffed the Artmobile in those first days, was called a driver-curator. The day before the opening, he took a crash course on driving the truck and, once he got to Fredericksburg, hooked up the electricity for lighting, air-conditioning, a burglar alarm, and the loud speaker. Then, he reverted to his role as educator, offering tours, teaching classes of children, and operating an information.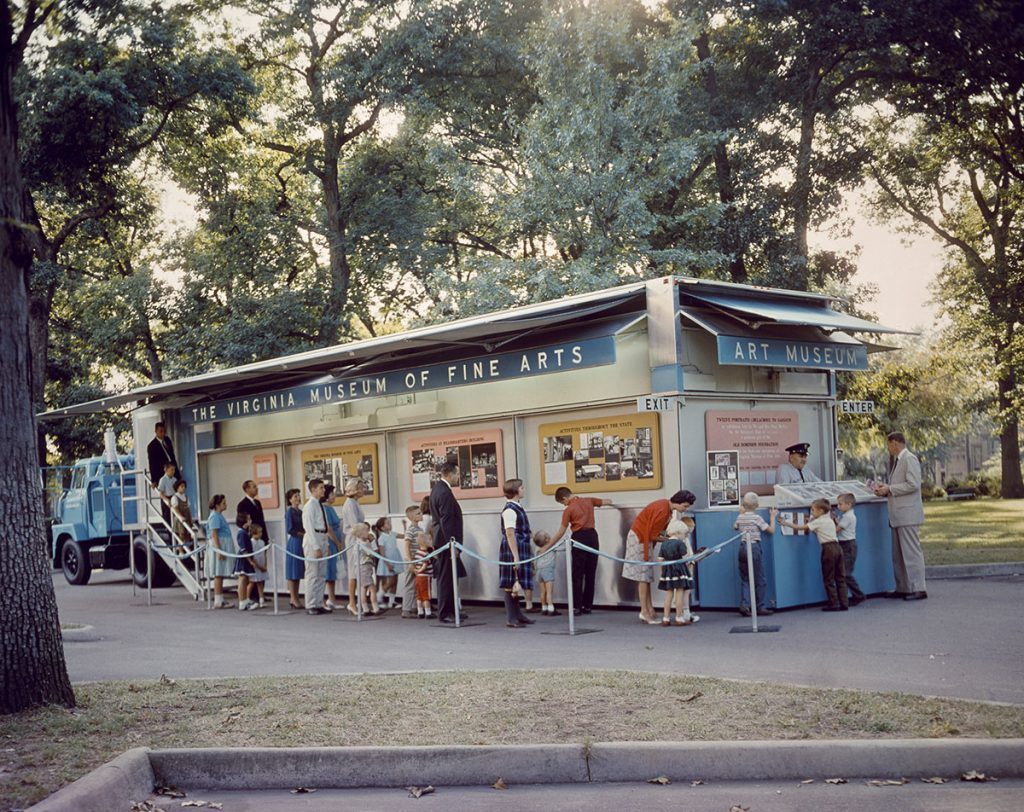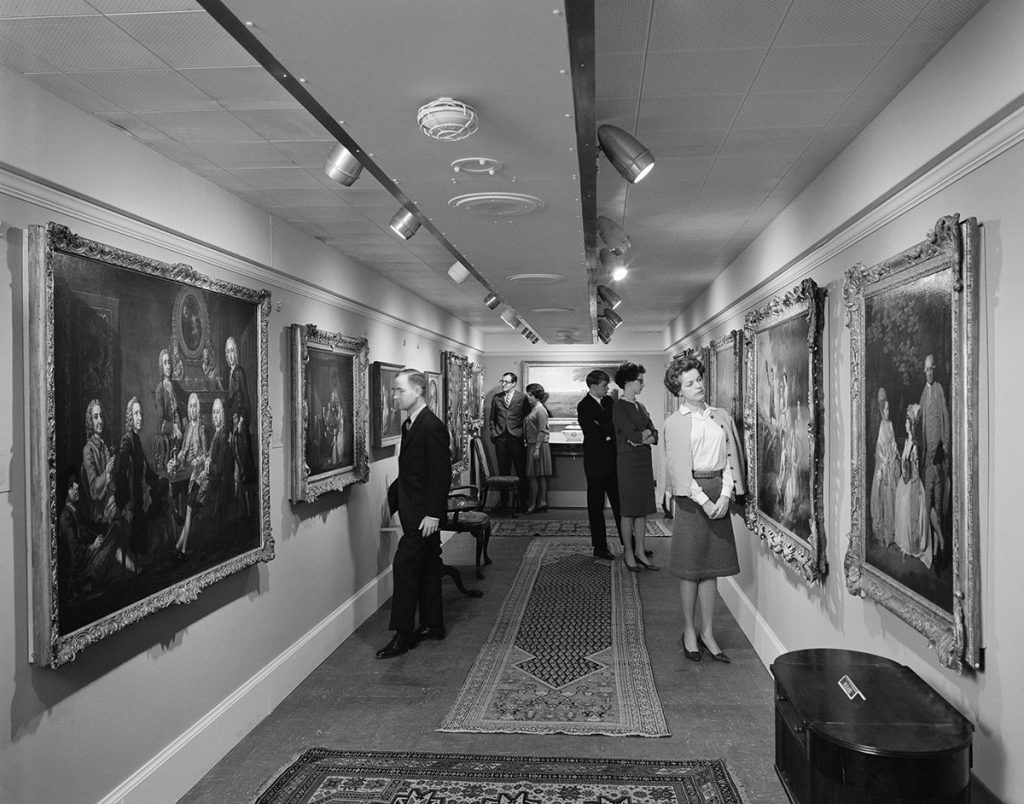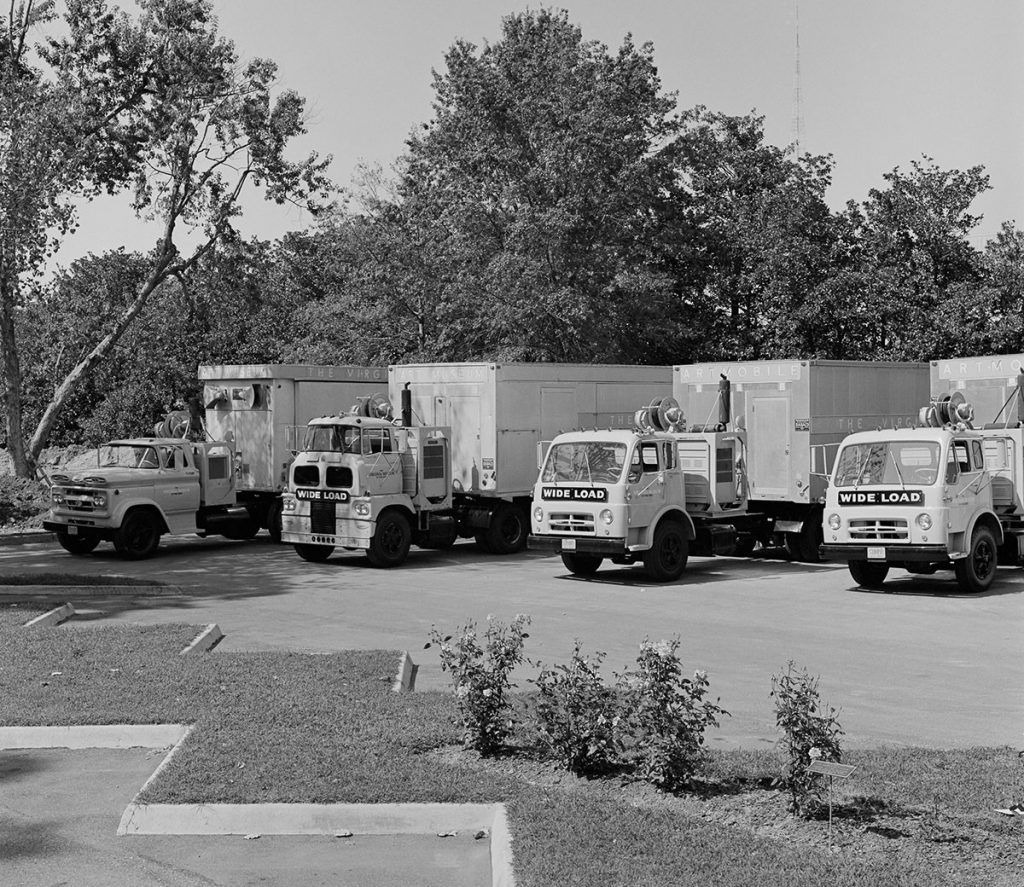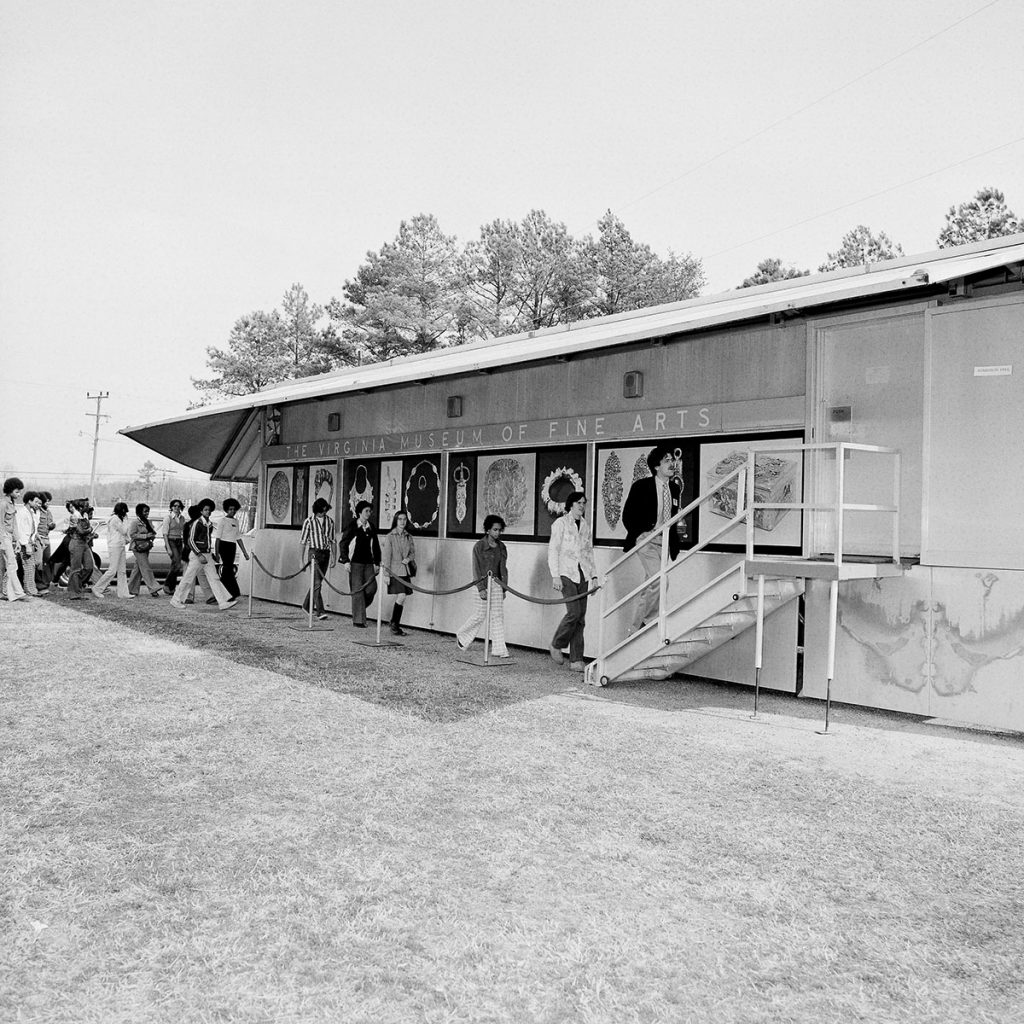 Over the next decade, VMFA's Artmobile program continued to attract thousands of visitors to dozens of Virginia communities, adding three more trucks by 1964. By 1970, there were three full-time curators staffing the Artmobiles and a separate driver. Sandy Rusak Cage, who was an Artmobile curator from 1978 to 1981, remembers traveling with the truck as a recent college graduate. "I can't imagine a better first job," she recalls. "The Artmobile was designed to train an entire state to love the arts, and that's what it did."
The Artmobile brought 59 different exhibitions to Virginia towns, ranging from Little Dutch Masters to African Textile Arts. While most of the objects came from VMFA's collection, some exhibitions featured works on loan from the Metropolitan Museum of Art, the Museum of Natural History, the Guggenheim Museum, and other institutions. Speakers offering lectures on a variety of art-related topics were also from some of the nation's leading universities and museums.
While budgetary constraints and concerns about conserving and protecting works of art on the road eventually led to the program's end in 1994, bringing art to all Virginians remained VMFA's core mission. Since the demise of the Artmobile, the museum's Statewide Program continued to grow and provide exhibitions, artist's workshops, lecturers, and classes to Statewide Partners across the Commonwealth, as well as a vast array of resources available online.
Still, there's something about that iconic truck rambling its way through the state that's hard to resist, and in 2015, the museum resurrected the idea of the Artmobile. When the Commonwealth gave VMFA an 18-wheel tractor-trailer that featured 640 feet of display space, Jeffrey Allison, VMFA Manager of Statewide Program and Exhibitions, and others worked with Riggs Ward Design and Explus Inc. to bring about a new kind of touring art truck, which will open to the public on Tuesday, October 30, in Hurkamp Park, in Fredericksburg.
Two curators will staff the truck, with a separate driver getting them from town to town. Like their colleagues from years ago, they will set up the truck and then conduct tours, workshops, activities, and lectures on-site and at community venues, schools, and art studios. The vehicle is also equipped with digital technology that will take advantage of the museum's Distance Learning Program, connecting VMFA on the Road with educators in the museum's galleries back in Richmond.
There will also be real works of art on display as part of the exhibition How Far Can Creativity Take You? VMFA Fellowship Artists. The exhibition highlights VMFA's fellowship program displaying works such as Chimneys by Richmond native and former VMFA fellow Benjamin Wigfall (1930–2017). "We wouldn't have resurrected the Artmobile if we didn't plan on including works from the museum collection as part of the program," Allison notes. "It's what drew people to the Artmobile in the past, and it will always be a major attraction."