Richmond is a city full of great things to do and see. In most parts of town, you don't have to go much more than a block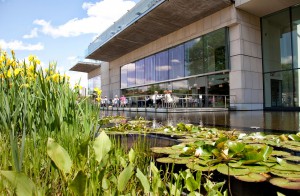 to find a historic site, a museum, or a fabulous restaurant or shop that looks intriguing and lures you inside to enjoy.
That's why it's such an honor for VMFA to be the recipient of three outstanding attraction awards in May alone.
The first award, which was awarded last night, represents our efforts in bringing visitors to the Richmond area—to experience not only VMFA but everything the area has to offer. Awarded by Richmond Region Tourism (RRT), the I am Tourism Attraction Partner of the Year award is bestowed upon the attraction that has worked the hardest—in collaboration with RRT—to advance the region as tourism and travel destination. We're especially proud to receive this honor because it helps all organizations and businesses in the community, and in so doing, helps Richmond as a whole.
Our hard work in bringing visitors into the area also paid off when it came time for 32,000 of Virginia Living's readers to vote in the magazine's "Best of Virginia" contest. At the beginning of May, they named us Best Overall Museum in the magazine's "Best of Virginia" contest. We also took home third place in Best "Do Not Miss" Tourist Attraction (both of these awards were for the Central Virginia region.).
The third award will appear in next week's issue of Style, but it hasn't been publicly announced yet, so for now, we must keep our excitement to ourselves. What we can tell you, however, is you've probably voted for this award . . . many times over in fact.
These kinds of endorsements, along with the many testimonials on Trip Advisor and Yelp, represent wonderful feedback. We'll continue to serve and welcome any and your thoughts and suggestions.