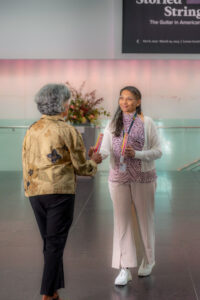 Serving VMFA Since 1955
The Council of VMFA is a group of dedicated museum members who give their time and talent in support of the museum. This diverse organization of volunteers works on behalf of VMFA to enhance community outreach and participation. Volunteer opportunities range from interacting with visitors to supporting educational programs and helping care for the galleries. Council members learn about the collections, make new friends, and share their love for art, all while helping to support and improve a cultural institution that enriches the lives of all Virginians.
Since 1955, The Council has led the way on projects such as opening the VMFA Shop, establishing the tour guide program, organizing museum travel, and providing seed money for the VMFA library.
The exhibition Fine Arts & Flowers is The Council's signature biennial project made possible by hundreds of Council volunteers. They plan its events and the exhibition itself, which showcases approximately 80 works of art from the VMFA collection and floral designs by members of the Garden Club of Virginia, The Virginia Federation of Garden Clubs, and Ikebana of Richmond.
---
VMFA membership is a prerequisite for joining this support group.
Learn more about VMFA Membership benefits and options.
---
Council Benefits
The Council enjoys all of the benefits of VMFA membership plus exclusive opportunities to volunteer, attend special events, travel, and increase your knowledge of art while meeting new friends.
Volunteer Opportunities
Orientation and training for volunteer placements in visitor services, youth and family programs, floral arranging, the Freeman Library, membership, gallery care, the Robins Sculpture Garden, the VMFA Shop, and Council administration and operations
Opportunities to participate in Fine Arts & Flowers, The Council's signature exhibition and fundraising event at VMFA
Special Events & Programs
Guided tours that connect to selected art in VMFA's permanent collection, facilities, Sculpture Garden, and its historic campus, "Connect and Learn" with educational opportunities
Business meeting of The Council and updates from VMFA leadership
Lectures by a distinguished guest speakers
Optional luncheons in the Marble Hall or other designated location at an additional cost
Book Club discussions and guided tours in related galleries
Day of Artistic Sites: Tours of private or corporate art collections, studios and historical places
Member Enriched Travel: Day trips to destinations such as but not limited to Washington, Baltimore, Tidewater, etc. (varied costs) to special exhibitions and events
Shopping & Dining Discounts
Free meal in Best Café for volunteers working on VMFA designated holidays
Free coffee whenever volunteering
Additional 10% discounts in the VMFA Shop held exclusively for Council members and volunteers during The Annual Holiday Weekend and on Lecture Luncheon days
Exclusive Communications
Annual Council Membership Directory
VMFA Council Connections, an electronic newsletter published twice a month
Access to Council website with information about The Council, its volunteers, and registration for events
---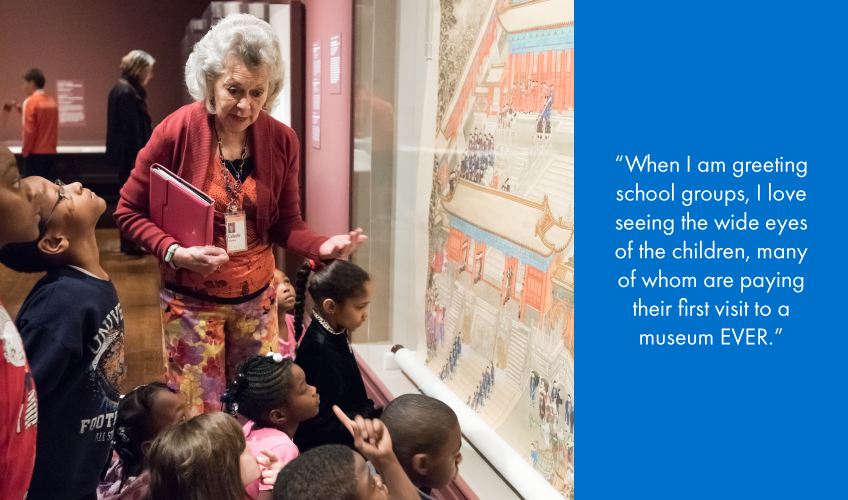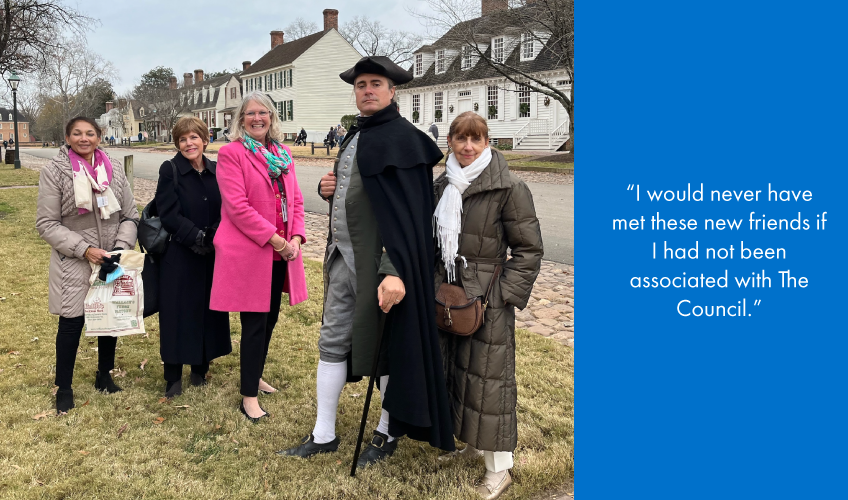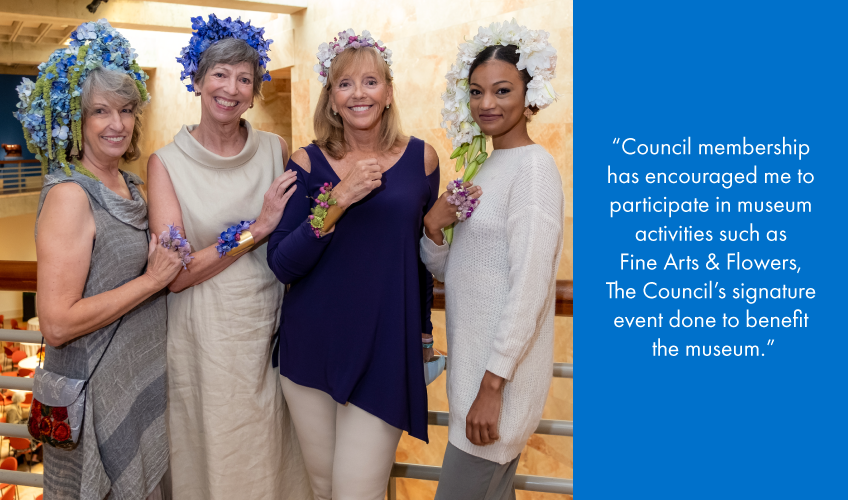 ---
Volunteer Opportunities
There are many opportunities within the museum for Council members to volunteer their time and talents. The Council works with VMFA to identify needs and develop volunteer opportunities. Different opportunities may be available when you join The Council.
Visitor Services
Education, Youth, and Family Programs
Hirschler Flowers
Library
Membership
Registration and Conservation
Sculpture Garden
Sales Floor Assistants
---
Membership Requirements
VMFA membership is a prerequisite for joining this support group. Learn more about VMFA Membership benefits and join today.
The Council is a volunteer organization and, as a requirement of Council membership, members are expected to contribute a certain number of hours on a regular basis. The approximate amount of time required for each activity is usually 15–20 hours a quarter; however, this number may vary depending on the opportunity you select. Volunteer opportunities and required hours will be explained more thoroughly when you complete New Member Orientation.
Council Membership dues are $75 per year; however, dues are prorated during the first year for new members.