Gallery view, Across Time: Robinson House, Its Land and People.
On view in the newly refurbished Robinson House on the VMFA campus, this 600-square-foot history exhibition shares the remarkable multilayered story of the site's land, buildings, and former inhabitants from the seventeenth century to the present. It includes the region's native peoples and English colonists, the growth of Richmond in the early republic, the Robinson family and the enslaved individuals who worked on and sometimes escaped from their antebellum estate, the mansion's changing architectural form, and the impact of the Civil War and Emancipation.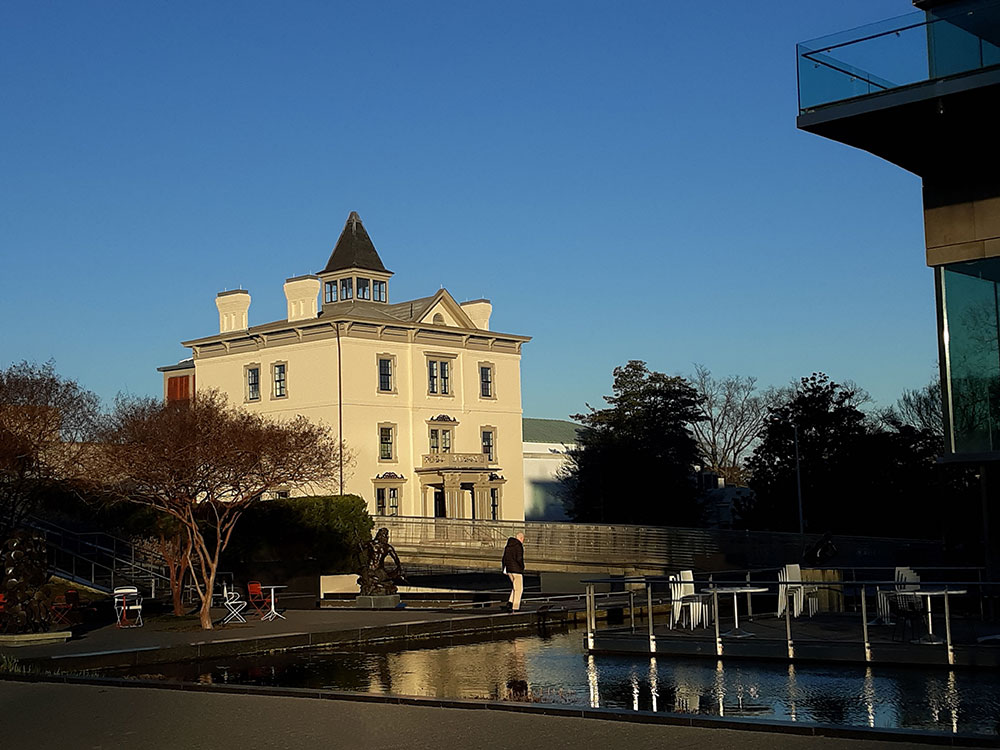 Robinson House, newly refurbished in 2019, was originally constructed ca. 1828 and expanded ca. 1858 and 1886. It is located on the VMFA campus, facing the museum's main entrance.
The exhibit also explores the half-century history of the R. E. Lee Camp Confederate Soldiers' Home—the nation's longest operating residential complex for southern veterans, born out of a spirit of reconciliation between North and South. The twentieth-century narrative describes Cold War experimentation undertaken in the house by the Virginia Institute of Scientific Research and, afterwards, the establishment of VMFA's art annex offering innovative studio classes, exhibitions, and programs.
Across Time also features other nearby institutions that share the former Robinson property: the Virginia Museum of History & Culture, Home for Confederate Women (now VMFA's Pauley Center), the Memorial Building (national headquarters of the United Daughters of the Confederacy), and VMFA, the Commonwealth's flagship fine arts museum.
The exhibition offers richly illustrated panels, an interactive touch screen, vintage film footage, and audio clips. Historic Robinson House also offers a Visitor Center, open daily and operated by Richmond Region Tourism.
---
Across Time: Robinson House, Its Land and People is curated by Dr. Elizabeth L. O'Leary, former Associate Curator of American Art, VMFA.
Sponsored By
The Council of the Virginia Museum of Fine Arts
Robert Edmond Hill
The Roller-Bottimore Foundation
The Thomas F. Jeffress Memorial Trust