Access our FREE Beyond the Walls audio tour. app on your iPad! Click below to download the app from iTunes.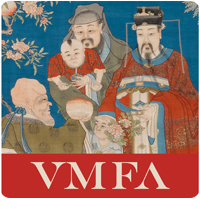 ---
The Memorial Foundation for Children Teaching Gallery, located in the MWV Art Education Center, has been transformed into an interactive exhibition where visitors can explore daily life in imperial China. In contrast to the world of the emperor on display in Forbidden City, this hands-on exhibition provides a glimpse into the home of a merchant-class family who lived in the 18th century.
Beyond The Walls visitors are able to interact through activities that include writing Chinese characters on a touch screen and designing personal, virtual seals. There are also opportunities to unroll and view reproduction scrolls, like those featured in Forbidden City and in VMFA's East Asian collection, or play traditional musical instruments and games. Whether visiting as part of a school group, or a multigenerational family, the Teaching Gallery exhibition offers visitors of all ages a new perspective on China's imperial past.
The Beyond the Walls exhibition is generously sponsored by:


The Community Foundation Serving Richmond & Central Virginia
Memorial Foundation for Children
The Jeanann Gray Dunlap Foundation