Born Antoine Charles Horace Vernet in Bordeaux, France, Carle Vernet was a painter, engraver, and lithographer trained in the style of the Neoclassical school. In addition to working alongside his father, Joseph Vernet (1714–1789)—one of the foremost French artists of the 18th century—Carle trained with Nicolas-Bernard Lépicié (1735–1784), a well-established painter of history subjects and genre scenes. Vernet was awarded the prestigious Prix de Rome in 1782 and he attended the Royal Academy of France in Rome. He seemed destined for a career as an official royal painter, but after the French Revolution and the fall of the monarchy, he turned to engraving and lithography to appeal to a new clientele of bourgeois art enthusiasts.
His elaborate battle scenes glorifying Napoleon's campaigns appealed to the emperor who awarded him the Legion of Honor. Vernet remained one of the principal French painters among leading political figures, earning widespread respect for his hunting and horse racing scenes as well as his depictions of military and court life. Today, he is best known for his representations of horses and equine activities that portray the animal in a lively and witty manner. His paintings emphasize the horse's central role in French society at that time, often capturing the dynamism of the relationship between the animal and its handler.
---
Exhibition Highlights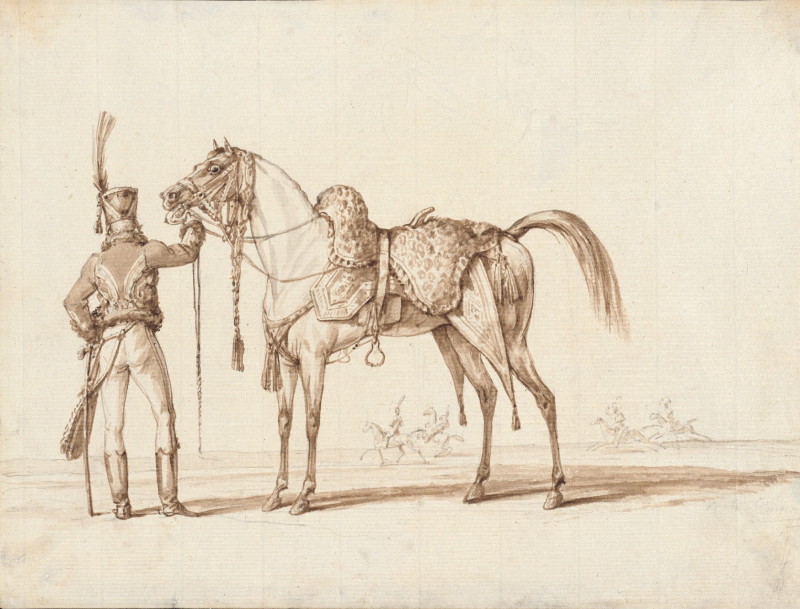 Hussar Standing Beside His Charger, ca. 1812, Carle Vernet (French, 1758–1836), pen and ink with wash on laid paper with a watermark. Virginia Museum of Fine Arts, Collection of Mr. and Mrs. Paul Mellon, 85.817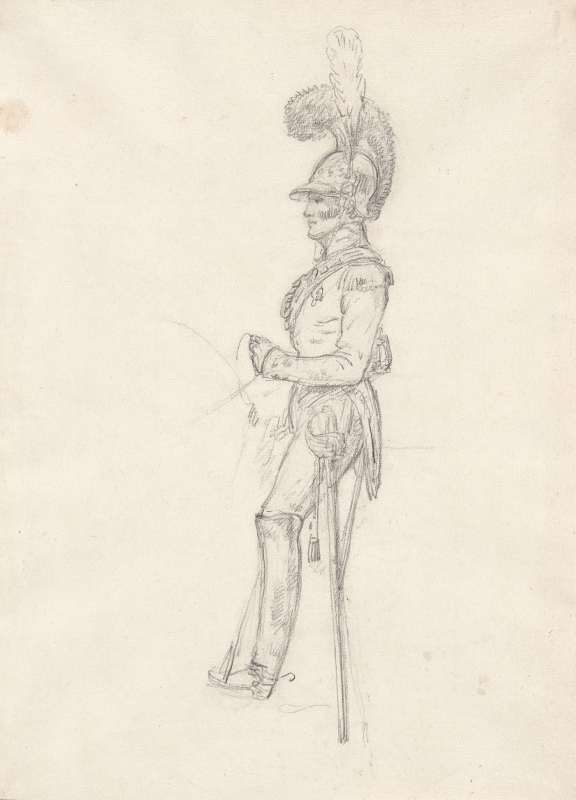 Carabinier-à-Cheval, ca. 1810, Carle Vernet (French, 1758–1836), graphite on wove paper. Virginia Museum of Fine Arts, Gift of Mr. and Mrs. Milton Ritzenberg, 97.204
---
This installation is curated by Dr. Sylvain Cordier, VMFA's Paul Mellon Curator and Head of the Department of European Art.
---
Hussar Standing Beside His Charger (detail), ca. 1812, Carle Vernet (French, 1758–1836), pen and ink with wash on laid paper with a watermark. Virginia Museum of Fine Arts, Collection of Mr. and Mrs. Paul Mellon, 85.817
Carabinier-à-Cheval (detail), ca. 1810, Carle Vernet (French, 1758–1836), graphite on wove paper. Virginia Museum of Fine Arts, Gift of Mr. and Mrs. Milton Ritzenberg, 97.204