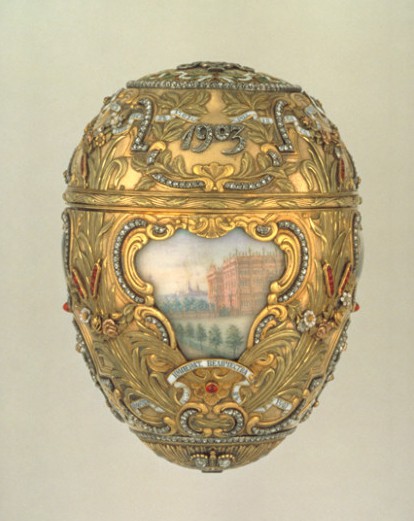 Collection:

Decorative Arts, European Art, Faberge

Subject Area:

Visual Arts

Grade Level:

k-12, college, adult
The Imperial Peter the Great Easter Egg that Tsar Nicholas II presented to Alexandra Feodorovna in 1903 commemorates the 200th anniversary of the founding of St. Petersburg. On one side of the egg, a miniature portrait of Peter the Great is associated with the date 1703 and a picture of his humble log hut, the first structure in the city. On the other side, a portrait of Nicholas II complements a miniature painting of the Winter Palace, the official imperial residence. When the egg opens, a miniature replica of Étienne-Maurice Falconet's famous statue of Peter the Great on horseback rises out of the shell and is viewed against the yellow guilloche enamel interior of the cover.
The monumental statue that inspired this surprise portrays the tsar dressed as a Roman hero astride a rearing horse. Commissioned by Catherine the Great as a tribute to her famous predecessor, the monument sits on a thousand-ton granite base inscribed in Russian and Latin, To Peter the First [from] Catherine the Second.