Richmond Sessions '22–'23
VMFA presents Richmond Sessions '22–'23, a series of studio recordings by an eclectic roster of guitarists performing in the art exhibition Storied Strings: The Guitar in American Art. The specially constructed studio and Bristol Sessions–inspired series expand the exhibition's exploration of the guitar as subject, symbol, and storyteller's companion. Recordings will be featured on VMFA's YouTube channel and can be accessed here. See the complete Richmond Sessions schedule of YouTube releases below.
The recording studio is fitted with equipment loaned by Digital Video Group, Ear Trumpet Labs and Sennheiser and Neumann. Award-winning Richmond-based recording studios In Your Ear produce Richmond Sessions '22–'23 in partnership with VMFA.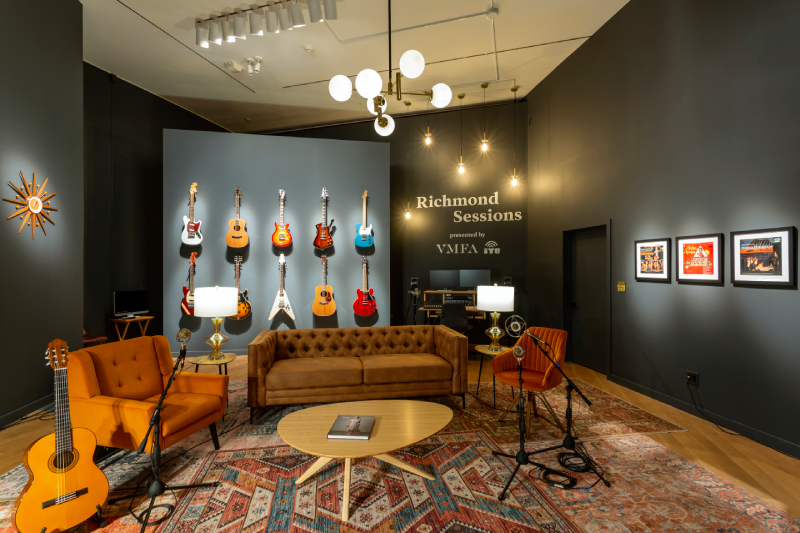 Latest Release
Richmond Sessions '22–23 featuring Joel Harrison & Anthony Pirog / Released: Nov 9, 2022 / jazz
Guitarist, composer, arranger, lyricist, writer, educator, and vocalist Joel Harrison has "created a new blueprint for jazz" (New Orleans Times-Picayune). A Guggenheim Fellow (2010) whose compositions have been commissioned by Chamber Music America, Meet the Composer, New Music USA, the Jerome Foundation, NYSCA, and the Mary Flagler Cary Trust—Harrison is a two-time winner of the Jazz Composers Alliance Composition Competition and has appeared repeatedly on DownBeat magazine's "Rising Star" poll.
Washington DC's jazz and experimental music scenes wouldn't be quite where they are today without Anthony Pirog. The guitarist, composer, and loops magician is a quiet but ubiquitous force on stages around his hometown. With fearsome chops and a keen ear for odd beauty, Pirog has helped expand the possibilities of jazz, rock, and experimentalism in a town long known for its straight-ahead tradition.
Pirog's roots as a guitarist are in the work of DC guitar heroes Danny Gatton and Roy Buchanan, and their virtuosic technique that blended all styles of popular music. He has taken and built upon those roots, working in straight and experimental jazz, improvisation, and electronics/looping. Having mastered these styles, he somehow makes them all work together and makes them all his own.
Upcoming YouTube Releases
The first Richmond Sessions '22–'23 recording, featuring folk musician Lucy Kaplansky, dropped on October 12. Musicians slated to appear in future sessions include Wilco guitarist Nels Cline; guitarist Felicia Collins (Late Show with David Letterman); acoustic guitarist Tommy Emmanuel; blues and roots guitarist Corey Harris; jazz guitarist Joel Harrison and multi-genre guitarist Anthony Pirog; The Long Ryders' Stephen McCarthy (who has also toured and recorded with The Jayhawks) and The Bitter Liberals' Charles Arthur; Retrosphere's Seamus McDaniel; folk and blues guitarist Elizabeth Wise; and acoustic guitarist Yasmin Williams.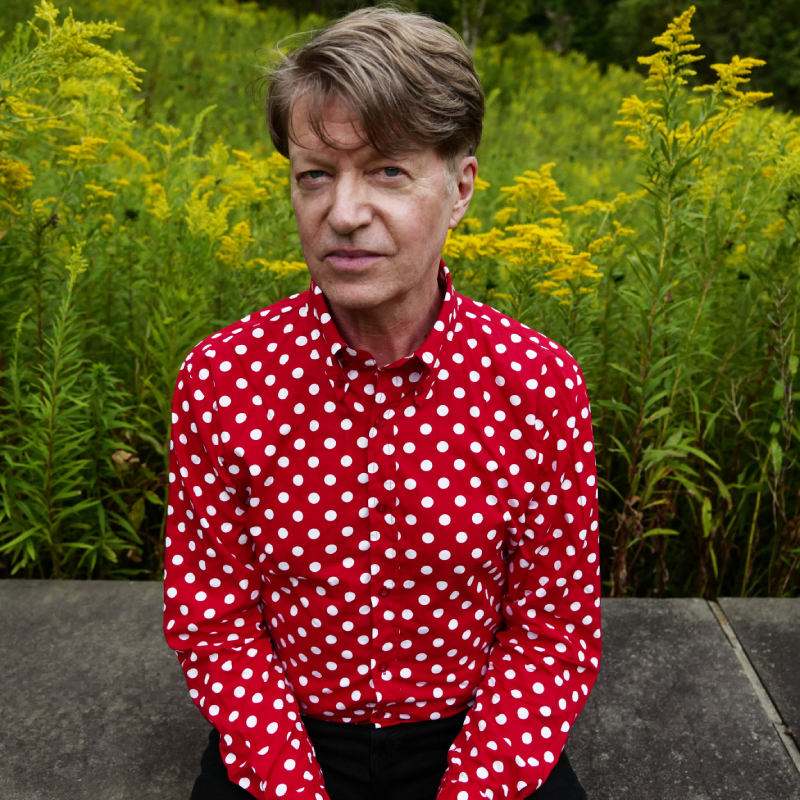 Photo by Sean Ono Lennon
Richmond Sessions '22–23 featuring Nels Cline / Release: Dec 7, 2022 / indie rock, punk rock, free jazz, experimental
Nels Cline is best known as the lead guitarist in the band Wilco. His recording and performing career—spanning jazz, rock, punk, and experimental—is well into its fourth decade, with over 200 recordings, including at least 30 for which he is leader. Cline has received many accolades including Rolling Stone anointing him as both one of 20 "new guitar gods" and one of the top 100 guitarists of all time.
Stephen McCarthy and Charles Arthur
Past Releases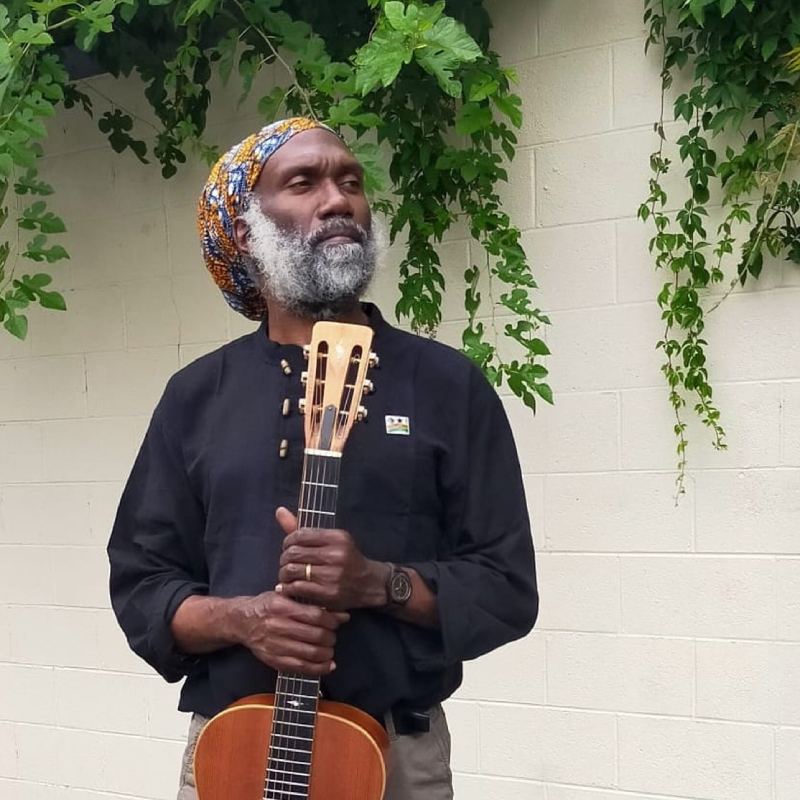 Richmond Sessions '22–23 featuring Corey Harris / Released: Oct 26, 2022 / blues & roots
Corey Harris is a guitarist, vocalist, songwriter, and band leader who has carved out his own niche in blues, with one foot in tradition and the other in contemporary experimentation. He began his career as a New Orleans street singer, traveling throughout the southern US, and has since appeared at venues worldwide. Harris has performed, recorded, and toured with many of the top names in music such as B.B. King, Taj Mahal, Buddy Guy, R.L. Burnside, Dave Matthews Band, Wilco, and others. He is a 2007 MacArthur Fellow.
---
Photo by Beowulf Sheehan
Richmond Sessions '22–'23 featuring Lucy Kaplansky / Released: Oct 12, 2022 / folk (singer-songwriter)
Lucy Kaplansky started out singing in Chicago folk music clubs as a teenager and found herself at the center of a community of songwriters and performers in New York City. After breaking from music to receive a doctorate in clinical psychology, she was pulled back into the studio by friends and signed with Red House Records. Two of her albums have been awarded Best Pop Album of the Year by the Association for Independent Music. She has appeared on CBS Mornings; NPR's Weekend Edition, Morning Edition, and All Things Considered; Mountain Stage; and West Coast Live. Her latest album, Last Days of Summer, was released in June 2022.
About the Exhibition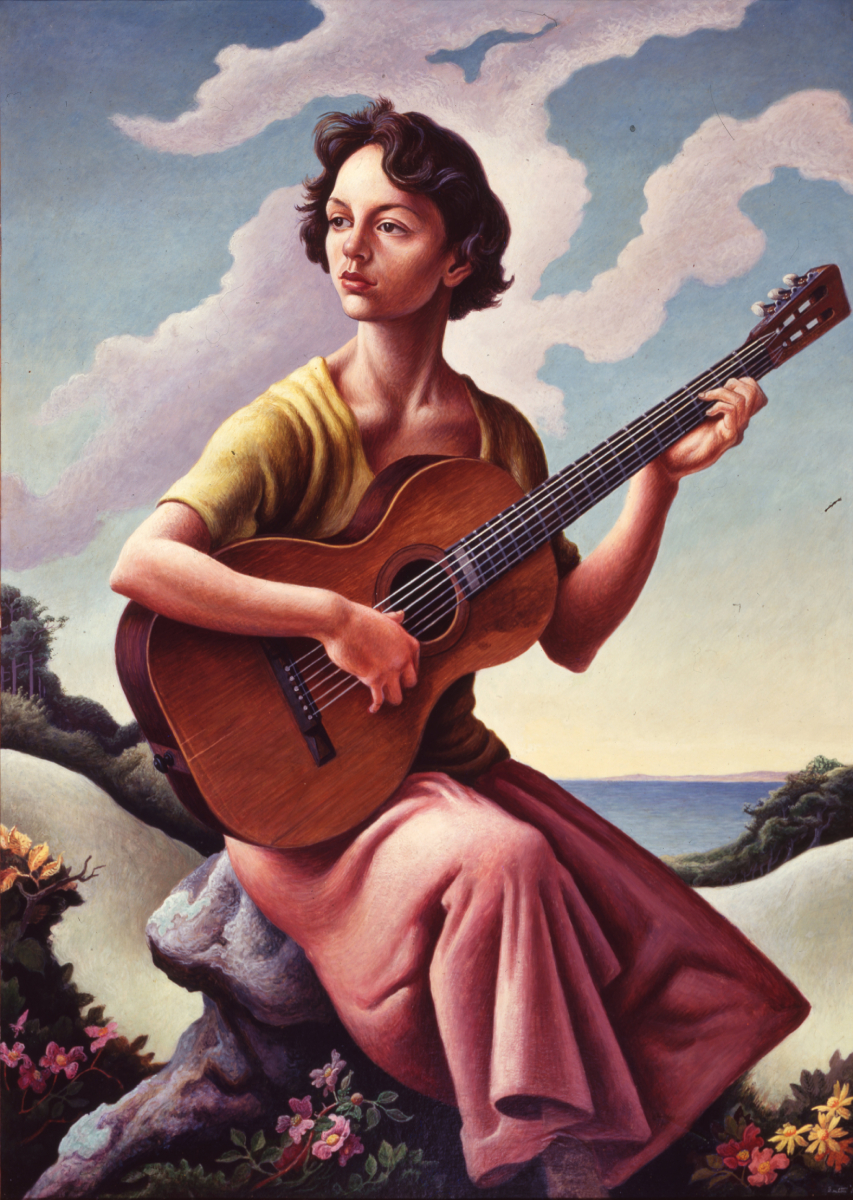 Storied Strings: The Guitar in American Art
On view at VMFA from October 8, 2022, to March 19, 2023, Storied Strings: The Guitar in American Art will explore the guitar as a visual subject, enduring symbol and storyteller's companion. Strummed everywhere from parlors and front porches to protest rallies and rock arenas—the guitar also appears far and wide in American art. Its depictions enable artists and their human subjects to address topics that otherwise go untold or under-told. Experience paintings, sculpture, works on paper, and music in a multimedia presentation that unpacks the guitar's cultural significance, illuminating matters of class, gender, race, ethnicity, and identity.
---
Jessie with Guitar, 1957, Thomas Hart Benton (American, 1889–1975), oil on canvas, 42 x 30 ½ in. Jessie Benton Collection © 2022 T.H. and R.P. Benton Trusts / Licensed by Artists Rights Society (ARS), New York
---