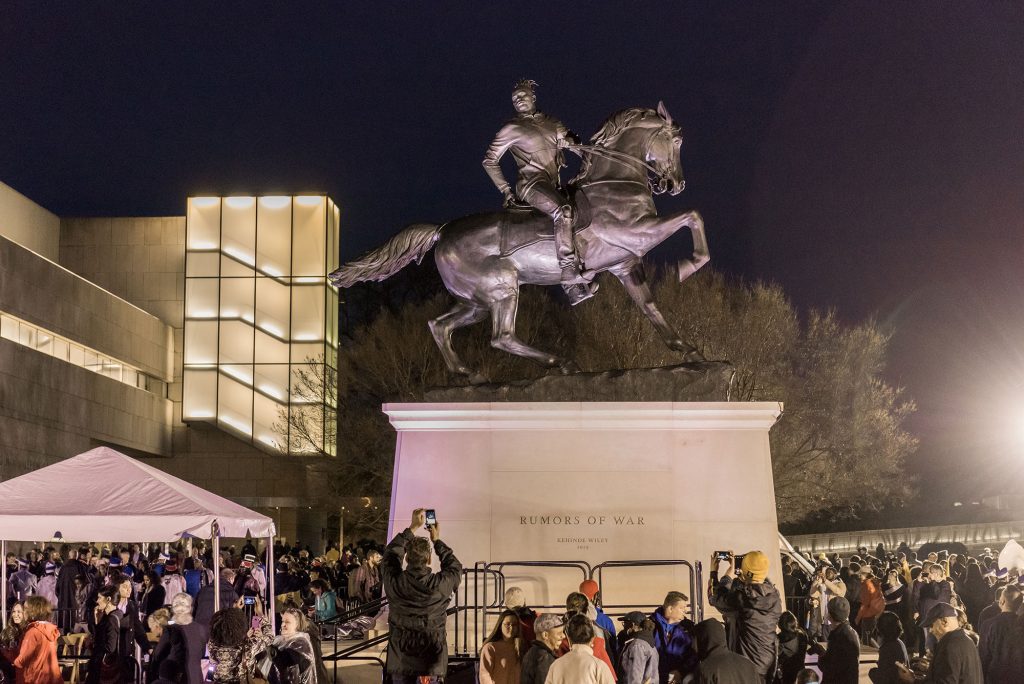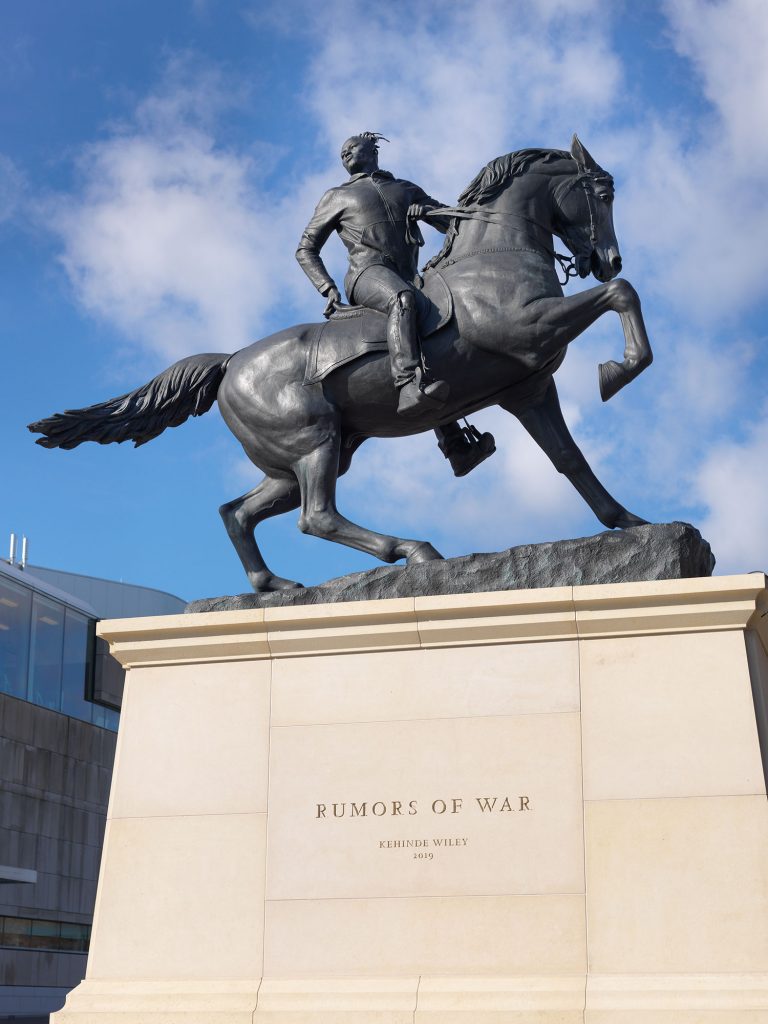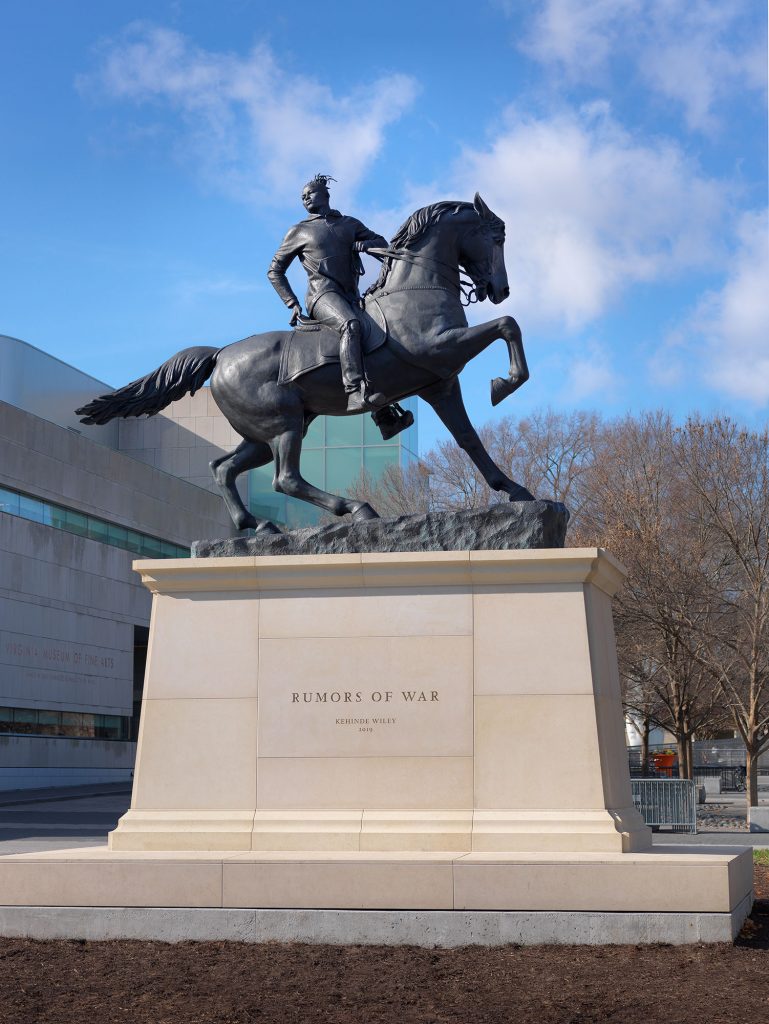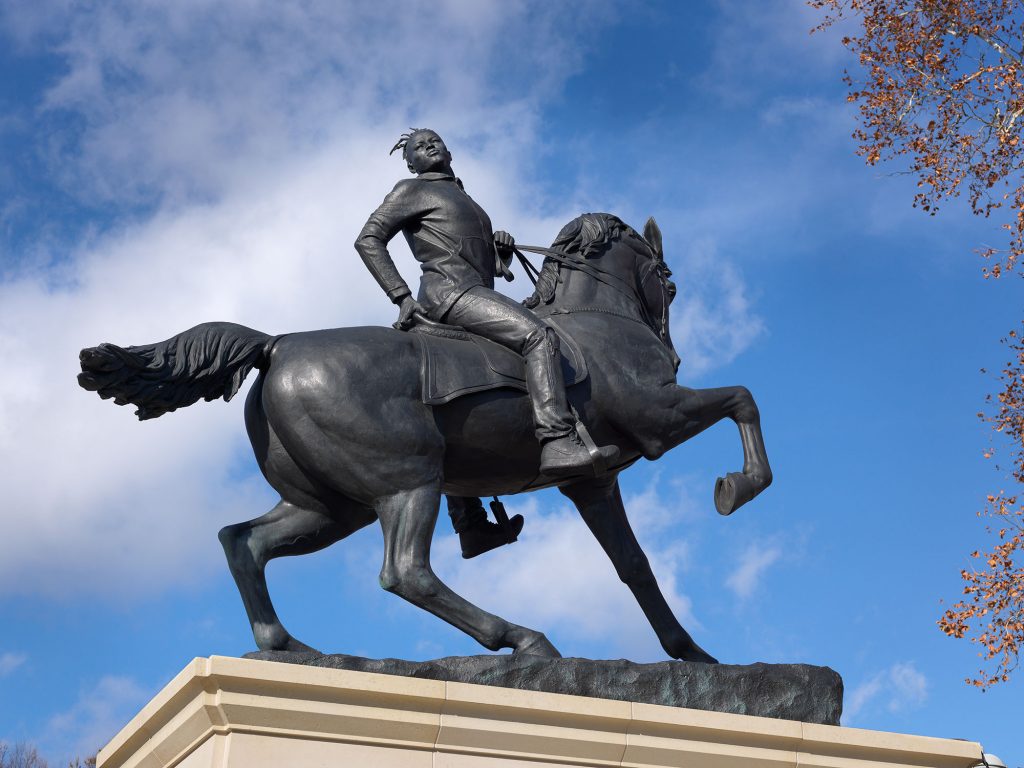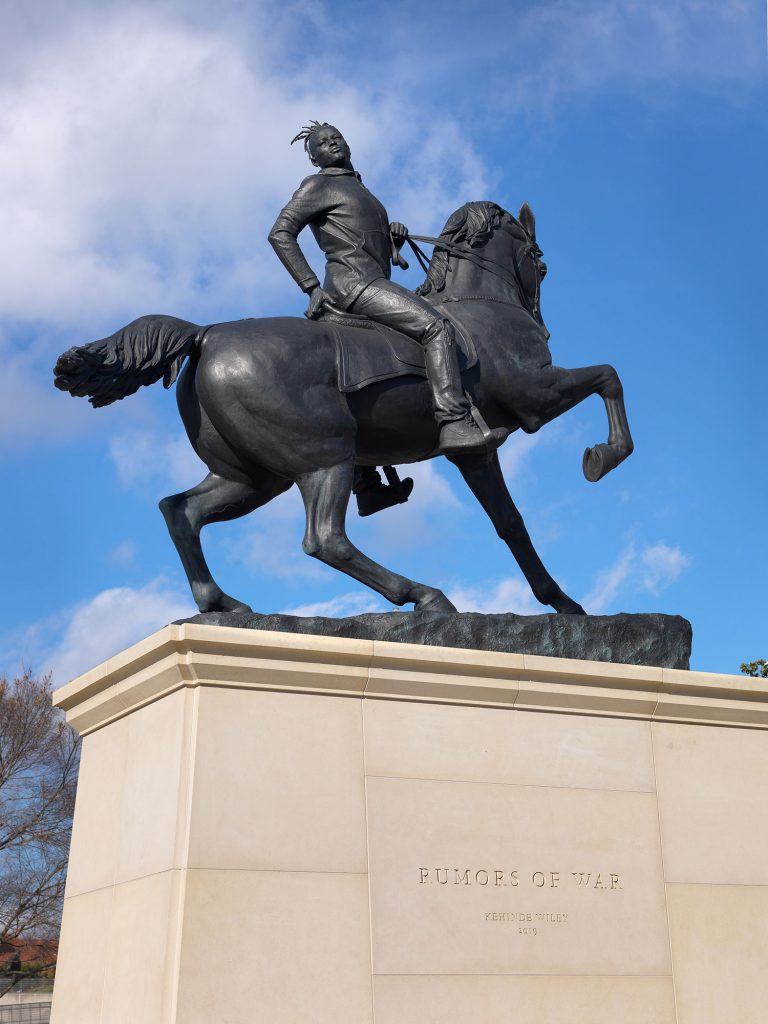 Photos by Travis Fullerton © Virginia Museum of Fine Arts
"In these toxic times art can help us transform and give us a sense of purpose. This story begins with my seeing the Confederate monuments. What does it feel like if you are black and walking beneath this? We come from a beautiful, fractured situation. Let's take these fractured pieces and put them back together."
–Kehinde Wiley
Downloadable handout
Información en español
Kehinde Wiley (born 1977) is an American artist known for repositioning black youth within the classical European tradition of power and status. With Rumors of War, he expands this concept while directly engaging the national conversation around monuments and their role in perpetuating incomplete histories and inequality.
As a direct response to the Confederate statues that line Monument Avenue in Richmond, Wiley conceived the idea for Rumors of War when he visited the city in 2016 for the opening of Kehinde Wiley: A New Republic at VMFA. Rumors of War takes its inspiration from the statue of Confederate Army General James Ewell Brown "J.E.B." Stuart created by Frederick Moynihan in 1907. As with the original sculpture, the rider strikes a heroic pose while sitting upon a muscular horse. However, in Wiley's sculpture, the figure is a young African American dressed in urban streetwear. Proudly mounted on its large stone pedestal, the bronze sculpture commemorates African American youth lost to the social and political battles being waged throughout our nation.
First unveiled on September 27, 2019, in Times Square, where the statue has remained on view for several weeks, Rumors of War will be unveiled December 10, 2019, at VMFA, its permanent home. The artist's vision will be complete when the statue is installed there with the city of Richmond as its backdrop. While this is Wiley's first monumental public sculpture, it is a continuation of his career-long investigation of representation, race, gender, and power.
In Rumors of War, Wiley draws from a series of paintings he created in the early 2000s when, inspired by the history of equestrian portraiture, he replaced traditional white subjects depicted in large-format paintings with young African American men in street clothes. At that time, these works were a reaction to the conflicts in Iraq and Afghanistan. Nearly two decades later, Wiley's public sculpture, taking its name from a biblical phrase found in Matthew 24:6, addresses the violence that continues not just in the Middle East but every day on the streets of this nation. Rumors of War also offers an exquisite example of how to imagine and develop a more complete and inclusive American story.
Wiley's career has focused on addressing and remedying the absence of black and brown men and women in our visual, historical, and cultural narratives. His subjects range from individuals the artist encountered while traveling around the world to many of the most important and renowned African American figures of our generation, including President Barack Obama.
VMFA celebrated the one-year anniversary of the 2019 unveiling of Kehinde Wiley's Rumors of War. This celebration paid tribute to the sculpture's power, beauty, and prophetic relevance, reflecting on all that unfolded in our city and the nation since its unveiling. Learn more and see the captivating visual presentation of animation, digital collage, and projection mapping that was projected onto the museum near Rumors of War.
Also in the VMFA collection, Kehinde Wiley's 2006 painting Willem van Heythuysen, is located in the Museum's Tapestry Hall.
VMFA is grateful to the following donors whose generous gifts supported the installation of Rumors of War.
---
Pamela K. and William A. Royall, Jr.
---
Katherine and Steven Markel
Angel and Tom Papa
---
Carol Ann Bischoff and Mike Regan
Joan P. Brock
Mr. and Mrs. Robert W. Cabaniss, Jr.
Thomas F. Garner, Jr. and William V. Garner Families
Goode Family Foundation
Kathryn Gray and Alex Nyerges
Dr. Monroe E. Harris and Dr. Jill B. Harris
Kenneth and Lydia Johnson
Denise Keane, Leonard Mandl, and Graham Mandl
Mr. R. Keith Kissee
James W. Klaus
Elizabeth Locke and John Staelin
Michele and Chris Petersen
Richard S. Reynolds Foundation
Ting Xu and James (Yongjie) Xu and Xu Family
---
Anne Battle and Leonard S. Slater
Karen Cogar and Danny Abramson
Drs. Ronald A. and Betty Neal Crutcher and Sara Crutcher
Nicholas Doumlele
Ken Dye and Sam Seeley
Jessica and Zachary Gertz
Martha and Richard Glasser Beloved
Elizabeth and Charles Hodges
Dr. and Mrs. Chris and Barbara Howard
Eucharia Jackson and Richard Jackson, M.D
The Honorable C. N. Jenkins, Jr. and Dr. Pamela Royal
Jershon Jones
Pat and Karen Kelly
Wyckie and Bill McClure
Elizabeth S. Morgan
Mr. and Mrs. Larry I. Palmer
Jennifer and Geoff Sisk
Lynn Smith
Scott and Lilo Ukrop
Thomas and Deborah Valentine
---
This list reflects gifts as of July 1, 2020.
---
IMAGE Rumors of War (detail), 2019, Kehinde Wiley (American, born 1977), bronze with stone pedestal, overall: 27' 4 7/8" H x 25' 5 7/8" L x 15' 9 5/8" W. Virginia Museum of Fine Arts, Purchased with funds provided by Virginia Sargeant Reynolds in memory of her husband, Richard S. Reynolds, Jr., by exchange, Arthur and Margaret Glasgow Endowment, Pamela K. and William A. Royall, Jr., Angel and Tom Papa, Katherine and Steven Markel, and additional private donors, 2019.39