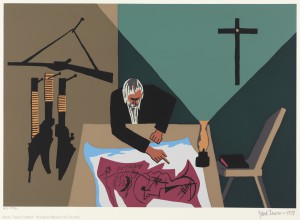 VMFA's collections and programs interpret cultures from throughout the world and across time. The schedule for these is never confined to particular months, but the occasion of Black History month provides the opportunity to recognize some current and upcoming experiences to honor African-Americans.
Lunch & Learn series featuring African-American scholar Dr. Nichole Gilpin-Hood, 12 – 1:30 pm:  Thursday, February 16, 2012: Jacob Lawrence; Thursday, March 29, 2012: Elizabeth Catlett Tickets
Jacob Lawrence: The Legend of John Brown (through Jun 10, 2012)
This special installation highlights an important recent acquisition of American art—Jacob Lawrence's The Legend of John Brown graphic series. Consisting of twenty-two silk-screen prints, the portfolio is based on Lawrence's same-size gouache paintings from 1941 (owned by the Detroit Institute of Arts) that explore the life of the controversial abolitionist. In 1977, when the paintings had become too fragile for public display and access, the Detroit museum commissioned Lawrence to reproduce them as limited-edition screen-prints. Each painting was originally displayed with the artist's accompanying text, which builds on the powerful visual narrative.
The collection was a gift/purchase by J. Harwood and Louise B. Cochrane Fund and partial gift of Derrick Johnson in honor of his grandson, Mark Devon Johnson, on the occasion of VMFA's 75th anniversary.
 Visions from the Congo: Ancestral Contact (through July 01, 2012)
This special two-part installation of sculpture bears witness to the vitality of Congolese art from the past and the inspiration it provides to artists in the present. The first section features four sculptures by artists from the Pende culture, of the Congo's Kwilu and Kasai regions that relate to the wrenching disruptions experienced by the Pende in the early 20th century during the Belgian colonial period. The second part of Visions from the Congo features life-size sculptures by contemporary African American artists Renée Stout and Alison Saar, both of whom draw from African art and culture in creating their works.
3 in 30 tour: 30-minute tour featuring three works by African-American artists in VMFA's permanent collection, February 9, 6:30-7:00 p.m.
In the VMFA Shop
Take home a souvenir from VMFA! The shop features African-American themed items, from Jacob Lawrence t-shirts to note cards featuring African American art from the VMFA collection, and children's books, and more!
Upcoming:
Making History: 20th-Century African American Art (through June 10, 2012) 
An innovative collaboration between VMFA and VCU's Museum Studies graduate program, this student-organized exhibition features more than 50 paintings, sculptures, and works on paper by renowned and lesser known 20th-century African American artists. Drawn from the local collection of Margaret and John Gottwald, the exhibition explores black artistic production and patronage at mid-century through work once associated with the Barnett Aden Gallery (1943-1969), a pioneering and influential private gallery located in Washington, D.C.—among the first with an integrated stable of artists and patrons. A cross-section of art by internationally acclaimed Elizabeth Catlett, 97, forms the core of the exhibition.
Art and Fashion in Black and White (May 11)
An evening of elegance featuring black and white fashions with splashes of color. This event coincides with the special exhibition Making History: 20th Century African American Art. A select group of local designers, boutiques, and models will showcase unique designs for the sophisticated, smart, and sassy. Music and dancing until 10 pm.
Bold, Cautious, True: Walt Whitman and Art of the Civil War Era (Jun 02, 2012  – Aug 26, 2012)
Timed to coincide with the sesquicentennial of the Civil War and Emancipation, VMFA is reprising the exhibition Bold Cautious True: Walt Whitman and American Art of the Civil War Era, organized by the Dixon Gallery and Gardens, Memphis. The Richmond presentation of this thought-provoking exhibition, which takes its title from Whitman's poem "As Toilsome I Wander'd Virginia's Wood," showcases one of VMFA's seminal works—Eastman Johnson's A Ride for Liberty—The Fugitive Slaves, March 2, 1862—in addition to more than 30 paintings, sculpture, prints, and rare books from noted public and private collections across the country.