Some recent rotations of work in the American Art galleries seem particularly timely, if not in the seasonal sense. From the inaugural display of our first-ever Alexander Gardner Civil War photograph to the reappearance of three iconic Paul Strand urban images, this new showing of photography calls to mind not only the final week of the local filming of the "Lincoln" epic (desperately seeking DDL!) but also a new exhibition at New York's Jewish Museum on the Photo League, an important 20th-century group of photographers who promoted social and political change through their art (Strand was a founding member).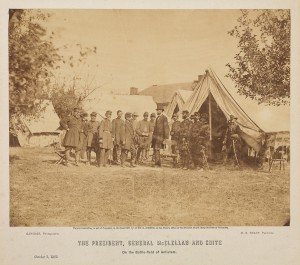 This rare albumen print from the 1865 edition of Gardner's Photographic Sketch Book captures Abraham Lincoln's 1862 visit with George McClellan at Antietam and the palpable animosity that existed between them. After the bloody devastation of the Maryland battle (famously captured by Gardner's camera), the president was dismayed with his general's hesitation to pursue the Confederates into Virginia. The notable tension of the scene, with the two men in a somewhat confrontational pose, goes beyond the inherently static characteristic of the medium. One month later, Lincoln relieved McClellan of his command. And we know what happened to George Custer (cockily posing at far right) later on!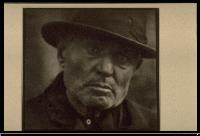 This haunting 1917 photogravure, Man, Five Points Square, New York, also marks a moment in time and reveals what made Strand a leading early-20th-century photographer and filmmaker. Going beyond mere documentation to expose the lonely desperation of America's urban poor, Strand sensitively wielded the camera as a reformist tool.
Other new acquisitions and loans (paintings and works on paper) can be found in the 18th- and 19th-century American galleries. Come see for yourself over the holidays.
-Sylvia Yount, Chief Curator and Cochrane Curator of American Art