By Sydney Collins, Conservation Photographer; Carol Sawyer, Margaret H. & William E. Massey Sr. Conservator of Paintings; Aleyah Grimes, Meghan Mezera, and Morgan Shedd, IMLS Summer Interns
As part of the "Connect to Conservation" program, the Virginia Museum of Fine Arts was able to host three summer interns with the generous support of the Institute of Museum and Library Services. Throughout their ten weeks at the museum, the interns rotated through all specialties of the VMFA's Susan and David Goode Center for Advanced Study in Art Conservation. Aleyah, Megan, and Morgan worked closely with VMFA conservators to learn more about the diverse skill set that conservators utilize every day to ensure objects' safety and longevity. During their time at the museum, the interns joined the VMFA's Conservation Photographer, Sydney Collins, to learn more about the importance of photo documentation and how it relates to treatment and research for artwork in the museum's collection.
From left to right: Sydney Collins, Conservation Photographer; Morgan Shedd, IMLS Summer Intern; Meghan Mezera, IMLS Summer Intern; Aleyah Grimes, IMLS Summer Intern; Bruce Suffield, Associate Conservator of Paintings; Carol Sawyer, Margaret H. & William E. Massey Sr. Conservator of Paintings
One investigatory method they discussed was reflectance transformation imaging (RTI). RTI is a computational photographic technique that mathematically enhances topographic surface detail on an object. Cultural Heritage Imaging (CHI) has developed an RTI-building software that is able to process the data captured in the image stills to allow users to dynamically relight the scene. RTI is commonly used to better reveal otherwise illegible inscriptions, such as the faces of stone reliefs, surface details in ancient coinage, or other features related to the surface topography of a work of art.
Together with the Conservation Photographer, the IMLS interns created their own reflectance transformation image for the American painting, Outside the Horses Tent, by Gifford Beal. While this painting does not contain any inscription, the painting does possess a lot of interesting topographical surface variation. The interns hoped to examine Beal's paint application more closely using RTI.
Aleya, Megan, and Morgan captured 48 different images of Outside the Horses Tent. While the camera remained in a fixed position framing the object, the interns moved a single light source around the painting at regular intervals. They stopped at each "hour" as they moved clockwise around the painting. At each hour marker they captured an image with the light source positioned at a 15, 35, 45, and 65 degree angle above the painting. A string was used to ensure consistent distance from the painting to the light source.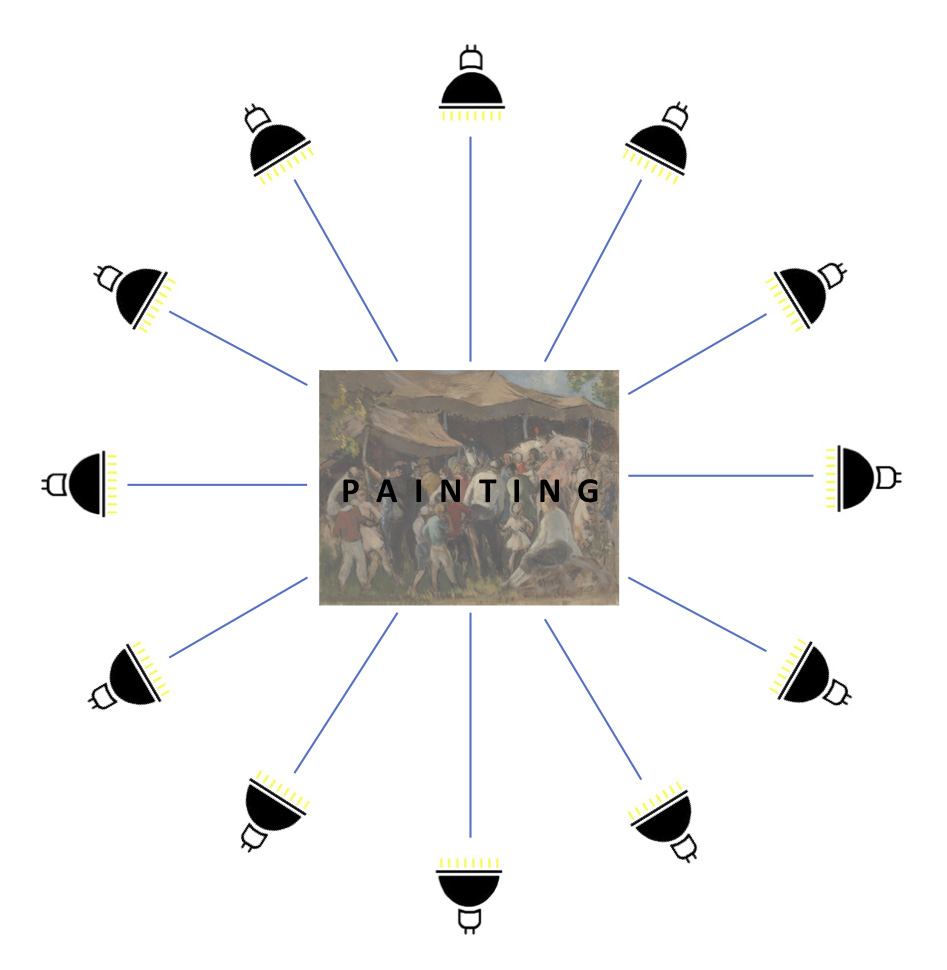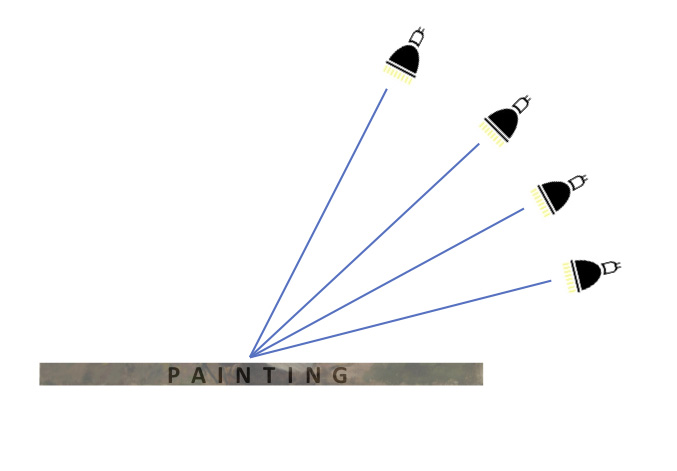 Using CHI's RTI Builder software, they created a polynomial texture map of Beal's painting. An RTI viewing software is required to open and interactively manipulate the light source in the image, but below is a video screen capture of some of the results.
RTI screen capture of Outside the Horses Tent using RTIViewer Specular Enhancement rendering mode
RTI beautifully illustrates the topographical texture and three dimensionality of the paint layers, highlighting Beal's vigorous and expressive painting materials and method. The variation in paint application is evident throughout the canvas, from stippling in the left corner to the tumultuous texture of the blue sky above the tent. At some light angles one can even see the horizontal brushstrokes used to apply the white preparatory ground layer.
While RTI is only one non-invasive technique conservators might employ to investigate an artwork, it can greatly aid in understanding subtle surface details. In the case of the VMFA's Outside the Horses Tent, RTI gave our staff a small window into the artist's active but loose painting process.
WANT TO GIVE RTI A TRY ON YOUR SMARTPHONE DEVICE?
Download the RTI Mobile App and attempt to decipher the weathered inscription on an ancient coin.
Download from itunes
---
More on Gifford Beal:
Gifford Beal was born in New York City in 1879. He spent most of his life in New York and became interested in painting at a young age. Wanting the best art education for his son, Beal's father sent his 12-year-old son to study art with William Merritt Chase. He studied with Chase in NYC on the weekends and at Chases Shinnecock Hills Summer School of Art in Long Island during the summers. His instruction under Chase continued between 1892 to 1901 and included periods during his studies at Princeton University. After graduating from Princeton, Beal turned to the Art Student's League to further his art education. He eventually became an instructor, and later president, where he served as the longest serving president in the institution's history. In 1908 he was invited to be an associate of the National Academy of Design and a full member in 1914.
Beal's subject matter was varied. He found inspiration for his painting in leisure activities related to daily life, pageantry, holiday crowds, and nature. His works depict circus performers, holiday scenes, and hunting and fishing activities. He visited New England in the summer and used the rugged coastal terrain as a backdrop for his hunting and fishing scenes. The Caribbean Islands and Hudson River provided additional subject matter, with scenery conducive to his use of bright colors and his interest in light. Beal's early impressionist style, inspired by Chase, shifted during his mid-career years to a more realistic depiction of daily life. During this period his palette was more muted and the artist used bolder, thicker brushstrokes to create simpler compositions. At the end of his career, he returned to painting with bright, radiant colors and an emphasis on light, with a style reminiscent of his early work. The later paintings, depicting New York scenes and capturing subjects from his extensive travels outside the US, are freer and more spirited in execution. Beal had early success with his painting, winning various national painting and watercolor prizes.