New-Fashioned from Briget Ganske on Vimeo.
An average day of questions and answers during a Teen Stylin' workshop:
Q: Where are the scissors?
A: Look in the blue bins on the table.
Q: Is there any more hot glue?
A: We have an endless supply. Look in the blue bins on the table.
Q: I smell smoke; is something burning?
A: Unplug that hot glue gun . . . quick!
Q: Do we have any more tape?
A: Probably, look in the blue bins on the table.
Q: Do you have bird seed? How about dirt? Sand?
A: No. Yes. Yes. Look in the clear bins on the back tables.
Q: Can my model go barefoot? Can I go barefoot?
A: Yes, as long as it relates to your design. Why?
Q: How many stairs do we have to walk down? Has anyone fallen before?
A: 14. Yes, but they recovered gracefully and went on to win an award.
Q: My model has pneumonia. What should I do?
A: Find a different model.
Q: Can I cut this? Can I spray paint this?
A: Yes. Yes, but go outside, wear a ventilation mask, and lay it on a drop cloth.
Q: Do you have any burn ointment? I just touched the hot glue gun.
A: As a matter of fact, I do. No more touching hot glue guns.
Q: How do you use plaster? Can that go on my model's skin?
A: I'll show you. Technically, yes, but it would pull every single hair out when you tried to remove it.
How it all works: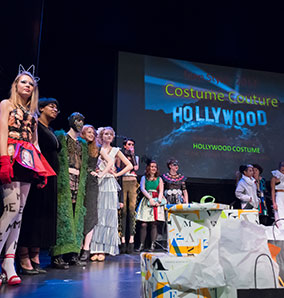 Teen Stylin' is a year-round commitment beginning with convincing a fine art museum to let more than 500 teens and their families take over the museum for two nights in the fall. The museum places very few limitations and restrictions on the teen designers, except when it comes to the use of glitter. Farewell beloved glitter.
Once we get the go ahead for another year of a "fashion meets sculpture" program and event, museum educators and teen advisors choose a theme, like "Forbidden" (this year's) or "Engineered" (2015). Over most of the spring and summer, teen program interns scour the museum's permanent collection to identify works of art that relate to the theme and . . . are in cases, covered in glass (as dictated by our conservation staff for the protection of the art), located anywhere but in a corner (can't explain this one), and are thoroughly spread out in every part of the museum (so there are never more than two designs in a single gallery). Once we have a list of 100 or so approved objects, our summer teen interns begin to put together research packets for every single piece. Tours to teach student designers more about their pieces are developed and scripts for docents written. By early September, students have submitted their applications, and more than 100 packets of information have been assembled and are waiting for distribution on designer orientation day when students walk into the studio for the first time and sit down in front of an image of the work of art they'll use for their garment inspiration. An hour later they are off to the galleries for a docent tour to get the scope and see their garment inspiration up close and personal.
The heat is on. From mid-September through mid-November, student designers feverishly work to create one-of-a-kind wearable works of art, using all but conventional materials and techniques and practicing armature construction, material manipulation, and rendering. As their final assignment, designers select a soundtrack for their runway piece and write an artist statement justifying every choice they made for their design. The teens provide this artist statement, a list of materials, design shots, and an image of the inspiration piece to the judges the night of the event.
After eight weeks of labor, love, laughter, burned skin, blood, and even tears, the students' designs are featured in a final runway event. During the event, judges choose the nine 9th- to 12th-grade students who will win a trip to New York City and the six 6th- to 8th-grade students who will take home an awesome fashion designer portfolio kit (including a brand-new sewing machine). But regardless of these results, every student designer is a winner. They have pushed themselves further creatively than many of them ever imagined. They have successfully managed their time and stayed true to their commitment. They have worked through major problems that involved how to create wearable art out of unconventional materials. They have repeatedly rebounded from mistakes, turning them into creative adventures. They have coped with their fear and presented themselves and their ideas to a live audience of more than 400 guests. In the end they have plenty of reasons to be proud.
And in December, we start over. We evaluate the program. The successes. The failures. We edit, add, omit, and change, all the while, imagining what next year will bring.
—Jessica Bauserman, Youth and Family Programs Educator