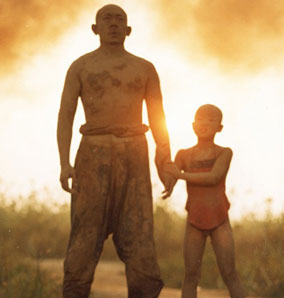 It's difficult to know where to start when delineating the reasons to see Zhang Yimou's Red Sorghum (1987; 91 min) at the Byrd Theatre on November 23 at 1:30 pm. The film has an almost mythic reputation.
But I will try.
The Byrd Theatre will be the only venue in the entire US that has shown this amazing movie on a big theatrical screen with English subtitles.
Red Sorghum hasn't even been released on DVD in the US.
Red Sorghum is based on Nobel Prize laureate Mo Yan's 1987 novel, Hong gaoliang jiazu or Red Sorghum Clan.
Red Sorghum won the Golden Bear (Best Film) at the 1988 Berlin Film Festival.
Red Sorghum introduced a stunning talent Gong Li and catapulted her to world-class fame.
Zhang Yimou is the best known of the fabled "5th Generation" of graduates from the Beijing Film Academy.
Zhang Yimou made his first directorial effort with Red Sorghum which so vividly shows off his brilliant cinematographic skills.
Since his directorial debut, Zhang Yimou has consistently captivated cineastes with his major critical and commercial successes: Ju Dou (1990), Raise the Red Lantern (1991), The Road Home (1999), Hero (2002), House of Flying Daggers (2004), and The Flowers of War (2011, with Christian Bale.)
As a pièce de résistance, Zhang created the jaw-dropping 2008 Beijing Summer Olympics opening and closing ceremonies.
VMFA has been granted one-time-only, exclusive rights from the Xi'an Film Studio to show a DCP transfer of a 35mm print made by the China Film Archive. (VMFA is so grateful to both of them.)
How'd I do?
I hope all of these reasons (and trust me, there are many more!) makes you come and see Red Sorghum now!
 –Trent Nicholas, VMFA Film Programmer