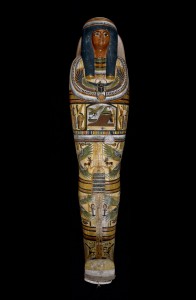 It's hard to imagine how we could make our new special exhibition, Mummy: Secrets of the Tomb, more fun, but we have. And you're an integral part.
On opening day, Saturday, November 19, VMFA will offer free admission to the first 200 nonmembers that arrive at the museum in Egyptian-themed costume. It's your opportunity to show off your inner Cleopatra, mummy, or King Tut.
Exploring the rituals of death and burial in ancient Egypt, Mummy: Secrets of the Tomb features more than 100 objects from the internationally renowned Egyptian collection of the British Museum. The exhibition also includes a 21-minute, 3D movie narrated by Patrick Stewart, showing the virtual unwrapping of temple priest Nesperennub's mummy using the most advanced scanning technology currently available.
We hope to see lots of Richmonders in their Egyptian-inspired finest! See you Saturday.
Here's the "fine print":
· Your costume must Egyptian-themed and cover at least half of your body.
· No props, such as spears, staffs, or chariots, please.
· A VMFA staff member will greet visitors at the main entrance, examine costumes and award tickets to participants that meet "fine print" guidelines.
· The exhibition runs on 30-minute time slots. We will distribute 40 tickets per 30-minute time slot (10, 10:30, 11, 11:30, and noon). Once the tickets are gone, they're gone!
· Best Café will open at 9 am and will be selling coffee, tea, muffins, and scones. Queuing for first time slot will begin at 9:45 am and museum galleries will open at 10 am. If you arrive early, we'll be opening our doors (but not the museum) at 9 am. Visitors can wait in Best Café until 10 am.
Promotional tickets are for nonmembers. Admission is always free to members with a reserved ticket.