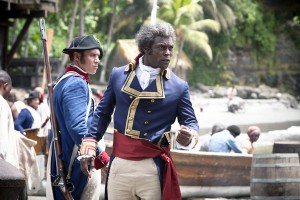 You go to the chain theaters to see what everyone else in the country is watching, but if you want films that are provocative and inspirational and that make you think, you go to VMFA. On Sat, Sep 6, VMFA will be pre-screening another of these thought-provoking films Toussaint Louverture. Not only has the whole country not seen this one, but you'll be one of the first to experience this film prior to its premiere at Tim Reid's Legacy Media Institute International Film Festival in Petersburg Oct 17 – 19.
A two part, action-packed film, Toussaint Louverture depicts the life of the Haitian leader who led the first successful slave revolt in world history, defeating Napoleon Bonaparte and winning independence for Haiti from France. This revolution, led by Toussaint who became known as the "Black Spartacus," helped establish Haiti as the first black free nation in the western hemisphere and rocked the institution of slavery throughout the New World.
Directed by Philippe Niang (France/Haiti) in French and Haitian Creole with English subtitles, this film is 195 minutes.