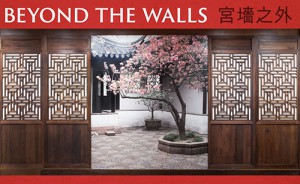 In contrast to Forbidden City, which focuses on the world of the emperor, Beyond the Walls allows you a glimpse into the home of an 18th century merchant-class family in China. Plus, this exhibition, located in the Memorial Foundation for Children Teaching Gallery, is interactive! Families, school groups, and other visitors can participate in activities including writing Chinese characters on a touch screen; designing personal, virtual seals; unrolling and viewing reproduction scrolls; and playing traditional musical instruments and games.
Come for the opening of Beyond the Walls, opens on Sunday, September 7, noon – 4 p.m. with a ribbon cutting at 12:15 pm. Not only can you explore the new exhibition but also your family will also enjoy Open Studio Sunday, where you'll be able to participate in art activities inspired by the VMFA collection and a lantern-making workshop hosted by 1708 Gallery. Bring your lanterns to the Community Lantern Parade that kicks off InLight Richmond in and around Monroe Park on Nov. 21.
Exhibition and Open Studio Sunday is free. An interactive website, which launches on Sept. 7, will complement this exhibition. Visit vmfa.museum/beyondthewalls.
Beyond the Walls is generously sponsored by E. Rhodes and Leona B. Carpenter Foundation, MeadWestvaco Foundation, The Community Foundation Serving Richmond and Central Virginia, Memorial Foundation for Children, and The Jeanann Gray Dunlap Foundation.