Teens in this year's
Museum Leaders in Training (M.LiT)
at the Virginia Museum of Fine Arts focused on developing and implementing events inspired by
Isaac Julien: Lessons of the Hour—Frederick Douglass
, the film installation recently acquired by VMFA and now on view through July 9, 2023.As in all M.LiT programs, participants completed a 12-week curriculum, as they learned from guest speakers, explored museum careers, collaborated on projects, and networked. Here, in their own words, just a few of this year's 27 participants share their reflections and insights after completing the program, which culminated with three M.LiT-organized public events.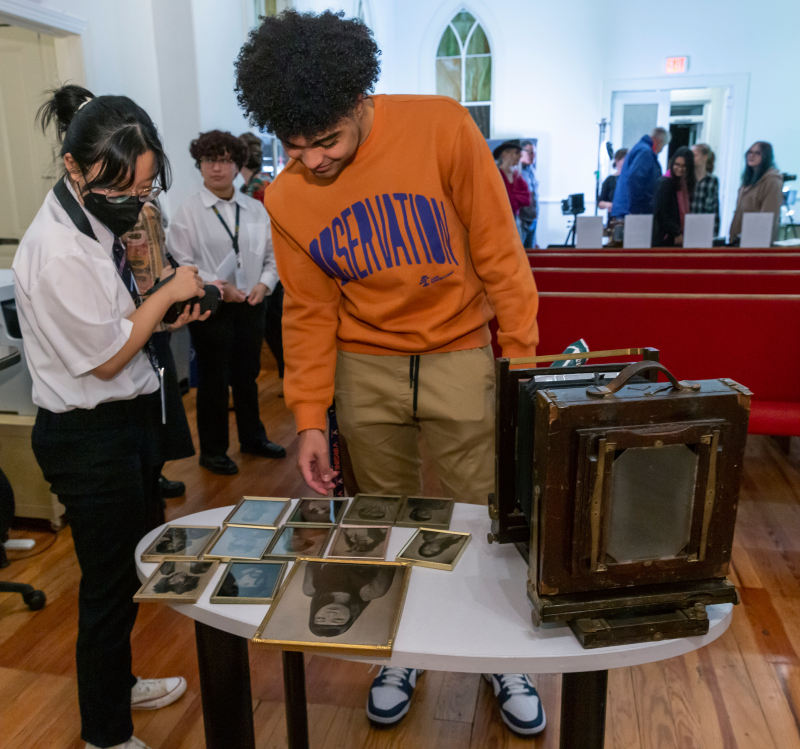 Attendees check out M.LiT-organized photography displays at Oakwood Arts.
---
M.LiT participants explored Isaac Julien's film installation, which meditates on the life and work of 19th-century abolitionist Frederick Douglass, his contemporary relevance, the role of photography in crafting an image, and Douglass's masterful speeches.
Matoaca High School student Safiyyah James and her group focused on speechwriting and hosted an event at VMFA on January 5. Attendees experienced the film installation and then discussed Douglass's speech "What to the Slave is the Fourth of July?," a portion of which is delivered in the film by Shakespearean actor Ray Fearon, who portrays Douglass. The event included post-viewing discussions led by facilitators Roscoe Burnems, Richmond's inaugural poet laureate, and Paula G. Akinwole, an author and spoken-word artist. Safiyyah reflects on the experience:
We were able to distill what we believed was most important to share about Frederick Douglass and his relationship to speechwriting and structure our event around that idea. Planning our workshop prompted a lot of discussion because of all the different avenues we could take, and I think it increased our creativity so that everyone's ideas could be included. I learned that I enjoy helping facilitate discussion and planning to make sure that everyone is included and the event goes as smoothly as possible.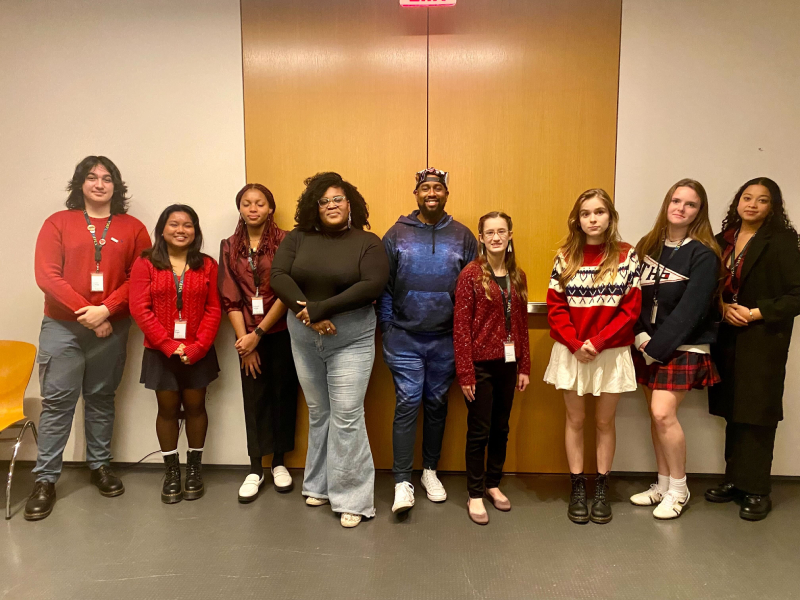 Sharing their talent and writing expertise, Paula G. Akinwole (center left) and Roscoe Burnems (center right) facilitated discussions that examined the power of Douglass's words.
The second M.LiT group focused on the topic of 19th-century women and invited guest speakers Kristen Green and Liza Mickens to be part of an event on January 12 at the Black History Museum & Cultural Center of Virginia. Green, the author of Devil's Half Acre, presented on Mary Lumpkin, an enslaved woman who inherited a jail and transformed it into a school, which today is Virginia Union University. Mickens presented on her great great-grandmother, the legendary Maggie Lena Walker, a pioneering businesswoman, activist, and the first African American woman to own a bank.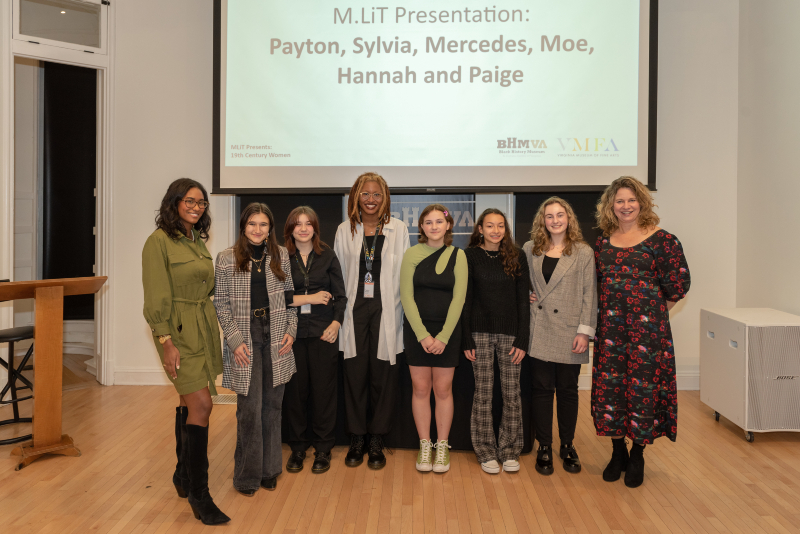 Liza Mickens (far left) and Kristen Green (far right) were invited by M.LiT students to present on the topic of 19th-century women.
That evening's final presentation was delivered by the M.LiT students themselves, who focused on Frederick Douglass's first wife, Anna Murray Douglass, who actively assisted the Underground Railroad. Here is an excerpt from that presentation, provided by Mercedes Luna, student at Maggie L. Walker Governor's School:
When I think of Anna Murray Douglass, I think of intentionality, which is often overlooked when history views women like her. Even though in modern times, we do not view her domestic role as the epitome of empowerment, she used what limited agency she had to work toward the goals she cared so strongly about. . . . She was resilient and a strong beacon of support. And of course, through whatever work she was involved in, she maintained her core values of social justice and family. In this way, when we tell Frederick Douglass's story, we must tell the story of Anna Murray Douglass as well.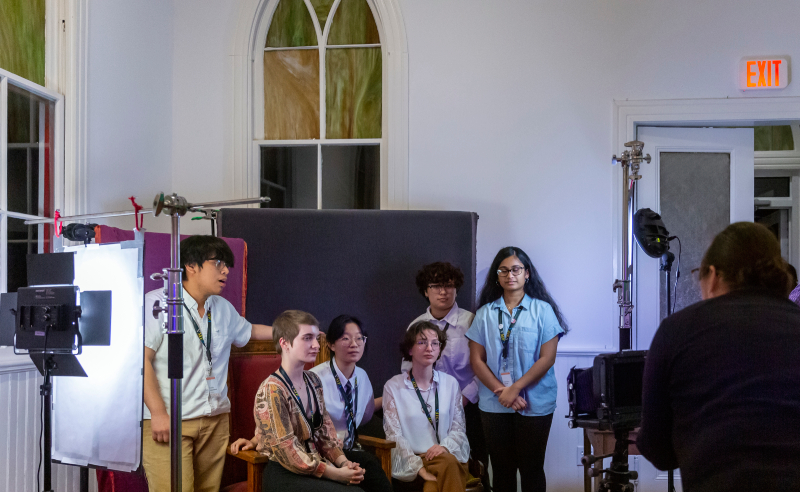 Inspired by 19th-century photography practices, M.LiT students, with the help of Oakwood Arts staff, added portraiture photo booths to their event.">Oakwood Arts staff, added portraiture photo booths to their event.
Focusing on photography and film, the third M.LiT group held an event at Oakwood Arts on January 19 that featured photographers Maya Jackson and Em White. To provide attendees with interactive components, students collaborated with Oakwood Arts to develop innovative photo booths, and they researched and created a timeline of the evolution of camera technology and photography practices. Reflecting on the experience of developing such an event, Clover Hill High School student Quyen Nguyen says:
M.LiT has provided me with the amazing opportunity to discover what my leadership style is. Coming in, my weakest characteristic was public speaking and actively participating in discussions. However, everyone showed so much support, respect, and feedback to what each person had to say that it made engaging in conversations feel effortless. . . . There was a perfect balance between guidance we received from professionals and mentors and the freedom and creativity we were entrusted with when it came to making our ideas and vision a successful reality.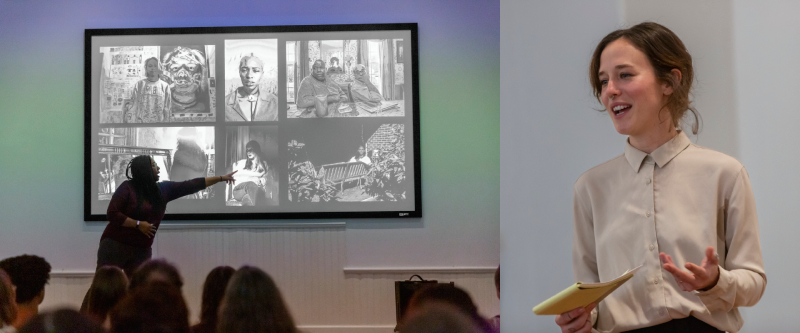 Photographers Maya Jackson and Em White discuss their work with attendees at the student-organized event at Oakwood Arts.
M.LiT's yearly application process gets underway in the fall. Check back on our website to learn more about what Open High School's Cristian Perez-Xitumul is grateful to have experienced: "I got to do many things that many people do not have the chance to do."