The accompanying catalogue to Storied Strings: The Guitar in American Art further investigates a range of cultural questions raised by the guitar's ubiquity, accessibility, and ability to empower. Written by the exhibition's curator, Dr. Leo Mazow, who is VMFA's Louise B. and J. Harwood Cochrane Curator of American Art, the 250-page book features insightful essays and full-color photographs of the artwork and guitars on view in the exhibition. Here we provide an excerpt from the chapter titled "Cold Hard Cash: Guitars and Value," which features the section "Blindness, Busking, and Urban Imagery."
Learn more about the exhibition and related programs, including the January 8, 2023, virtual conversation with Georgina Kleege, Professor Emerita of English, University of California, Berkeley, and author of More Than Meets the Eye: What Blindness Brings to Art.
The exhibition is on view through March 19, 2023, and the catalogue is available for purchase from the VMFA Shop.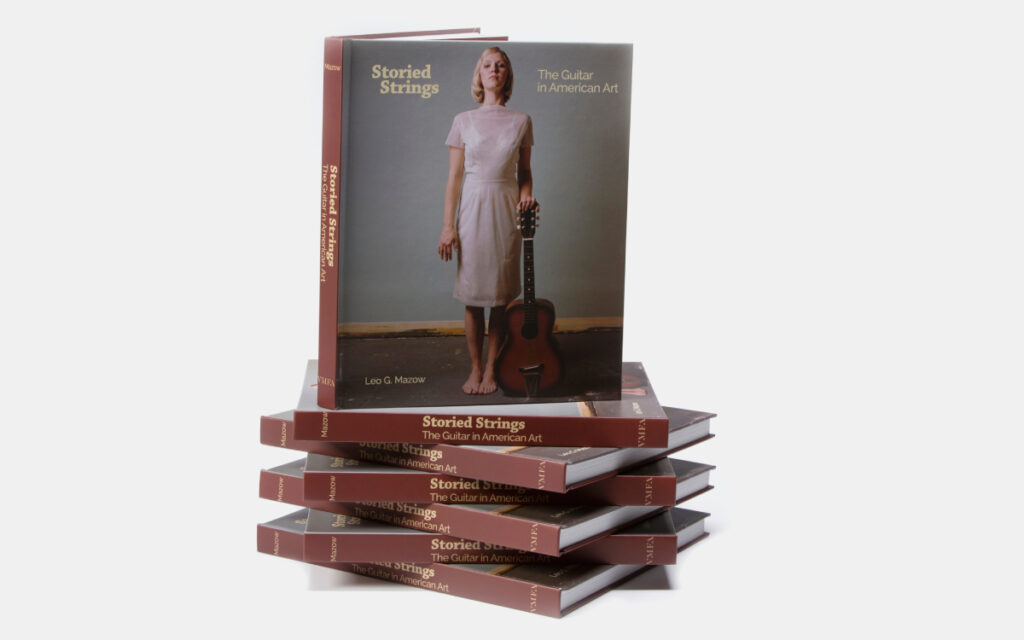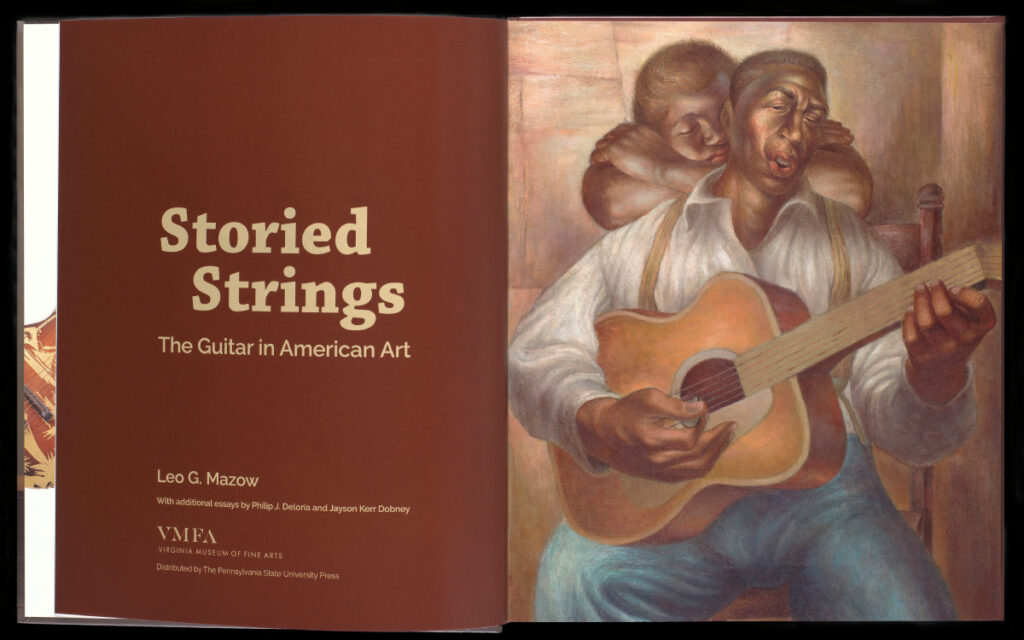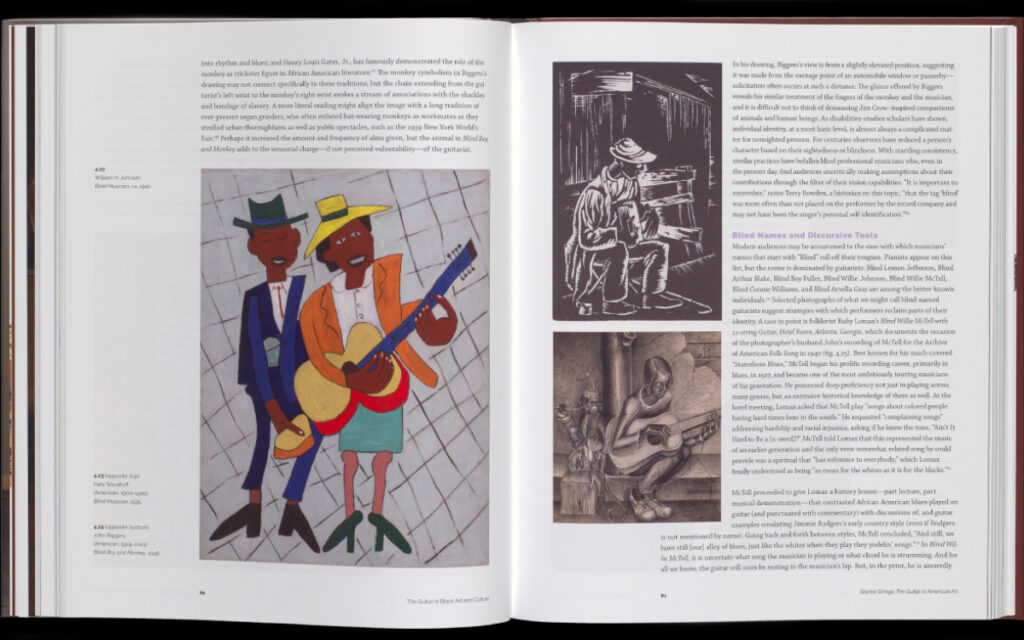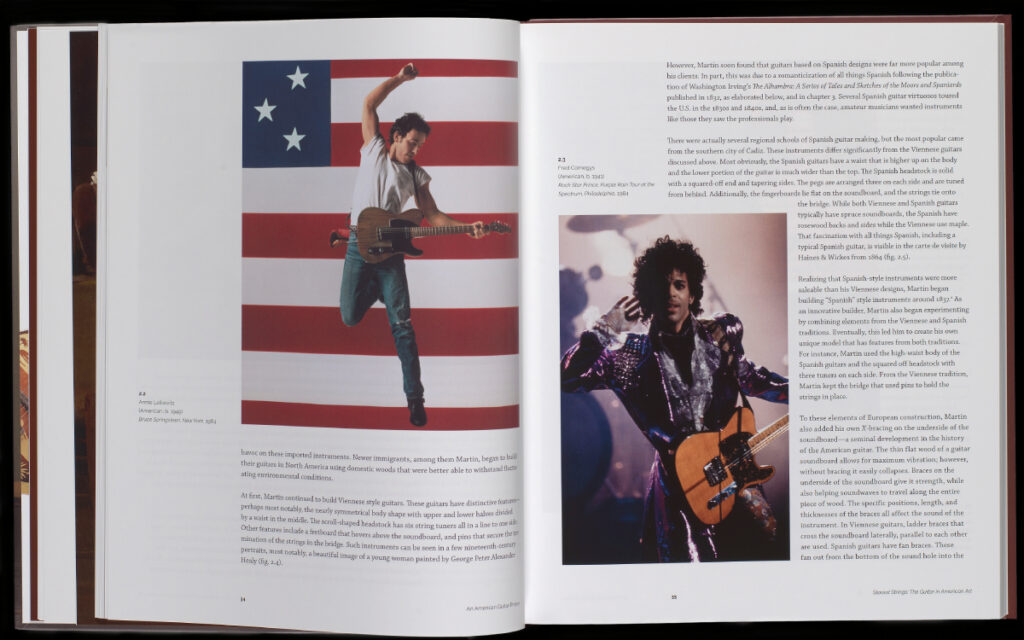 ---
Blindness, Busking, and Urban Imagery
In the summer of 1912 during his fifth trip to Madrid, the realist, so-called Ashcan artist Robert Henri, very likely inspired by indigent subjects in the work of Spanish baroque artists, such as Diego Velázquez and Bartolomé Estéban Murillo, produced two paintings of women playing guitar. Blind Spanish Singer is a frontal view of a seated woman, guitar resting on her lap and rising at about a 45-degree angle, its strap leading behind the player's back (fig. 8.10). The woman's mouth, slightly open, suggests that her singing accompanies the chords she strums. Henri also wrote of the pathos and tragedy of her situation, about how she was relegated to playing guitar for money on the streets of Madrid. And he vividly recalled the woman's outward signs of disability and destitution, her "thin, emaciated body moving forward in the act of singing and head thrown back, the eyes closed and hollow." He also remarked that the woman and her companion sang for the entire five hours that they posed, in his studio, for the painting that became Blind Singers, a double portrait of both figures playing guitar (fig. 8.11).1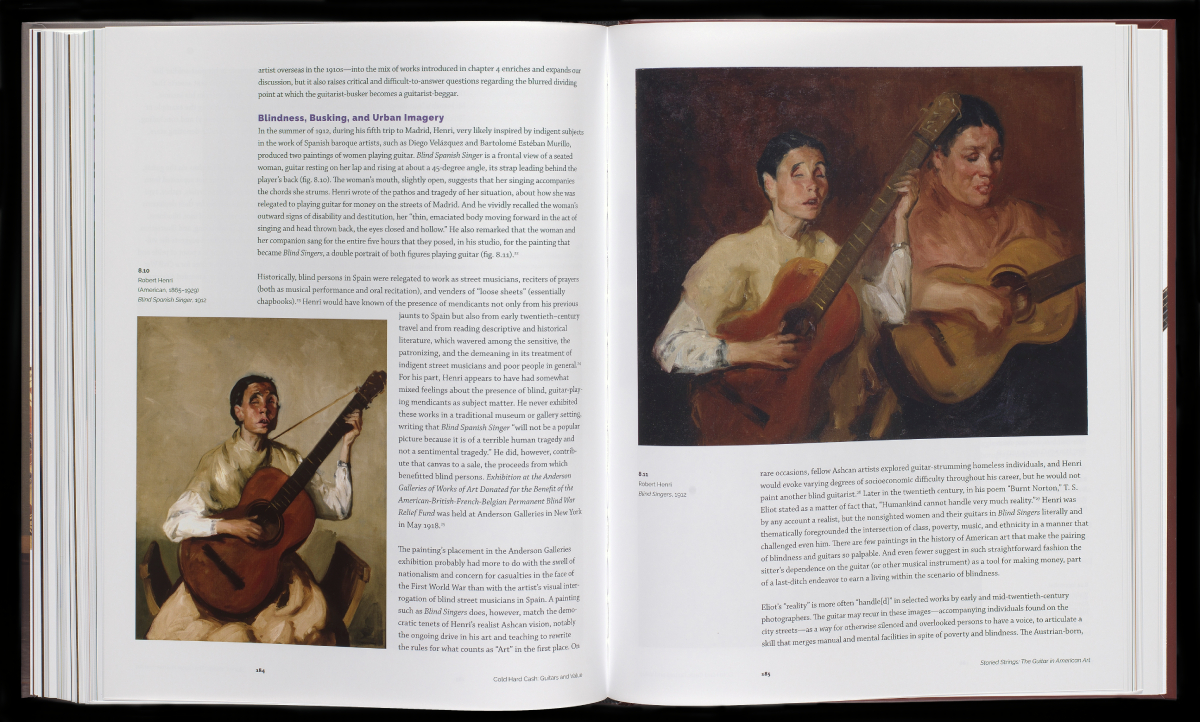 Historically, blind persons in Spain were relegated to work as street musicians, reciters of prayers (both as musical performance and oral recitation), and venders of "loose sheets" (essentially chapbooks).2 Henri would have known of the presence of mendicants not only from his previous jaunts to Spain but also from early twentieth–century travel and from reading descriptive and historical literature, which wavered between sensitive, patronizing, and demeaning in its treatment of indigent street musicians and poor people in general.3 For his part, Henri appears to have had somewhat mixed feelings about the presence of nonsighted, guitar-playing mendicants as subject matter. He never exhibited these works in a traditional museum or gallery setting, writing that Blind Spanish Singer "will not be a popular picture because it is of a terrible human tragedy and not a sentimental tragedy." He did, however, contribute that canvas to a sale, the proceeds from which benefitted blind persons. Exhibition at the Anderson Galleries of Works of Art Donated for the Benefit of the American-British-French-Belgian Permanent Blind War Relief Fund was held at Anderson Galleries in New York in May 1918.4
The painting's placement in the Anderson Galleries exhibition probably had more to do with the swell of nationalism and concern for casualties in the face of the First World War than with the artist's visual interrogation of nonsighted street musicians in Spain. A painting such as Blind Singers does, however, match the democratic tenets of Henri's realist Ashcan vision, notably the ongoing drive in his art and teaching to rewrite the rules for what counts as "Art" in the first place. On rare occasions, fellow Ashcan artists explored guitar-strumming homeless individuals, and Henri would evoke varying degrees of socioeconomic difficulty throughout his career, but he would not paint another nonsighted guitarist.5 Later in the twentieth century, in his poem "Burnt Norton," T. S. Eliot stated as a matter of fact that, "Humankind cannot handle very much reality."6 Henri was by any account a realist, but the nonsighted women and their guitars in Blind Singers literally and thematically foregrounded the intersection of class, poverty, music, and ethnicity in a manner that challenged even him. There are few paintings in the history of American art that make the pairing of blindness and guitars so palpable. And even fewer suggest in such straightforward fashion the sitter's dependence on the guitar (or other musical instrument) as a tool for making money, part of a last-ditch endeavor to earn a living within the scenario of nonsightedness.
Eliot's "reality" is more often "handle[d]" in selected works by early and mid-twentieth-century photographers. The guitar may recur in these images—accompanying individuals found on the city streets—as a way for otherwise silenced and overlooked persons to have a voice, to articulate a skill that merges manual and mental facilities in spite of poverty and blindness. The Austrian-born, American photographer Lisette Model articulated this sort of empathy in her work. As the art historian Audrey Sands has shown, Model understood well that she was not so different from the impoverished individuals she portrayed in her images made in both France and the United States.7 Not unlike earlier twentieth-century Ashcan painters, she ennobled, even validated the lives of individuals whose abject socioeconomic position may not always have found their way into fine art.
---
1 Margaret A. Stenz, "Primitivism and Nationalism in the Portraiture of Robert Henri" (PhD dissertation, City University of New York, 2002), 152.
2 Madeline Sutherland, "Toward a History of the Blind in Spain," Disability Studies Quarterly 35, no. 4 (2015) https://dsq-sds.org/article/view/4039/4113 (accessed December 2020)
3 Stenz, "Primitivism and Nationalism," 154–55, surveys some of this literature.
4 Ibid., 152, 153n95; Henri quotation on 152.
5 See George Luks's undated oil painting Hobo Musician, reproduced in Important American Paintings, Drawings and Sculpture auction catalogue (New York: Christies, 2000), lot 72.
6 T. S. Eliot, "Burnt Norton" (42–43), from Four Quartets (1941; New York: Harcourt Books, 1971), 14.
7 Audrey Sands, "Lisette Model and the Inward Turn of Photographic Modernism" (PhD dissertation, Yale University, 2019), 25.