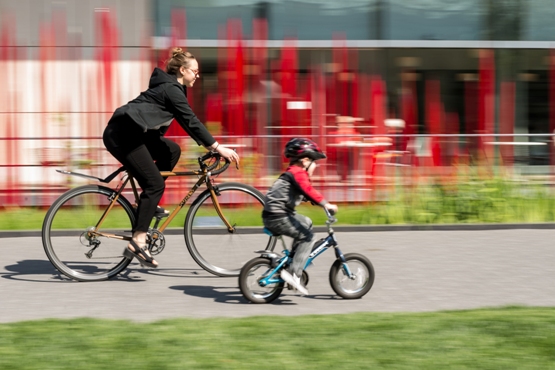 The UCI Road World Championships are four months off, but Richmond's streets — with their new bike infrastructure, repaving and bike racks popping up around town — are already teeming with the two-wheeled vehicles. This month, in particular, people here and across the country are dusting off their handlebars and helmets and taking to the streets to celebrate National Bike Month.
Because VMFA is comfortably nestled in the residential Museum District, many of our visitors are also neighbors and frequently come to the museum by foot or pedal. The museum offers two spacious bike racks where visitors who arrive by bike can stow their wheels while they're inside enjoying the art. And for those who simply want a bikes-eye view of our Sculpture Garden, visitors can walk their bikes down our walkways while taking in the sculpture, reflecting pool and fish, and flowers galore. Staff are also encouraged to leave their cars at home and cycle to work!
In fact, during National Bike Month, we're challenging visitors to:
1.) Ride their bike to VMFA,
2.) Take a picture of the journey,
3.) Send their image to us on Tumblr (vmfaeducation.tumblr.com)
OR use the #Bike2VMFA on Instagram, Twitter, or Facebook.
Every year we also partner with RideRichmond to host a bike swap on our grounds, where cyclists of all levels are invited to buy, sell, or trade bikes and bike parts. This year's swap meet is planned for Sun, Sept 6th. Look for more details on RideRichmond's site as the date approaches.
Established in 1956 and sponsored by the League of American Bicyclists, National Bike Month is celebrated in communities from coast to coast. It's a chance to showcase the many benefits of bicycling — and encourage more folks to give a fun, healthy, and enjoyable means of transportation a try.