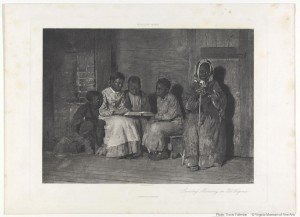 As we continue to explore selected works from the VMFA's exhibition A Celebration of Print: 500 Years of Graphic Art from the Frank Raysor Collection, the "democracy" of the print medium becomes apparent.
As something becomes cheaper and more widely available, more people will see it and own it. Prints often allowed a broader demographic of society to engage with the power and information of images, because the comparative affordability (and therefore accessibility) of the print vs. an oil painting or a work of sculpture has historically allowed for a larger consumer audience. This is as true in our own day as it was for a devout German in Dürer's time.
The notion of a democracy of visual and cultural accessibility has deeper contexts in a print of an important American painting, Winslow Homer's Sunday Morning in Old Virginia, painted in 1877. Homer produced this scene of post-Civil War African-American life shortly after several visits to the area around Petersburg, Virginia.
The year 1877 was crucial for Americans, as it marked the end of Reconstruction, an extremely turbulent period both socially and politically. After the Civil War, the federal government had enacted new laws and constitutional amendments that forever changed the nature of American citizenship, with a significant aspect of Reconstruction being the full enfranchisement of black Americans in both the North and the South.
Homer's painting of that same year projects the idea of nascent black autonomy by presenting an African-American family reading the Bible. The older children read to the younger children, perhaps teaching them as they read, while an older family member listens, seated at the far right. The sparsely decorated and clearly run-down domestic space is meant to communicate that while these people may have nothing of material value, they are still rich with the possibility of cultural mobility—they are reading and educating one another. Quite understandably, literacy was seen as perhaps the most important key to equality and democracy, and there were many images from this period that show African-Americans reading, an activity that would have been forbidden under slavery. The more picturesque and "progressive" images usually involved children reading to adults, as we see in Homer's Sunday Morning.
While the 1877 oil painting is now in the collection of the Cincinnati Art Museum, viewers to the VMFA's exhibit are able to enjoy the 1890 photogravure print of Sunday Morning. Homer gave permission to have the work reproduced using the exciting new photogravure technology, which was deemed appropriate for "fine art" reproductions. Homer was but one artist who allowed his work to be mass-produced in such a way; by the late 19th century people of relatively modest means could own and enjoy photogravure prints of all manner of paintings, whether they were works by Old Masters such as Rembrandt, or contemporary academic artists like Gérôme. This was high art for the masses, meant to be enjoyed in the middle-class home, and was in this instance executed by the French firm Goupil & Cie, published in America in 1890 by D. Appleton & Co. The new technology was a transfer process, and it allowed for rich expression of light and tone. Homer's economy of means is particularly effective here; the intense shadows of his painting translate well to the photogravure process, and the contrasts craft a serious message from an otherwise quiet family moment. The figures in Sunday Morning would have been understood to be post-plantation freed slaves who were elevating themselves through intellectual activity.
The development of print processes such as this meant that more people could see and own such an image, but there was still an inherent hierarchy in a work such as this; Homer's intended audience was likely progressive Northern white audiences, rather than the Southern blacks he portrayed in Sunday Morning in Virginia. Homer's works from this period and similar images by other artists may be considered ideological, in that they were consumed by white audiences trying to reconcile who black Americans "were" in the post-Civil War period. 1877 was a critical moment: federal troops were withdrawn from the South, and paramilitary groups like the White League were attempting to undo the political strides made by Southern blacks. The emphasis on literacy seen in Homer's work was a positive message in support of the greater social and political participation of blacks, although some of Homer's work and others like it tended to present the African-American identity as childlike or not fully developed, an unfortunately common device in the 19th century.
There was intense interest in works such as this, and not only in the United States. The painting Sunday Morning in Virginia was shown at the Paris Exposition in 1878, and then returned to the US in time to be seen at the National Academy of Design in 1880. It is no surprise that the D. Appleton publishing house would select this image for a mass-produced photogravure print; they had a progressive and Republican-leaning roster of book publications, and Homer's image of African-Americans was sentimental and picturesque. Ironically, by the time this print was published in 1890, progressive images such as Sunday Morning in Virginia were giving way to more negative images of African-Americans; only 6 years later, the political strides toward equality that were made during Reconstruction were severely damaged in the Supreme Court decision Plessy v. Ferguson.
About the author: Sara Moriarty is a Curatorial Intern, Paul Mellon Collection and Department of European Art, and a Doctoral Candidate in the Department of Art History, Virginia Commonwealth University
Illustration: after Winslow Homer (American, 1836–1910) Sunday Morning in Old Virginia, 1890, Photogravure, Promised Gift of Frank Raysor, L.139.2010.67