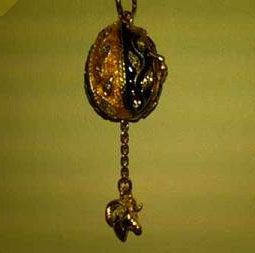 You asked and we heard! In honor of our mighty VCU Rams, the VMFA shop has several collectable items for sale for those with Ram Fever, each uniquely appropriate to the museum's collection and to Virginia.
Marvel at this Faberge-inspired ram locket with ram charm. Every Imperial egg in VMFA's collection has a surprise inside, which is also the case with this precious locket in the form of a Faberge egg. A tiny ram's head can be concealed inside the locket or can hang down beneath it on a tiny chain.The egg is in VCU colors and comes in sterling silver or vermeil (18k gold over sterling silver). $130 plus shipping.
For your favorite Ewe.
But wait, there's more! The rich tradition of sporting art at VMFA is supported by a collection of stirrup cups, named for the pre-hunt refreshments offered after the riders are in the saddle. This is for a quick drink in a cup not made to be set down, which could also be called a shot glass in the sporting tradition. Ram's head stirrup cups come in black or white porcelain and are priced at $32.95.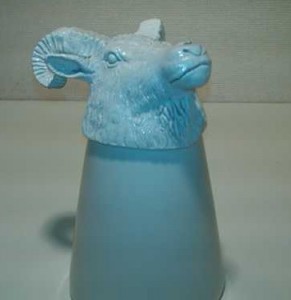 To order call 804.340.1525 or come to the VMFA shop, which is open 365 days a year, 10 am – 5 pm and Thursdays and Fridays until 9 pm.
Go Rams!