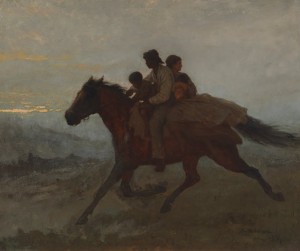 I firmly believe there is still a great deal to be learned about the crisis of the Civil War, its causes and consequences. As a fine-arts museum, VMFA has chosen to focus its sesquicentennial programming on art of the period that sheds new light on and encourages fresh interpretations of the dramatic events that divided and defined our nation. For example, the newly opened exhibition (shared with the University of Richmond Museums), Civil War Drawings from the Becker Collection, features eyewitness sketches of artist-reporters embedded with the Union troops. These little-known drawings, which in many cases were translated into engravings for wide distribution, challenge general perceptions of war, journalistic documentation, and artistic intent—going far beyond what photography could capture in those years.
Similarly, an exhibition we will open in summer 2012—Bold Cautious True: Walt Whitman and American Art of the Civil War Era—is a thought-provoking look at the layered meanings and moods of 1860s American painting and sculpture viewed against the poetry of Walt Whitman, one of our chief "scribes" of war. VMFA's striking painting by Eastman Johnson, A Ride for Liberty—The Fugitive Slaves, March 2, 1862, is a centerpiece of that exhibition.
As a cultural historian, I feel it's important to emphasize the role art plays in society, not only reflecting culture, but shaping it as well. I am also a firm believer in curatorial responsibility—that is, being aware of current debates and interpretations and bringing those to public attention in the museum—even, or especially, if they challenge accepted notions. As one never stops learning from the past, I feel we should all embrace a historical consciousness, whatever our professional practice. This approach informs my work with both the museum's permanent collection as well as special exhibitions.
In 1961, VMFA presented a centennial exhibition entitled Home Front, 1861, which examined the tastes and fashions of antebellum art and design. While this resonated with the museum at that time, we are always interested in exploring new subjects and approaches for the benefit of our increasingly diverse audiences—thus, our decision to mark the sesquicentennial with the Becker and Whitman shows. I hope you will make a point of visiting.
-Sylvia Yount, Chief Curator and Louise B. and J. Harwood Cochrane Curator of American Art