At VMFA, we believe that great art should be shared.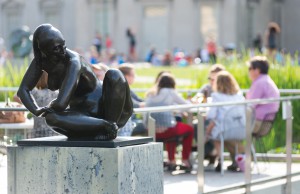 From visitors finding moments of inspiration exploring our free permanent collection to others enjoying art at their local libraries, schools, and art centers through our statewide outreach, VMFA fosters art experiences across the commonwealth 365 days a year.
Here are just a few ways that we share our art:
We give visitors the opportunity to explore our permanent collection at no cost, every day of the year.
We nurture creativity in artists—both young and old, budding and experienced.
We enable our youngest visitors—from touring school groups to classrooms many miles away—to discover the power of art throughout human history.
We offer our building and grounds to the community to enjoy lunch, walk dogs, listen to music, and enjoy family events.
However, to continue to touch everyone in Virginia with our art, every day of the year, we need your help on #GivingTuesday. Your gift not only is a great way to show your support, but it also makes the perfect gift or memorial to honor a loved one's passion for art.
Gifts to the Virginia Museum of Fine Arts Annual Fund are tax deductible and may be eligible for a corporate match.