With performances, demonstrations, and a variety of activities, VMFA's Family Events are a whole lot of fun!
But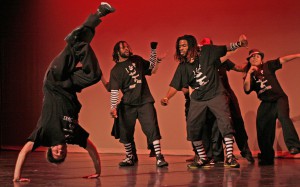 beneath the busy atmosphere, VMFA has a much larger mission for these celebrations. Our Family Events help us introduce the museum and collections to a larger community. By giving families a taste of the museum in an informal, unintimidating festival-like environment, we encourage them to visit once, have fun, and want to come back for more!!
At Celebrate African and African American Art—Free Style on Sat, Jun 21, you'll find a number of kid-friendly activities that link to larger themes in special exhibitions Posing Beauty in African American Culture and Identity Shifts as well as in our permanent collection. For instance, The Community Tapestry, with Stuff Redux, allows visitors to participate in creating a large-scale tapestry made of recycled materials, inspired by Ghanaian artist, El Anatsui. Families will then be able to visit the story quilt, Tar Beach, in the Identity Shifts exhibition or see textile examples in the African Galleries.
In her demonstrations of natural hair styling for African American women, Keenya Kelly of Return of Curls provides the perfect introduction to the many hairstyles presented in Posing Beauty. To see these works of art and more, Richmond (VA) Chapter, The Links, Incorporated is offering free admission to Posing Beauty and Identity Shifts. Stop by the welcome table for your voucher.
This celebration will also feature a hip hop performance by IllStyle & Peace Productions, films, a puppet show, and call-and-response storytelling. Check out all the activities here.
Come for the fun; leave with a greater appreciation of art, culture, and style!