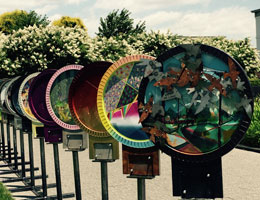 With the UCI World Road Cycling Championships coming in September, Richmond is gearing up for an influx of bike enthusiasts . . . and local artists are now on board. As part of the Go Bike! local art project, a collaboration between the City of Richmond and the Greater Richmond Chamber to commemorate the big race, VMFA is exhibiting 30 original works of art by Richmond artists, which will later grace bike racks throughout the city. This art will showcase Richmond's artistic side when the race comes to town and beyond.
The artists' work will be prominently displayed during the Celebrate African and African American family event on Saturday, June 20. "The project is an excellent example of the spirit of Richmond's community and creativity," says Jessica Bauserman, VMFA's Youth and Family Programs Educator, who organized the family event. "Interestingly enough it goes hand in hand with practices in Ndebele culture (which we are celebrating Saturday), where a large part of their culture is the beautification of everyday items through paint and pattern."
The Virginia Museum of Fine Arts is just the place to show off these pieces before they hit the streets.  Seeing all the plates together allows visitors to appreciate the variety of artists' voices in Richmond.
The art will be on view in the Robins Sculpture Garden until July 6, when the metal plates will be installed on bike racks at sponsor locations.
Three presenting sponsors, Altria, Dominion and Bon Secours, helped fund the 30 local artists to create original works of art. Curated by Ronald Johnson of the painting department at VCU, the 30 artists are:
Reinaldo G. Alvarez
Katie Baines
Amanda Baldwin
Andras Bality
Sukenya Best
Brad Thomas Birchett
Sally Bowring
Mickael Broth
Amy Chan
Genesis Chapman
Suzanna Fields
Peter & Keiran Fraser
Dr. Vaughn Whitney Garland
Hamilton Glass
Jason Hackett
Brooke Inman
Matt Lively
Anthony Meloro
Valerie Molnar & Matt Spahr
Lynn Murphy
Amie Oliver
Diego Sanchez
Matthew Pendleton Shelton
Mary A. Silcox
Tanja Softić
Jody Symula
Ed Trask
Matthew Warren
Johannah Willsey
Jane Winfield
Starting on September 6, VMFA will also host ArtCycle, an interactive exhibition exploring bikes and movement in art in the Memorial Foundation for Children Teaching Gallery. The exhibition will include a virtual bike tour through movement-inspired works in VMFA's collection, art making, and a bicycle mural that creates a fun backdrop for selfies. More information will be posted to the website in the coming weeks.
—Miriam McCue, VMFA Marketing and Communications Intern