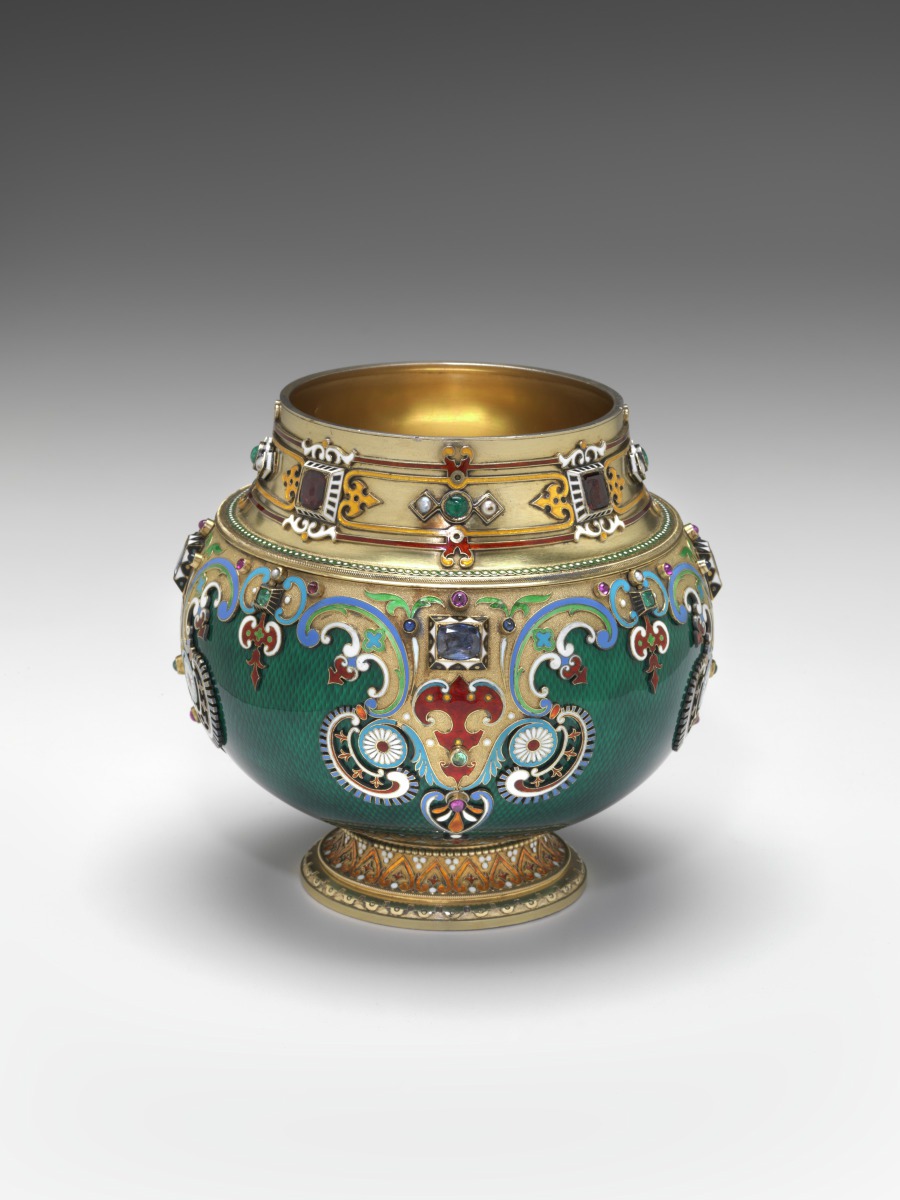 Bratina (Primary Title)
Vase (Object Name)

Of all the pieces purchased by Lillian Pratt, this richly enameled and gem-set cup is among the most distinguished. It is a rare Moscow-type object made in St. Petersburg that was based on 17th-century objects from the Imperial Kremlin Workshops. Ancient Russia produced many vessels with a distinct style, including the bratina, which means "brother cup." These rounded cups, usually made of gold or silver, were filled with mead (honey wine) and passed from the oldest brother to the youngest. With a shape reminiscent of clay vessels found in peasant households, the cups were often intricately decorated with flutes and floral designs.
K. Fabergé, separate imperial warrant, initials of workmaster Julius Rappoport, 88 zolotnik, scratched inventory number 8930
Bequest of Lillian Thomas Pratt
2018: Collecting for the Commonwealth Preserving for the Nation, Virginia Museum of Fine Arts, 1919-2018, Winter Antiques Show, Park Avenue Armory, New York City, NY, January 18 - 26, 2018.

Fabergé Revealed, Palace Museum, Beijing, China, April 16 - July 17, 2016

Fabergé: Jeweler to the Tsars, Oklahoma City Museum of Art, June 20 – September 27, 2015

Fabergé Revealed, Bellagio Gallery of Fine Art, Las Vegas, Nevada, November 14, 2014 - May 25, 2015

Fabulous Fabergé, Jeweler to the Czars, Montreal Museum of Fine Arts, June 14 - October 12, 2014

Fabergé Revealed, Peabody Essex Museum, Salem, Massachusetts, June 22 - September 29, 2013

Fabergé: The Rise and Fall, Detroit Institute of Art, October 14, 2012 - January 21, 2013
Image released via Creative Commons CC-BY-NC
Some object records are not complete and do not reflect VMFA's full and current knowledge. VMFA makes routine updates as records are reviewed and enhanced.